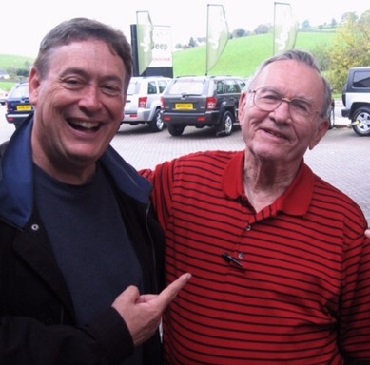 Rick Sylvain, left, and his former boss, Charlie Ridgway, crossed paths in England several years ago. As Rick puts it: "This was taken in 2007 after a travel writers' convention in Manchester, England. Two friends and I were getting our rental van serviced deep in the English countryside. Who do we run across on that day, at that hour, at that minute, in that town, but Charlie, off on his own adventure? He had stopped for a candy bar. Long odds. Lottery odds. Must have been some sort of kismet. I love Charlie's smile in this photo." [Courtesy of Rick Sylvain]

Press events at Walt Disney World, as well as my interactions with numerous Disney cast members, have been an integral part of my reporting on all things Disney over the last 35 years.
These experiences and the bonds that I've forged were so important to me that I wrote a book about them, On The Disney Beat: Over 30 Years of Chronicling the People and Places in Walt's World [Theme Park Press]. Through many of the press events I've attended and during the many interviews I've conducted, I've met some outstanding people, many of whom I consider friends.
So it was with sadness when I learned on Dec. 24 of the passing of Disney Legend Charlie Ridgway, who was a key figure in my journalistic journey through Disney's world. Charlie was an important part of my book, from my first invitation to a Disney press event he supervised in 1986 to an extensive interview I had with him in 2014.
I had the pleasure of having lunch with Charlie in 1992. After learning that my extended family and I would be in WDW during August of that year, he invited us to join him for an unforgettable afternoon. We [I believe there were eight of us] met him at 12:30 at City Hall in the Magic Kingdom and he walked us back stage to his waiting company van. The afternoon parade was in the process of queuing up and he made sure the younger ones in our party looked away, lest they see a character out of costume, thus spoiling the magic. He drove us all to the then-new Yacht Club Galley, where we chatted about a wide range of Disney-related topics, including the opening of several on-property resorts. I still have his business card, with his work phone number and his [get this!] Telex number.
Charlie was best known for dreaming up new and better ways to get the word out on Disneyland [he was hired in 1963] and later Walt Disney World, where he settled in as Press and Publicity director about a year before the resort opened in 1971. In those days, Disney did very little advertising, so it was up to the Press and Publicity folks to publicize the parks. And Charlie did it in a way that was creative, imaginative, fun and, most importantly, effective. Charlie retired a few years after our lunch, although he was often called on by his colleagues to lend his expertise on a number of projects.
Charlie Ridgway holds a Donald Duck figure as Rick Sylvain looks on during a 90th birthday celebration for Charlie in 2014. [Walt Disney World]

During the most recent WDW press gathering in November 2016, I was able to renew acquaintances with Rick Sylvain, a man I've known since the 1990s, when he was hired by Charlie to work on WDW's PR team. Following in Charlie's rather large footsteps, Rick was as sound a PR man as you could find, always ready to help out and always going above and beyond to make sure you had all the information you needed to make your story complete. Rick retired from Walt Disney World's Press and Publicity Department in 2015, but still has his hand in PR work.
It was Rick who helped me secure an interview with Charlie, a man he considered a beloved mentor, in January 2014. "It was Charlie who rescued me from a nasty strike at The Detroit Free Press [where Rick was a travel editor of considerable import] and got me to come down here to work for him," Rick told me a few years ago. "It was Charlie who launched me on 20 years [at Disney] that I will never forget."
The bond between Rick and Charlie was strong. During Charlie's retirement years, the two got together as often as they could. In fact, a few weeks before Charlie died, Rick and several other members of "the old guard" were supposed to take Charlie out for a holiday celebration, but it had to be canceled. Rick considered it an honor and a privilege when Charlie asked him to write the foreword to his book, Spinning Disney's World, upon its re-release in paperback.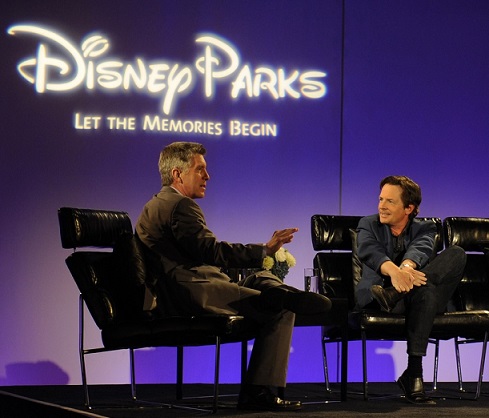 Tom Bergeron, left, chats with actor Michael J. Fox during a press event in New York City to announce the beginning of the Let the Memories Begin Disney Parks campaign in 2010. [The Walt Disney Company]

When I think of how many times I've had the pleasure of Rick's company, as well as his witty repartee, it dredges up some pretty fond memories. Many of the press gatherings he had a hand in putting together were held in New York City, so he knew I was pretty close by and would always make an effort to be in attendance.
There was the event to promote the Let The Memories Begin initiative on the West Side of Manhattan in 2010, which was hosted by Dancing With the Stars' Tom Bergeron and featured an appearance by actor Michael J. Fox.
There was the Limited Time Magic event in midtown Manhattan in 2014, where artisans carved several Disney-themed ice sculptures right on Broadway to emphasize how quickly things come and go.
In 2015, he invited me to a special press preview of the re-imagined Disney Magic; the ship, which had been overhauled a few months before, sailed up from Port Canaveral and docked in Manhattan for just one day before heading to Europe for its summer season.
The Disney Dream was christened on Jan. 19, 2011 at Disney Cruise Line's Port Canaveral port. [Disney Cruise Line]

And then there were the christenings of the Disney Dream and Disney Fantasy cruise liners, both lavishly produced press events that would have made Charlie proud.
The day before the Dream event at Port Canaveral, Fla., on Jan. 19, 2011, Rick invited me to join an exclusive press tour of the then-new Wild Africa Trek at Disney's Animal Kingdom.
He wanted to make sure that we journalists [a group of about 10 of us met in the lobby of the Grand Floridian] would get the full experience, so he was with us every step of the way. Included in the trek were two treacherous trips across swaying and rickety rope bridges, with an assortment of hungry hippos and smiling crocodiles watching our every move with more than casual interest some 30 feet below.
"It's nice to feel the ground under my feet," Rick said after traversing the second bridge and climbing down from the lofty perch.
The Disney Fantasy christening took place in New York City in February 2012. Rick made sure I got to meet Jay Rasulo, then Disney's CFO. I had conducted a lengthy interview with Jay a few years before and was anxious to meet him in person.
At a press event during the spring of 2016, I ran into Rick at Morimoto Asia, a wonderful upscale Asian restaurant in Disney Springs. I mentioned to Rick how I was now writing a blog for AllEars.Net and he was positively effusive in his praise for the site. "Truly, the best Disney website out there," he said.
Like Charlie, Rick had a strong understanding of how to supply folks in the media with exactly what they need to get the most out of their stories about Walt Disney World. It made sense, since both men grew up in the newspaper business and always had a kinship with journalists.
"I always tried to hire people with newspaper backgrounds," Charlie told me during that 2014 interview, "because I felt that they knew what the news guys wanted and how to get it to them."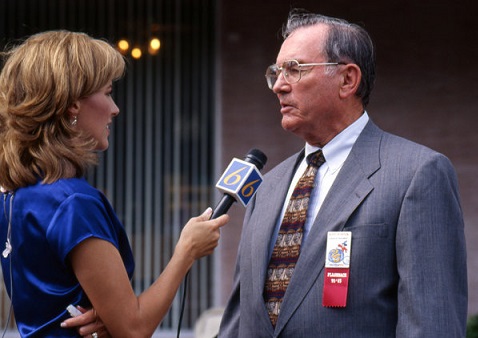 Charlie Ridgway is interviewed during Walt Disney World's 15th anniversary in 1986. [Walt Disney World]

Charlie was among a handful of people still around who worked and interacted with Walt Disney. After toiling for years as a newspaperman in Southern California [he wrote a lengthy pre-opening feature on Disneyland, covered Disneyland's opening day on July 17, 1955, and often wrote human interest stories on the park] Charlie was hired by Disney in 1963.
On Walt, Charlie said, "he had supreme confidence that he would know what the public wanted. And he was right 98 percent of the time. He had a tremendous ability to pay attention to every little detail, and yet know the overall picture as well, and he paid attention to the tiniest little detail in everything he did. Sometimes that put off some people, but overall, those who stayed with him for any length of time appreciated his talent so much that they didn't mind going all out for him."
Like Walt Disney himself, Charlie Ridgway long understood that while there's very little adult in each child, there's plenty of child in every adult.
As Rick Sylvain put it on the occasion of Charlie's 90th birthday: "Charlie, for me, embodies the true Disney spirit — consummate professional, but a kid at heart. I know I and my colleagues can truly say that thanks to Charlie's inspiration, we can fly. Ideas define this man. Then and now."
Although Charlie hired Rick Sylvain in the mid-1990s, they had known each other for years, having gone on a number of travel junkets together, including several harrowing adventures in Egypt and Jerusalem in 1983, which are detailed beautifully in Charlie's Spinning Disney's World
book.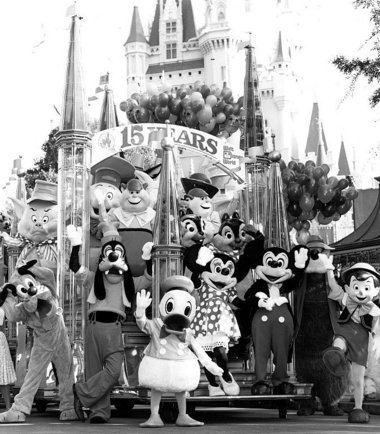 The Disney characters gather for a publicity photo in front of Cinderella Castle during WDW's 15th anniversary, one of the hundreds of Disney events Charlie Ridgway had a hand in. [Walt Disney World]

When I saw Rick at the press event this past November, I quickly sought him out. And I made sure to give him a copy of On The Disney Beat, in large part because he had such a big hand in making it happen.
A few weeks after the event, Rick sent me an email that touched me on so many levels.
Hey Chuck:
So good crossing paths with you this month. Just finished your book – thanks for the copy. I laughed, I cried, I reminisced. Too many favorite parts to recount here – so I won't begin to try. True to your craft, you report All Things Disney so well. A book with lots of heart.
Rick went on to explain how my book actually inspired him.
Your wonderful narrative stirred for me so many personal stories from those 20 years. I remember walking around Epcot one afternoon in 2005 when a wheelchair-bound woman spotted my name badge and asked me to take her picture. We were at the red phone booth in the U.K. pavilion. Of course, I obliged her.
"Where you from?" I asked her.
"New Orleans," she said.
"What brings you here?"
"I lost everything in Katrina and just wanted to smile again."
That was powerful.
Another time, I was criss-crossing New York City a la Charlie [but not nearly as well] and had scored an audience with then-editor Walter Anderson of Parade Magazine. Nervous beyond words in the presence of this media giant, I pitched Animal Kingdom. Quiet enveloped the room. Walter sat back on his sofa, summoned his design editor and announced they were scrapping a coming cover story in favor of Animal Kingdom in words and pictures.
I left the Parade offices on Cloud Nine. The following week, I was working with famed Pulitzer Prize-winning photographer Eddie Adams, setting up his cover shoot.
That's the pull of Disney you write so beautifully about. Again, thanks for my copy of On The Disney Beat. I will treasure it.
As I will my association with both you, Rick, and Charlie … two class acts … and two men who definitely had the write stuff.