In a recent AllEars.Net blog, I alluded to my odd quirk of getting my hands on guide maps each and every time I enter a Disney theme park. I will usually grab three — one for actual use during the visit, another to save for posterity and a third one just in case something happens to the other two. I've been doing this since we first visited Walt Disney World in the early 1970s. If nothing else, they make for some nice keepsakes.
Needless to say, I've built up quite a collection over the years. When I return home, I usually put the new additions to my collection in an envelope and mark it with the date of the trip.
I have some pretty diverse maps in my collection. I have maps from our visit last year to Disneyland Paris [unlike WDW and Disneyland, which offer maps for each individual park, Disneyland Paris maps are all-inclusive, with maps and details for Disneyland Park and the Walt Disney Studios]. I even have one from Tokyo Disneyland [thanks to our son, who visited there during a business trip a few years ago] … in both English and Japanese, no less!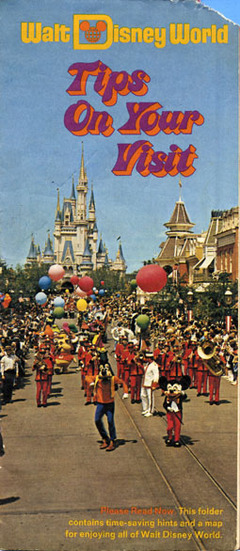 The cover of a Walt Disney World guide map from 1974. [Chuck Schmidt collection]

I have a map from opening day at Animal Kingdom (April 22, 1998) as well as a Disneyland guide map with [gasp!] a typographical error: On the back of the guide map, from 1998, is a headline asking you to Make a name for yourself in Disneyand Park! That typo sticks out like the proverbial sore thumb.
I also have maps for Disney's two water parks, the Disney Springs [formerly Downtown Disney] shopping and entertainment district and the special events Disney throws during the year at the Magic Kingdom, including the Not So Scary Halloween and Mickey's Very Merry Christmas parties.
Often, I refer to these maps when I'm writing a blog, particularly when I want to get the exact name or the correct spelling of a show or attraction.
Admittedly, it's a pretty strange quirk of mine, collecting Disney guide maps, but considering they hand out these maps for free, why not save them? Besides, looking back at these guides is like leafing through the pages of a Disney history book; it allows me to get a historical perspective — and, indeed, an accurate record — of the way things were in Disney's ever-changing world.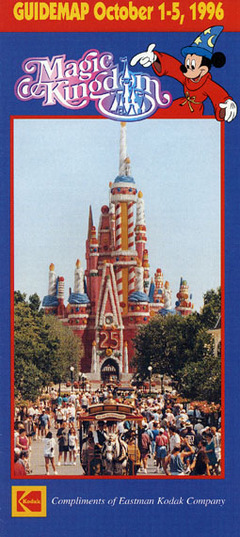 The WDW guide map in 1996 featured a photo of the pink "castle cake," celebrating the resort's 25th anniversary. [Chuck Schmidt collection]

Who could forget Cinderella Castle decorated as a birthday cake during WDW's 25th anniversary? The bright pink "castle cake" was featured on guide maps in 1996. Or how about the bizarre [to me, anyway] Nahtazu promotion plastered on Animal Kingdom's maps a year or two after it opened? [After about a year of being clueless on the subject, it dawned on me exactly what they were talking about — that Nahtazu meant Animal Kingdom was NOT A ZOO].
I mention all of this because during a recent visit to WDW, I noticed that the maps were a lot smaller than they used to be. For instance, the Magic Kingdom guide map back in 1998 was 16 x 18 inches in size, or 288 square inches. By comparison, a Magic Kingdom guide obtained in April measures 9¼ x 20, or 185 square inches. That's a size differential of 103 square inches per map. A savings for the environment, to be sure … and a lot more room to expand my collection!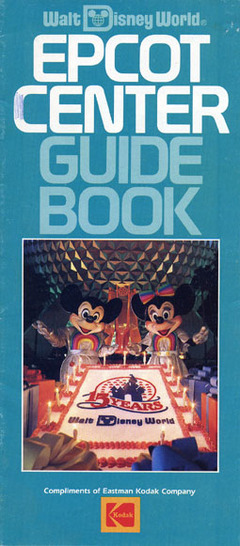 In 1986, during Walt Disney World's 15th anniversary, Epcot handed out a guide map that was 18 pages. [Chuck Schmidt collection]

By far the biggest map in my collection was distributed at Epcot in 1986. It was actually called a Guide BOOK. It came with 18 pages, stapled in the middle, and featured detailed descriptions of every attraction and food option in World Showcase and Future World. It's so big, they probably should have considered giving guests a free tote bag to lug the thing around the park.
Also in my collection is a guide map from 1974, with a cover featuring the Main Street parade, with two very different-looking Goofy and Mickey characters, a marching band and a lot of balloons. There are no elaborate floats visible. Pretty basic stuff for a Disney parade, especially when you consider what comes marching down Main Street these days.
The guide is titled: Tips On Your Visit. In the bottom right corner is the admonition: Please Read Now: This folder contains time-saving hints and a map for enjoying all of Walt Disney World. Inside, under the heading Making the Most of The Magic Kingdom, suggestions are made on how to plan your day. They even tell you when the shortest wait times are for certain attractions. Of course, if everyone entering the park had followed that tip and headed to the suggested rides, those short wait times would have quickly become … very long.
The guide map from 1972, a year after Walt Disney World opened. [Chuck Schmidt collection]

But my prize possession is a guide map from the Magic Kingdom in 1972. That's the earliest one in my collection. I obtained the map during our first visit to WDW in November of 1972, a little over a year after the Magic Kingdom opened. The '72 map is strange, to be sure, and has an almost alternate universe quality to it. By that, I mean the photo on the cover only vaguely looks like today's Magic Kingdom. And the information inside never would cut it today as a viable tool to lead you around the park.
For one thing, the spots where Splash Mountain and Big Thunder Mountain currently occupy space were just gray areas back then; Space Mountain, the WEDway PeopleMover [now the Tomorrowland Transit Authority] and Carousel of Progress were still on the drawing boards. Some of the now-departed attractions include the Mickey Mouse Revue, Flight to the Moon, If You Had Wings, Snow White's Scary Adventures, Mr. Toad's Wild Ride, the Mike Fink Keel Boats and Davy Crockett's Canoes.
In Fantasyland, in the space where the Seven Dwarfs Mine Train and Under the Sea: Journey of the Little Mermaid now attract long lines, the 20,000 Leagues Under the Sea Submarine Voyage was the featured attraction.
The cover of the 1972 guide map features a beautiful color photo of Cinderella Castle, with the original Walt Disney World logo above it, with trees, green grass and a canal also visible. A number of flags can be seen flying in the castle forecourt. The map, compliments of GAF, is subtitled "Information Guide." It totals 34 pages and includes colorful maps of each themed land and numerous black-and-white photos of attractions in the park and on the property.
The book gives you detailed information on each land within the Magic Kingdom. For instance, in Adventureland, the attractions included the Swiss Family Island Treehouse, the Tropical Serenade and the Jungle Cruise. Dining options included the Adventureland Veranda, the Veranda Juice Bar and the Sunshine Tree Terrace. The book lists shops and stores, as well as entertainment specific to that land … in this case, the Adventureland Steel Drum Band and the Safari Band.
They even made note of where the nearest ticket and information kiosk is located within each land.
Speaking of which, the guide map offered three pages of detailed information on the WDW coupon book policy of the time. Back then, you paid a general admission price to get into the park, then used a coupon to gain access to each attraction. Those attractions were broken down into thrill level, with an A coupon attraction being the mildest, B a little more thrilling, all the way up to E, which was considered the most exciting.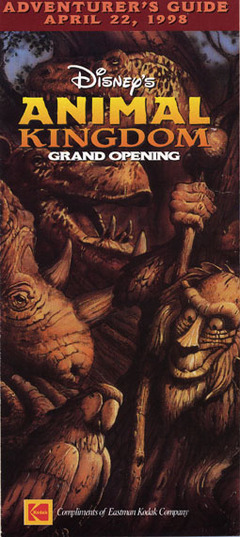 On April 22, 1998, Animal Kingdom opened and this was the guide map they handed out. [Chuck Schmidt collection]

The attractions requiring E coupons, which cost 90 cents each, included the Jungle Cruise, Country Bear Jamboree, The Hall of Presidents, The Haunted Mansion, 20,000 Leagues Under the Sea and It's a Small World [imagine that: Small World … a thrill ride]. For frugal guests, there were three free attractions in the Magic Kingdom: The Diamond Horseshoe Revue, If You Had Wings and America the Beautiful.
There are also hints on where and when to dine (before noon and after 2 p.m.) as well as a reference to Blackbeard's Island — "a tropical paradise of colorful island flowers and birds." Blackbeard's Island, located in Bay Lake near the Contemporary Hotel, went on to become Treasure Island, then Discovery Island in 1976. It received many zoological awards over the years before returning to its original calling before WDW opened — a lush, unoccupied island in the middle of Bay Lake.
There are four full pages devoted to photo tips. Things like checking your equipment, composing your pictures, holding your camera steady and watching your focus. GAF also offers pointers for folks with movie cameras: Pan slowly, zoom sparingly and vary your scene length. There also is An Important Word About Flashbulbs … which were prohibited in most indoor attractions.
And ticket prices? General admission, which included use of the Walt Disney World transportation system and seven coupons for rides, was $4.95 for adults, $4.50 for juniors [12-17 years old] and $3.95 for a child [3-11]. There was complimentary same-day readmission with hand stamp [remember doing that?] and — for your safety — shoes had to be worn at all times aboard WDW transportation [I guess it was OK to walk around barefoot on the blazing hot pavement during a mid-July day].
Ticket books [remember, back then, you needed a ticket to get on each ride] were recommended for "maximum thrift and enjoyment."
Some of the other little tidbits, many long outdated, featured in the 1972 guidebook included:
PET CARE: The Kal Kan Kennel Club was located in the Main Entrance Complex if you wanted to board your pet. The cost was 50 cents a day or $1 for an overnight stay.
FIRST AID: Registered nurses were on duty at all times in the first aid station next to the Crystal Palace. There also was a first aid station in Fantasyland near It's A Small World.
SECURITY: In most areas of the park, Walt Disney World security could be recognized by their "themed" attire.
PUBLIC TELEPHONES: Located throughout the Magic Kingdom.
CAMERA AND FILM SERVICE: Rental, service and film processing was available in the GAF Camera Center on Main Street.
And my personal favorite …
REST ROOMS: Located throughout the Magic Kingdom. Ask any host or hostess for directions.