Beginning tomorrow (July 8), Aquatica will stay open an extra hour for its Island Nights presented by Coca-Cola on Fridays and Saturdays through Aug. 6.
SeaWorld Orlando's water park will be open from 9 a.m. to 8 p.m. for Island Nights. During the summer celebration, guests can experience kick-off parties with a DJ and dancers, special music during the event and an evening menu at Waterstone Grill. Pass members can take advantage of a happy hour from 5 to 8 p.m. that includes one free 12-ounce Coca-Cola beverage or ICEE per pass member at the stand across from Kiwi Traders.
During the rest of the week this summer, Aquatica is open from 9 a.m. to 7 p.m., and there are plenty of deals and new offerings to entice vacationers and local residents to spend a day at the water park.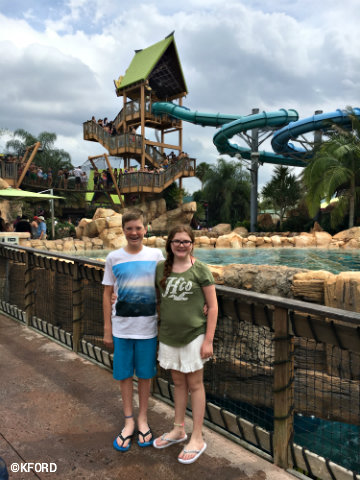 Purchasing a one-day ticket to Aquatica at the gate is $58 plus tax for ages 10 and older and $53 plus tax for ages 3 to 9. However, if you buy it online in advance, you can save $20 per ticket. Tickets can be purchased at this price through Sept. 5 and must be redeemed 365 days from the date of purchase. You can also opt to purchase an Aquatica annual pass for $108 plus tax for ages 10 and older. It includes free parking, which costs $15 per car each day otherwise, and there are no blackout dates. (There also are other tickets and annual passes that combine admission to SeaWorld and Busch Gardens.)
Pass members can buy guest tickets for half off the $58 plus tax. They must be purchased and used by Dec. 31. There is a limit of six guest tickets per pass member.
There are some new offerings at Aquatica this summer designed to enhance guests' experience — but they come with an additional charge.
Perhaps the most noticeable is the addition of Quick Queue, SeaWorld's system of paying to bypass the long lines. This is the first summer Aquatica Orlando has offered the system, and there are two tiers: Quick Queue and Quick Queue Unlimited. Quick Queue allows each front-of-the-line access once at each of these six rides: Whanau Way, Omaka Rocka, Ihu's Breakaway Falls, Taumata Racer, Walhalla Wave and HooRoo Run. The Unlimited version allows guests skip the line at the same six rides as many times as they would like. Quick Queue and Quick Queue Unlimited are offered seasonally, and pricing is based on popularity of certain days. Expect Quick Queue to start at about $20 per person and Quick Queue Unlimited at $35. Note that Dolphin Plunge is not included in the Quick Queue options.
All-day dining deals have returned to Aquatica this summer, and the new feature is the inclusion of breakfast. Guests still can choose lunch only — unlimited visits throughout the day — at Banana Beach Buffet for $20 for ages 10 and older or $15 for ages 3 to 9. The menu includes pulled pork, baked chicken, hot dogs, cheese pizza, a variety of sides, desserts and Coca Cola products. For just $5 more per person, guests can purchase All-day Dining with Breakfast, which is served until 10:45 a.m. Guests who purchase this option may make unlimited trips through the buffet for breakfast and lunch. That option is less expensive than just the all-day lunch option was last year.
Just like at SeaWorld, Aquatica sells cups that can be refilled with soda or juice from the fountain machines for about $1. The initial price varies by the style of the cup, but count on about $10, and it's good forever. We have had some cups for years! Plus, the cups may be used interchangeably for refills at SeaWorld, Aquatica and Busch Gardens. (Pass members receive 10 percent off all dining, including the refills.)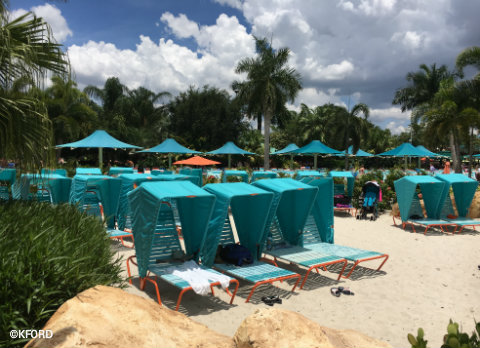 Finally, there are two new ways to seek refuge from the sun at Aquatica. Although the water park has a decent number of shaded chairs that are free, as you can imagine, they are among the first to be occupied each day. Guests now can opt to rent individually shaded chairs — Wave Pool Loungers — in an area directly in front of the wave pools for $30 per chair. (The price drops to $15 per chair for off-peak times.) There are about 30 chairs, and the section is monitored by a team member to make sure only those who have rented the chairs are in the section.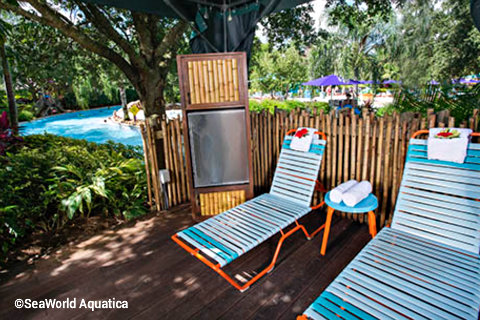 Also new this summer is a section of private cabanas with views of Roa's Rapids. The cabanas are priced for four people at $249 (dropping to $129 for off-peak times) and up to three more can be added for $15 to $30 per person. Cabanas include a locker, rental towels, ceiling fan, refrigerator with bottled water, and a 20 percent discount coupon for merchandise, including photos. Aquatica already had cabanas in Cutback Cove, plus Premium and Ultimate cabanas.