Fans of Disney's Zootopia don't have much longer to wait until they can enjoy the animated movie at home. Walt Disney Animation Studios' hit will be available on June 7 on Digital HD, Blu-ray, Disney Movies Anywhere, DVD and On-Demand platforms, and most versions come with a slew of bonus features.
My family and I loved the movie, and we vigorously recommend it to fellow movie-goers. Here's an excerpt from my review:
"Zootopia" is easily one of the most entertaining animated movies released recently. It offers — as clichéd as it sounds — laughs for all ages, with the antics of a bunny and fox in a whodunit caper filled with pratfalls, slapstick and action comedy. But it also surprises adults with clever references to pop culture and film noir, as well as a few wry asides at even Disney, itself. And it offers important and timely messages about some serious real-world topics without a heavy-handed delivery.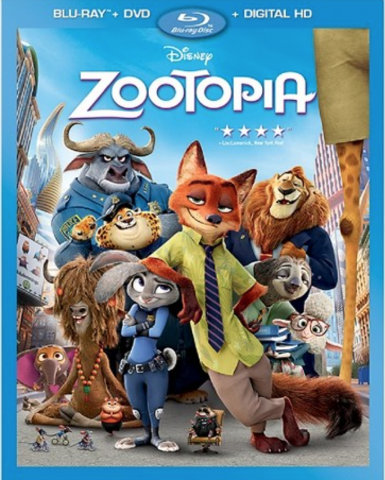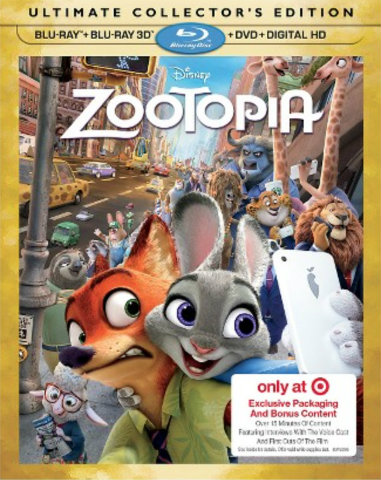 Certainly, the film itself is worth the purchase price, but Disney is giving consumers who purchase the movie on all platforms except DVD the following extra material:
** Zoology: The Roundtables — Ginnifer Goodwin hosts an in-depth look at the movie's characters, animation, environments and more.
** The artists at Disney Animation give a rare and in-depth look at the complexities of bringing an all-animal world to life from the ground-breaking technology behind the characters' fur and clothing to the varied and vast environments of Tundratown, Sahara Square and the Rainforest District as well as the deep thought and research given to bringing 64 unique animal species to life through animation.
** The Origin of an Animal Tale — Follow the story's development from its origins to a big story shift that turned the film upside down. In this feature-length documentary, filmmakers give a candid look into the difficulties of creating the story of Zootopia and the bold decision to switch the main character late in the production process, putting one resolute rabbit center stage. (I wrote about this angle after participating in roundtable interviews with Directors Byron Howard and Rich Moore at Animal Kingdom Lodge.)
** Research: A True-Life Adventure — The filmmakers traveled the globe to find inspiration for the diverse characters and amazing city of Zootopia. They reflect on the importance of research and how a deep dive into animal behavior at Disney Animal Kingdom theme park and a deep immersion into animal society on the African savanna shaped and inspired the characters of Zootopia and changed the filmmakers' lives forever.
** Z.P.D. Forensic Files — Find the movie's hidden Easter Eggs. Every city has its hidden gems, especially when it has been created by the filmmakers of Disney Animation who love nothing more than sprinkling hidden references to some of Disney's greatest animated features throughout the story.
** Scoretopia — Academy Award-winning composer, Michael Giacchino spotlights five of cinema's greatest percussionists and how they brought an organic, animalistic sound to his powerful and emotional music score.
** Deleted Characters — Directors Byron Howard and Rich Moore introduce citizens of Zootopia who did not make the final cut.
** Deleted Scenes:
Alternate Opening — Young Judy Hopps rescues a fellow classmate and realizes she can reach beyond a life in carrot farming to a future in law enforcement.
Wild Times! Pitch — Nick desperately pitches the bankers of Zootopia on funding Wild Times!, an amusement park made exclusively for the predators of Zootopia and a sure-fire, money-making scheme for Nick and his friends.
Alternate Homesick Hopps — After a frustrating first day on the force, Judy has a conversation with her parents. See how this scene changed from a heartfelt conversation with her parents to tough love when her parents discover their daughter is only a meter maid and not a "real cop."
Detective Work — Judy borrows a fellow police officer's computer to conduct research, which turns out to be no small task.
Alternate Jumbo Pop — In this early version of the story where Nick was the main character, the filmmakers and Jason Bateman were able to take hustling to a new level.
Hopps' Apartment — When Judy's entire family pays her a surprise visit they are shocked to discover the company she's keeping.
The Taming Party — In this emotional clip from an early version of "Zootopia," Judy attends her first "taming party" and gains a deeper understanding of the plight of the predator.
** "Try Everything" Music Video by Shakira
The Digital HD version will include an exclusive extra — an International Character Reel in which viewers can see the variances in news reporters in Zootopia around the world. DVD buyers will only get the Scoretopia and Shakira music video bonus features.
In addition, various retailers have special offers, as well. If you pre-order "Zootopia" through DisneyStore.com, you will receive a complimentary set of four lithographs from the movie and a coupon good for $10 off a purchase of $40 or more during the period of June 7 to 19. Target buyers can get a retailer exclsuve wih special packaging and more than 15 minutes of content featuring interviews with the voice cast and first cuts of the film. Plus, each pre-order qualifies for a $5 Target gift card.
Visit our Amazon Store with all things Zootopia!

Follow @Kristin_B_Ford