January 16, 2016 – Star Wars 10K
3:30 came much too early, though I didn't sleep much and was awake before 3:00. Doesn't matter how many races I've done, I always get pre-race jitters.
I wore the same Queen Amidala costume I made for last year's 10K – I'm into recycling. The white makeup is the most time-consuming part of this. Lee had a new X-wing fighter costume. He'd wanted to wear this one for the half marathon, but since it was a new costume that he'd never run in before he opted to wear it for the shorter distance instead. (It turned out to be just fine for running.)
As you might have heard, runDisney announced new costume guidelines in early January. Basically no weapons, no masks, no long dresses or anything that might conceal a weapon. Interesting that Jedi robes were specifically called out as prohibited. Items that were expressly allowed were plastic swords and plastic light sabers, tutus, and transparent wings. Fortunately neither of our costumes required any last-minute modifications.
With all of the new costume regulations and security screening measures we allowed a little bit of extra time to get to the start area, though it turned out that we didn't need it. The screening was fast and efficient. (If you're new to Disneyland races – one of the best things about them is that if you're staying in any of the Disney hotels or any of the nearby hotels, it's a short walk to the start line. No bus transportation required.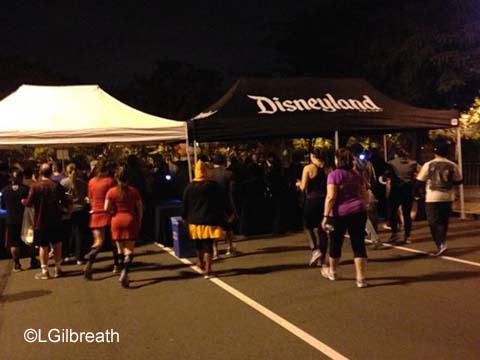 The pre-race area is so much less crowded for the 10K than for the half marathon – but 10,000 runners as opposed to 14,000 will do that. 🙂 We met up with friends and made the obligatory porta-pottie stops before heading to our corrals.
The weather was GREAT!!!! It was 50 degrees at the start, with very little (if any) wind. The humidity was pretty high – probably 90%. Still, it made for excellent running conditions and even waiting around before the race wasn't too bad for everyone dressed in skimpy running clothes (or even skimpier Slave Leia outfits).
Lee and I were in Corral A. I still find it interesting that my current proof of time gets me Corral A in California but only Corral D in Florida. Who knew east coast runners were so much faster! I really like being in Corral A – it's so nice to be where we can actually SEE the start line, instead of looking at a screen from a corral far far away. While we were waiting we watched scenes from Star Wars Rebels and one of the trailers for Star Wars: The Force Awakens. I think everyone had seen the movie at least once – it should've been a requirement for participation. 🙂
A Disneyland Cast Member sang the National Anthem, and it was time for Rudy Novotny's famous "Runners….set…GOOOOOOOOOO!" Accompanied by hyperspace graphics on the big screen.
As I mentioned earlier, it was a new 10K course this year. We've asked for more time on property, and they gave us more time on property. 🙂 But be careful what you wish for – an awful lot of it was backstage in some pretty uninteresting areas. We were almost to mile 2 before we finally entered a "real" part of a park. And it was not a fast course: narrow in places, and there were some very sharp turns where the course doubled back on itself. You couldn't take those very fast.
But we did get to see a lot of the parks – I think in Disneyland we were in every land except Toon Town, and we ran through most of DCA. So I have to say that the race organizers really found a way to design a course to maximize the amount of on-stage time that we had.
With the new course, this year instead of the first mile+ being outside the parks, we were only outside for about 1/2 mile, and then ducked backstage off Ball Rd. next to the Team Disney Anaheim building.
Boba Fett was out for photos in a backstage area even before the mile 1 marker. There was already a long line and we didn't stop. Our goal was BB-8, so we were running pretty hard, and only planned to stop if we saw a pretty short line.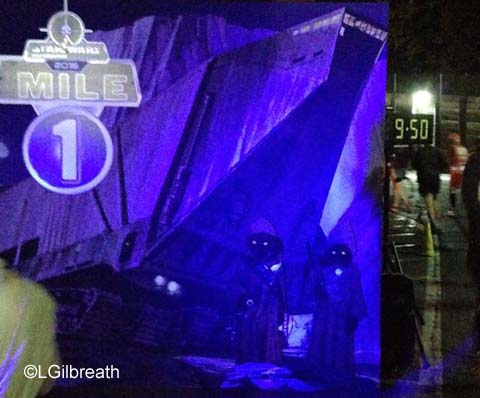 As I mentioned we spent a LOT of time backstage, some of it in areas I don't think I'd ever run in before. We ran next to the monorail track around much of the eastern perimeter of Disneyland. It was quite dark in places – they really needed some additional lights. Had the running surface been uneven it could have been a real problem, but fortunately it wasn't. Watching over us, Yoda was. 🙂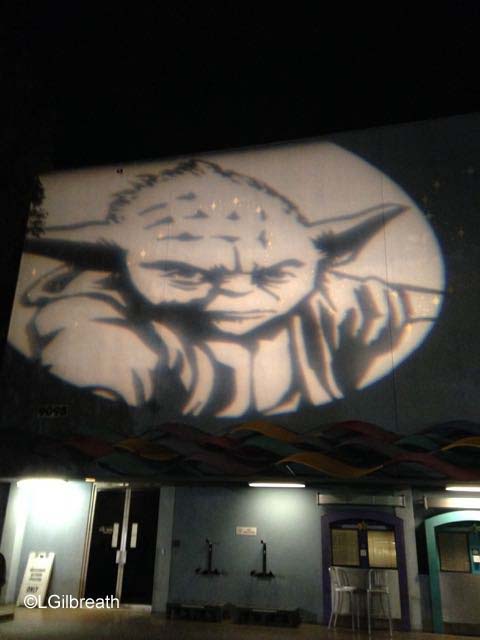 We ran under the bus/tram lot (pretty much the only hill we had on the course), then made a hard right turn in a DCA backstage area, and eventually ended up out on the Esplanade and into Disneyland's main entrance. But we only ran past Town Square before going backstage again, coming back into the park between Redd Rockett's and Innoventions. Unlike last year we didn't run all around Tomorrowland: we headed straight for the hub past Star Tours. And then something different: we ran through the castle from the front side to the back – all of the other courses go the other way.
A quick tour through Fantasyland and then we ran up towards "it's a small world", which still has all of its holiday decorations. We ducked backstage again next to the Fantasyland Theater, ran through a tunnel, and emerged onto the Big Thunder Trail.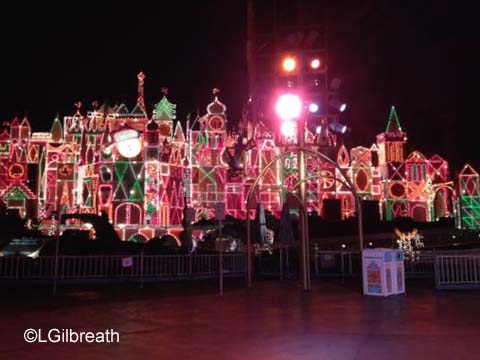 We ran along the perimeter of Frontierland, and saw Ezra and Sabine from Star Wars Rebels next to The Golden Horseshoe. The line was fairly short so we stopped.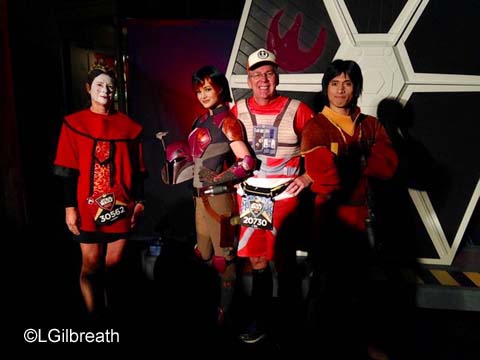 In front of the Haunted Mansion we made a 180 degree turn and ran back along the upper level of the walkway along the Rivers of America and entered Adventureland. The Mile 3 sign was in front of The Jungle Cruise.
Then we ran down Main Street. There were First Order Stormtroopers at the train station, but we ran past them and across the Esplanade into DCA.
We turned left at the Walt and Mickey statue and ran up Hollywood Blvd. And at the end of the street, finally, was BB-8! There were a lot of people waiting, but we didn't care – we knew the line was only going to get a lot longer! While zigzagging in the queue we at one point ended up next to another woman who was also dressed as Queen Amidala – in a much more elaborate costume than mine. In addition to a more authentic robe she had the full headdress! I don't know how she ran in that, but she looked great.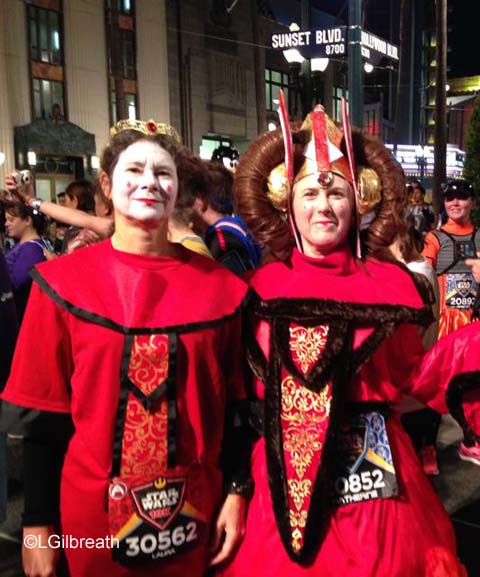 It took about 12 minutes until we got our chance to meet BB-8. The cast member who took my phone told us not to touch his head, and to look at the real photographer first, and then at her. It was all very efficient, and she got a nice photo of us. We heard later that the line for BB-8 eventually went down Hollywood Blvd all the way to Award Wieners, and was estimated to be 35 minutes long.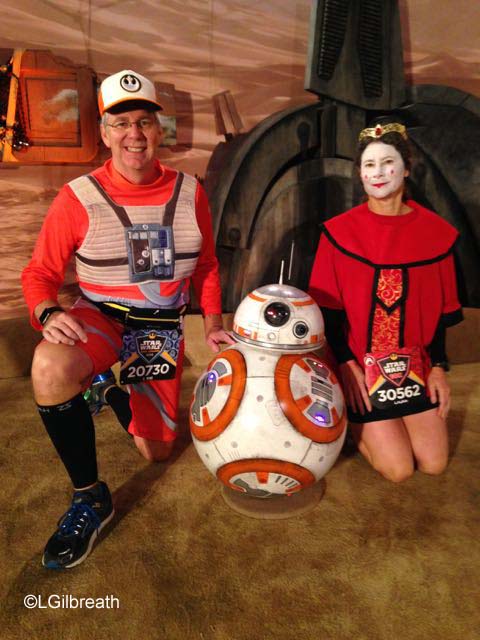 This seems like a good place to say that I thought that the race organizers did a much better job of handling the lines at the character stops this year. There were masking tape queues already marked on the ground and there were CMs managing the end of the line as well as multiple CMs handling runners' cameras and giving us instructions on how it was going to work. It really seemed to help keep the lines moving as quickly as possible.
After leaving BB-8 we went backstage again next to Tower of Terror. And then we did what was my least favorite part of the course: this weird loop out to the Toy Story tram area and back. Obviously just a means of adding some additional distance because there was nothing to see out there. But it's always rather frustrating to be running and then see runners that are ahead of you coming back towards you on the other side of the course.
We ran behind Cars Land, then back into the park at the Pacific Wharf, through Radiator Springs, behind the Tower of Terror, and then into Flik's Fun Faire and past Mile 5.
R2D2 and C-3PO were at the exit of "a bug's land". This line didn't look as long as BB-8, but we still waited 10 minutes. I was disappointed that all of the photos the CM took were out of focus – this was the best one.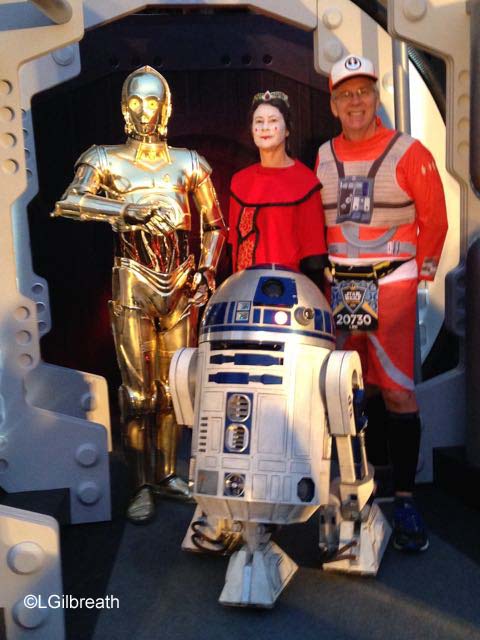 We ran all the way around Paradise Pier and then in front of Grizzly River Run. We were just about to exit DCA next to Soarin' when I spotted a photo stop with the speeder bikes. This didn't seem to have a long line, but it took longer for people to get set up with it, so we probably waited 8-10 minutes.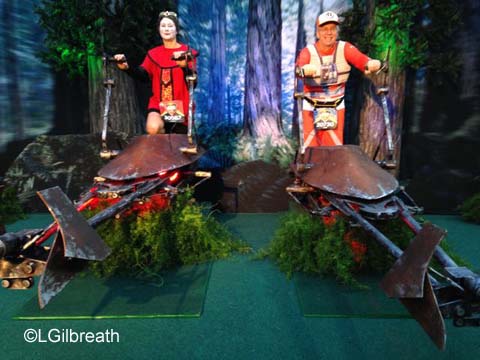 The last part of the race was through Downtown Disney. Lots of people to cheer us on to the finish line. I'd looked at my watch when we left the speeder bikes and realized we could finish in less than 1:30 if we booked it, so we did. Lee had more energy than I did and finished in 1:29:33, while I came in at 1:29:53. Not bad considering we had over 30 minutes of photo stops – our running time for the 10K was under an hour.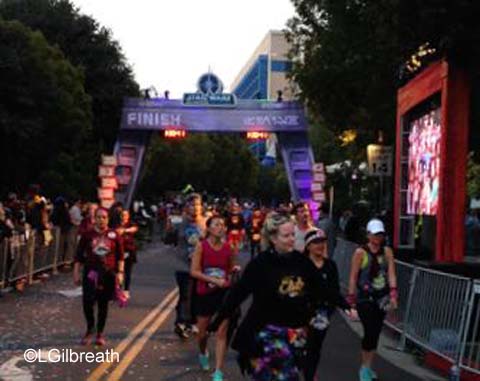 We got our lovely X-wing fighter medals! I'm really pleased that they changed up the 10K medal this year – hope that will continue for next year's race.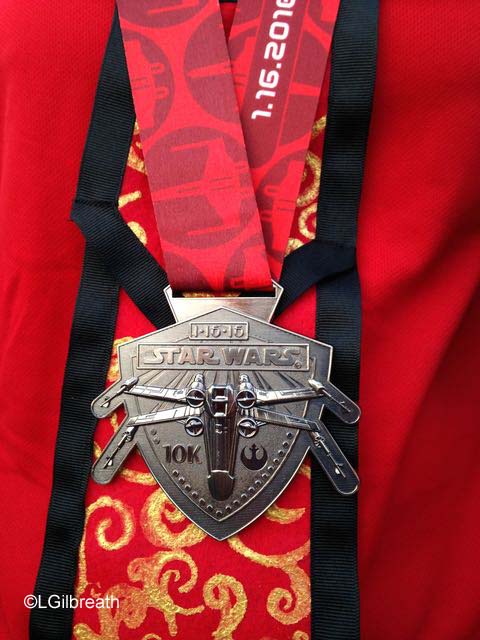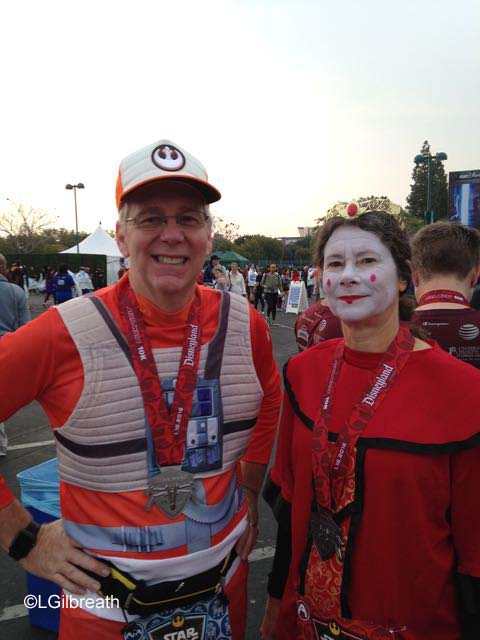 In the finish area was a nifty backdrop of the Wampa cave from The Empire Strikes Back. We had to wait for a while to do that, but we were still feeling good and we were warm enough, even though the temperature was only 52 degrees.
The finish area was not too crowded, and I liked the decor around the stage area.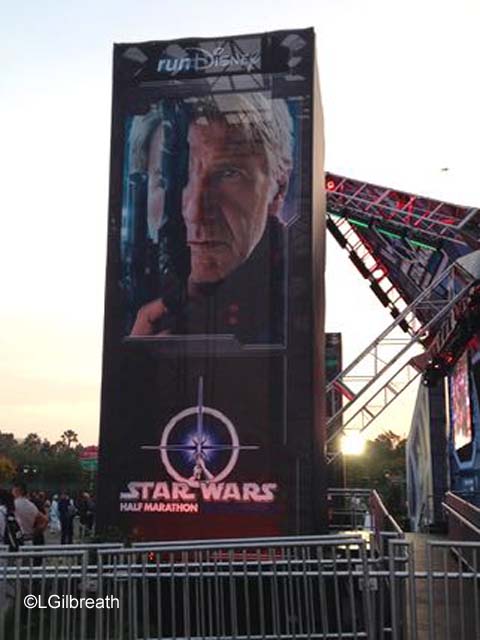 We got the usual runDisney snack boxes, though the stuff inside was a little more interesting this time. The "puffed corn" one is surprisingly good.
As we made our way back to the hotel we had to cross the race course near ESPN Club. Sometimes this takes a long time, but we got across with just a short wait. We've learned from past experience that on 10K days it's easier to return to the Grand Californian by walking past Earl of Sandwich down to the Paradise Pier and crossing Disneyland Drive there rather than trying to make our way through Downtown Disney along the race course.
I still love a good Disney 10K – and this is a good one. Though I still haven't decided what I thought about the new course. On one hand I like that it was almost all on property, but on the other hand I didn't like all the backstage areas, and especially all of the doubling back. I give them an "A" for effort, though. And while we didn't have any issues with course crowding I heard that it was a problem for those who started further back, and that there were places they just couldn't run because there were too many people.
One of my biggest complaints last year was character photo ops. I think there was one more this year than last year, and in addition to the characters, there were a couple of set pieces: the speeder bikes and the trash compactor (from episode IV) – though we didn't stop for that one during the 10K. Now that you can get photos with Chewbacca and Boba Fett in Disneyland, I didn't feel the need to stop for those photo ops. But I was very excited about BB-8 and R2D2 and Threepio – those were Must Dos for us. I'm still disappointed that there were no Disney characters in Star Wars costumes, though. We KNOW those outfits exist! Maybe if I keep mentioning it, someone will eventually take notice and it will happen.
Overall it was a good race experience, and we will plan to do it again next year.
After we'd showered and changed I actually did something that I've never done at a Disney race weekend before: I went to watch some of the Kids Races. We have friends whose 15-month-old son was participating in his first runDisney Kids race – the 100 meter run/walk/toddle.
There were four different events – the 100, 200, and 400 meter races, and the Diaper Dash. Distance is determined by age group: under 12 months for the Diaper Dash, and 1-3, 4-6, and 7-8 years for the others. The races used the Downtown Disney parking lot for staging, but the final 100 meters and the finish line were the same used for all of the other races. After finishing they continued into the same post-race refreshment/reunion area, also.
The 100 meter event was first, and the kids and their parents (all these kids had at least one parent with them) were already lined up in the holding area when I arrived. Wow…there were a lot more than I expected! I heard the announcers say 500 kids, though I don't know if that was over all events, or that was how many were in the 100-meter.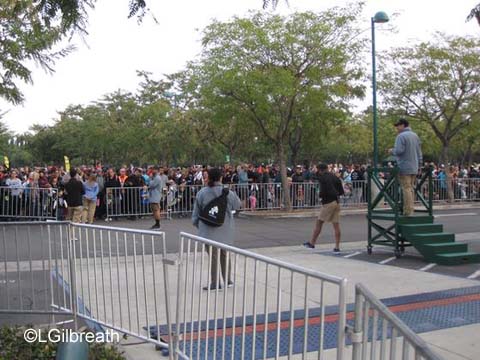 My little friend A and his mom were already lined up, so I went and found A's dad near the finish line. Carissa Bealert and Rudy Novotny were the race announcers for these races, also, and they were joined at the finish line by special guest Chewbacca.
They sent the kids off in groups of about 50. There were some pretty fast runners in that 100-meter group of 1-3-year-olds, but the majority of them were walking, most of them holding tightly to Mom or Dad's hand. And some of them just couldn't make it and were carried across the finish line. 🙂 There were a few tears, too. A lot of the kids and the parents were dressed in costume. Mostly Star Wars, but there were some Princesses and Mickeys and Minnies, too.
Some of them were thrilled by Chewbacca, but a lot of them weren't quite sure about him. There were lots of "Awwww" moments, as you can see if you look at the expressions of the women in the background of this photograph. 🙂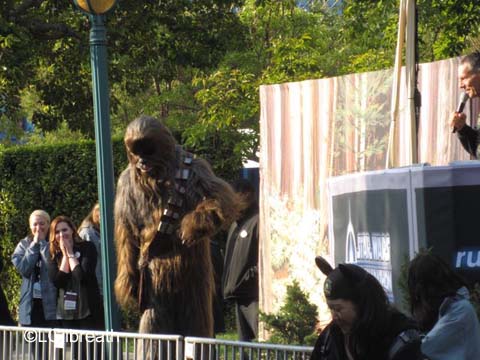 There were bananas and bottles of water available afterwards for the kids. And they all received a Yoda finisher medallion.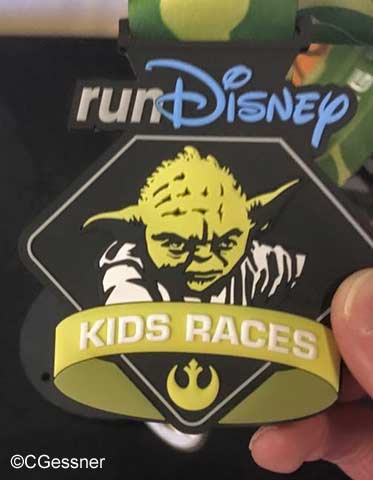 I'm happy to say that A did just great in his first race, and walked the whole thing. He looked adorable in the Han Solo costume his mom made for him, and she was dressed as Chewbacca. And he seemed very proud of his rubber medal – though he gave it a test chew and did not seem impressed. 🙂
I only saw the one race, but this was a fun event – I can understand why the Kid's Races sell out so quickly.
Next up: The Star Wars Half Marathon