January 17, 2016 – Star Wars Half Marathon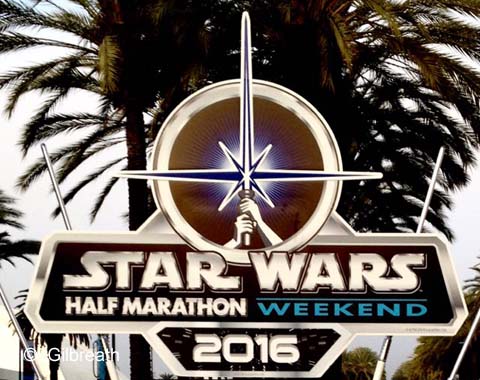 Another 3:30 a.m. wakeup call.
I had a new costume for this race – Rey, from Star Wars: The Force Awakens. I knew there would be a number of other people with the same idea, but since Rey does a lot of running in the movie at least I knew it would be functional. 🙂 And there was no makeup application required for this one!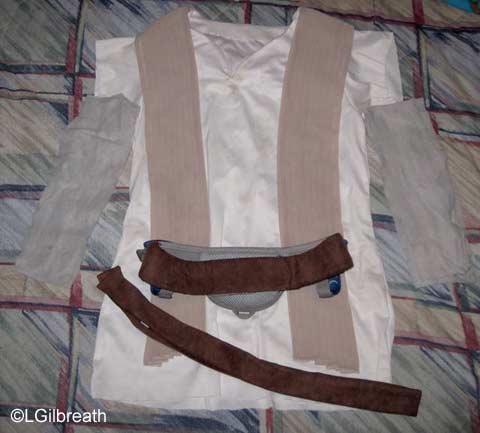 I made the shirt, though I wasn't successful in getting it to look as dirty as I wanted despite smearing it with mud and rinsing it in muddy water. And at least the "distressed" look meant I didn't have to hem the bottom or sleeves. (I hate hemming.) I purchased a chiffon scarf and used a steam iron to create the pleats. I placed some strips of iron-on interfacing on the back of the scarf, and then sewed the interfacing to the shirt at the shoulder seams. That was Very Important. I saw a number of other Reys who had not done that, and their criss-cross wrap thing would not stay on their shoulders.
I wear a hydration belt for half marathons, and I made that look like Rey's belt by basting some sueded-type fabric over it. Then made another belt out of the same fabric to give me the hip/holster belt look.
For the arm wraps I used rolls of 2″ gauze. I was able to make them look dirty by rinsing them in inky water. I wrapped them around a pair of white arm sleeves.
Since the shirt was long I'd planned to wear black shorts under it, but at the Expo I found a khaki-colored running skirt at Sparkle Skirts, so I wore that instead.
Lee wore the Jedi costume he wore for the 10K last year. With long pants and long shirt he was a little concerned it might be too warm, but it was OK.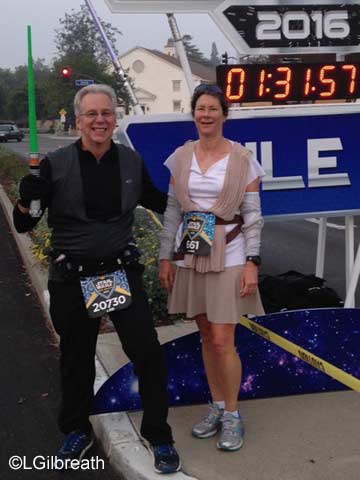 There were a few thousand more runners in the half marathon than the 10K, but we still didn't have any issues getting through the security check. The pre-race area was more crowded, and even though we went to Corral A at about the same time we did for the 10K, we were further back in the corral. Still, we were in A, so we were ahead of 10,000 other runners.
The temperature was a little warmer than it had been the day before (52), but it was even more humid (94%) and it felt chilly. I had one of the runDisney sheets (saved from a previous race) wrapped around me while we were waiting, and that kept me warm enough.
The race started a few minutes after 5:30 – a little bit late this time.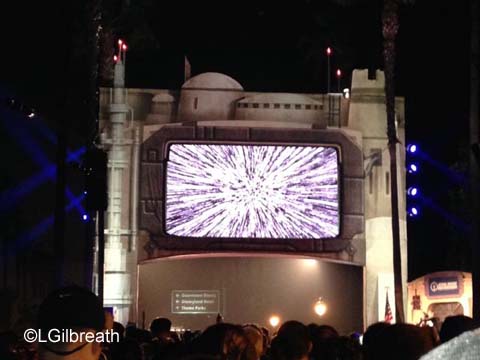 The first mile of the course was exactly like the 10K the day before. Most of the "on property" part of the half marathon course was an abbreviated version of the 10K course. Fortunately it kept most of the "inside the parks" parts, and left out a lot of the less-interesting backstage and doubling-back-on-itself stuff.
We still ran through Tomorrowland (Storm Troopers on the Launch Bay building!), the Castle (front-to-back again), Fantasyland, Frontierland, Adventureland, and Main Street, and Buena Vista Street, Paradise Pier, Cars Land, and Hollywood in DCA.
I think I have not yet mentioned the great music and sound effects there were for both races. We heard lots of different Star Wars music throughout both parks. On Sunday, when we ran through a backstage tunnel between Fantasyland and Frontierland, we heard Darth Vader breathing, as well as his voice advising us to give in to the Dark Side. Really cool, but a little eerie! 🙂
One issue: the pavement in the parks was very wet. Disney must have power washed during the night, and with the very high humidity it had not dried very much. It was slick in places, especially on wooden bridges and boardwalks. Lee saw a woman slip and fall on the Adventureland Bridge, though fortunately she was ok. And our friend Eddie, who was running fast, said that he slipped several times even though he was trying to be careful. I was mindful of the footing when we ran around Paradise Pier, since part of that has wooden boardwalk areas. Still, it's always lovely to run around Paradise Pier when it's dark.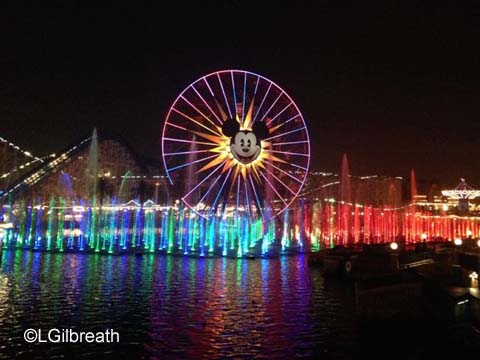 The character and photo ops were the same as the day before. The lines looked to be about the same – 10+ minutes for the popular characters, and only getting longer. We only stopped for the trash compactor scene, which we had bypassed during the 10K. Unfortunately the photos the CM took were all out of focus. 🙁 (And I'm not spending $29.95 to download one photo image from Marathon Foto! Their prices are outrageous.)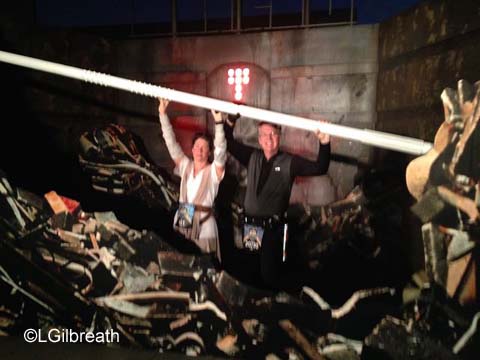 We again ran through Cars Land – I think Ornament Valley looks like it could be on another planet.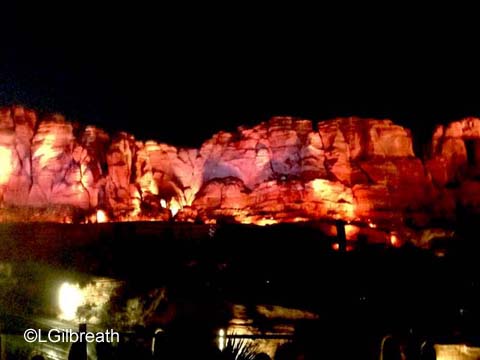 We passed the mile 4 sign and not long after we were out of the park and running south on Harbor Blvd. And it suddenly felt very chilly. The fog had crept in and it was very damp. I'd been feeling a little warm, but the rest of the race I was happy that I had Rey's arm wraps.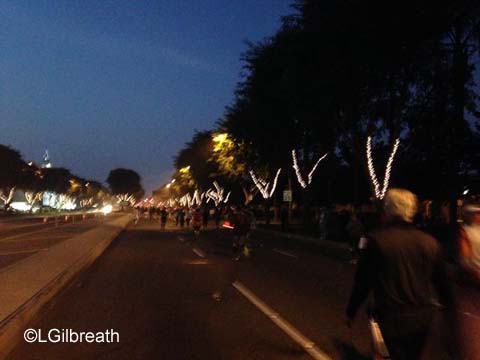 We had a beautiful sunrise during last year's race as we ran down Harbor, but not this year. This part of the course was great for running because it was nice and wide, but it was not very interesting. Not too many people out, though there were several enthusiastic groups of high school cheerleaders in one area, and we were grateful for their encouragement. Overall it seemed like there were fewer spectators this year. And I didn't see very many in Star Wars costumes – there were quite a few last year.
For about 3/4 of a mile we were paralleling the return course, so we saw some of the leaders fly by on the other side. We didn't see the overall male winner (he had already passed by), but I think we saw the top female finisher, and she seemed to be running effortlessly at what was almost mile 12 for her.
Eventually we reached the city of Garden Grove and turned right. We were back into commercial areas again, and it was no longer a "quiet zone" so we finally heard a number of bands. Though I don't think I heard any Star Wars music. And there were more cheerleaders.
I still get a kick out of how this course goes by "Newhope Street". 🙂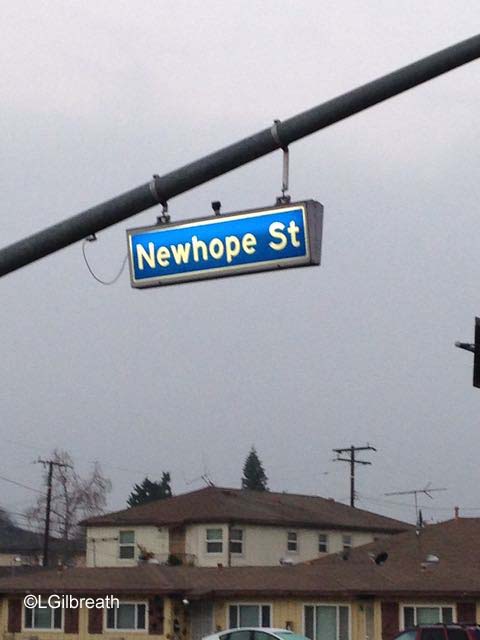 With the new costume restrictions this year, I didn't really see any wildly creative costumes in the half marathon. Lots of X-wing pilots, Princess Leias, Han Solos, R2D2s, Darth Vaders, and yes, Reys. BB-8 was well-represented, also. As Jedi robes were expressly forbidden, the Jedi weren't quite as recognizable.
Just past mile 8 was what we'd really been waiting for – the first set of Star Wars cosplayers. Unfortunately I thought I was taking video and I wasn't, so I don't have any photos. But at the end of this section was a guy with his Star Wars-inspired car. His license plate was: RBLIALNC.
After that the course took us down the block of Historic Main Street Garden Grove, and then we headed back north again.
And then there was an even larger group of cosplayers! The cosplayers are the best part of this race. Their costumes are amazing, and there's a much wider variety of characters than we see in the Disney parks. They are so enthusiastic and supportive of the runners, also.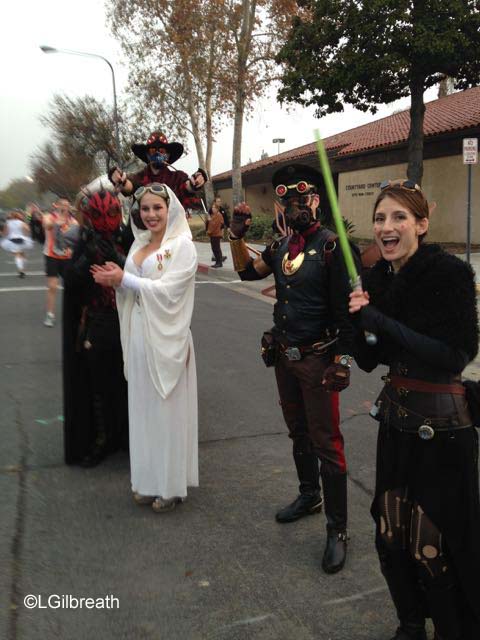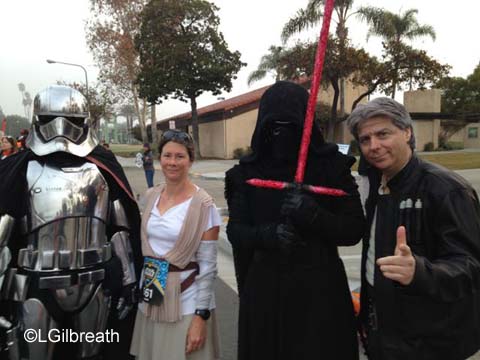 Rey and Finn are back together!
And we found our friend Caitlin.
This time I made sure the video was running on my phone, so this video will give you an idea of the number of people and the variety of costumes. I didn't start taking video until we were about 1/3 of the way through the line of people, so there were even more than you see here.
The mile 9 sign was just after the cosplayers. We were back in another fairly quiet residential area. Still plenty of running room, but everyone was pretty quiet.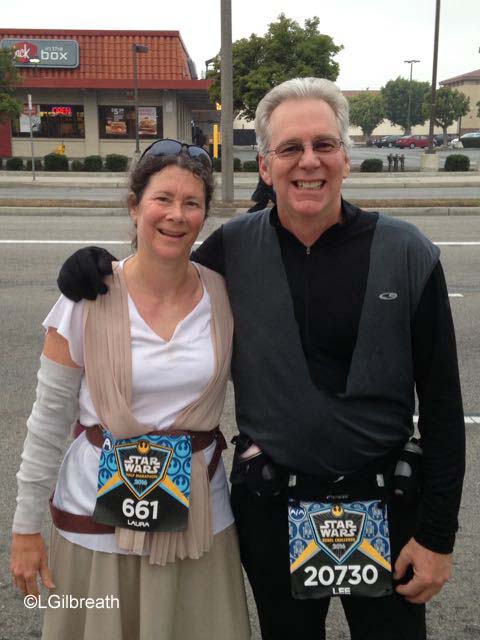 Mile 10. We were running east on Chapman. Still a little foggy and grey, and I was getting a little chilled. I won't lie – that last 5K was tough for me. I was still managing my 4:1 run/walk intervals, but my run pace was down.
About mile 11 we turned onto Harbor Blvd again, so at least the end was (almost) in sight. This sign made me laugh.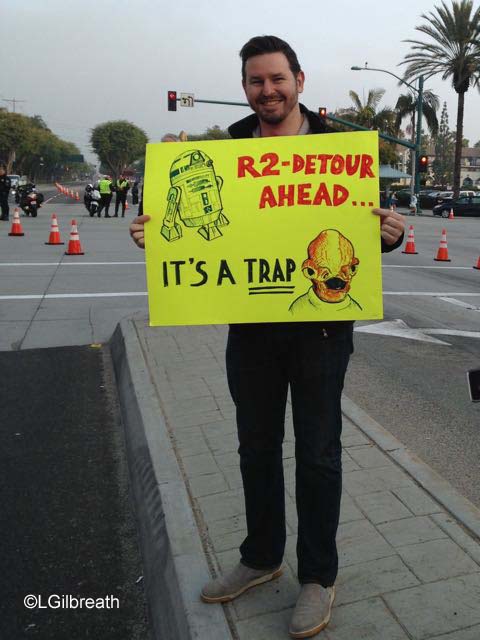 The mile 12 sign was NOT at mile 12 – it was on Katella at about mile 12.25! Messed me up, because this made me think I had more than a mile to go, when really I had less than a mile. And I was very ready to be finished!
There were storm troopers at the finish line! My official time was 2:26:37.
I was very happy that the volunteers were distributing mylar sheets – I needed that.
It was strange not to be getting two additional medals (Rebel Challenge and Coast-to-Coast), but at least Lee upheld the family honor and received the Rebel Challenge medal. 🙂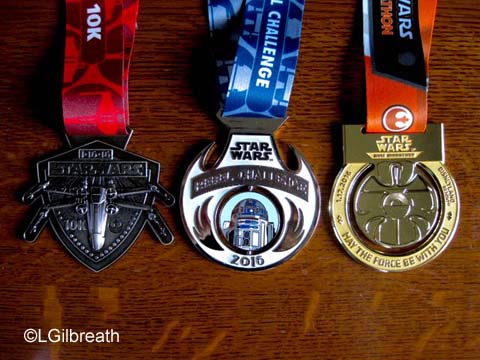 My costume worked very well and I was happy with it. As I mentioned before, one of the keys was sewing the wrap to the shoulders of the shirt so it wouldn't slip off. One of my arm wraps didn't stay in place very well, but the other one was fine. I will probably wear this costume for one of the Star Wars races at Walt Disney World in April, though I may not wear the arm wraps, depending on the weather.
The parks part of the half marathon course was changed from last year, though the rest of it was basically the same. I didn't think the park changes were as noticeable in the half as they were in the 10K, though there were still some narrow areas and sharp turns. Although we didn't experience it, we heard that in the parks the course was crowded for those who were further back. Once you're out of the parks this is a very fast and easy course: no hills and nothing narrow or technical.
So it was another great Star Wars race weekend. This one is still my favorite Disney race weekend – I really enjoy the Star Wars theme. All of the signs and photo ops and characters and music and lighting make it a lot of fun – and then there's all of the cosplayers in the half marathon.
And now we're ready to complete the Kessel Run at Walt Disney World in April when we take on the Dark Side Challenge!