January 2016 – time for the second annual Star Wars Half Marathon Weekend at Disneyland. I thought last year's inaugural event was an unqualified success so I was interested in seeing what changes they might make this year. I'm happy to report that it was still a great event, and has firmly solidified its position as my favorite runDisney race weekend.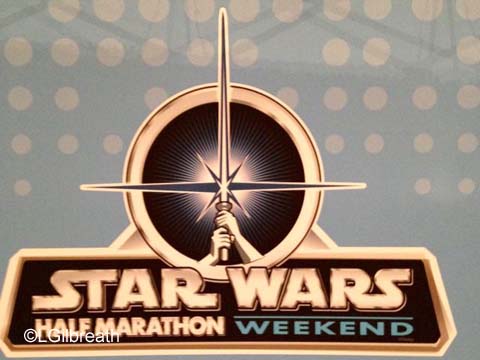 There weren't any huge changes this year. A few more runners (14,000 in the half vs. 12,000 last year), since they decided the courses could handle it, and I thought there was a better variety of merchandise – and more of it. The biggest changes were to the race courses for the 10K and half marathon, but I'll get to those later.
For the first time since 2012 we did not participate in Marathon Weekend at Walt Disney World and then return to the west coast and run a half marathon at Disneyland a week later (two weeks later in 2012). It felt strange not to be at Marathon Weekend, but we were certainly a lot more rested going into this race weekend than we usually are. 🙂 Though we weren't as well trained, since we hadn't trained to run a marathon this last season.
We did not participate in the 5K on Friday morning, though we had a number of friends who did. It was very exciting when all of the photos from the on-course character stops started coming in on Facebook and Twitter, and I saw that BB-8 was one of this year's characters! Squeee!!! That was a must-do as far as I was concerned. The other characters were Chewbacca, Ezra and Sabine (Star Wars Rebels), and R2D2 and 3-PO.
Although we weren't there, we heard from friends about the official merchandise lines at the Expo, which was held at the Convention Center in the Disneyland Hotel. Thursday was opening day, which has historically been very busy, since many people want first chance at the merchandise before some of the limited items sell out. Disney has learned from past experience and had things under control and well-organized again this year. Shoppers were queued upstairs in one of the large convention center ballrooms and then escorted downstairs to another queue then admitted to the merchandise area in groups. In the ballroom one of the Star Wars movies was playing, so at least there was some entertainment. Our friends waited for over an hour on Thursday morning, but they were able to purchase everything they wanted.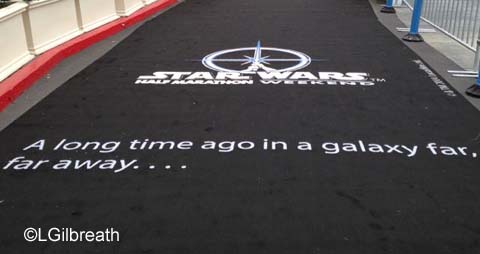 We arrived at the Expo about 4:15 on Friday afternoon. As usual, packet pickup was a breeze – no lines. Lee was signed up for the Rebel Challenge; I had signed up individually for the 10K and half marathon. (We were traveling when registration opened, and it was logistically challenging to get both of us registered – and the Rebel Challenge was more important to Lee than to me.) But that was before I knew they were going to change up the Rebel Challenge medal – it was different this year. Still, Lee was getting one so there would be one in the family.
Speaking of the medals, they displayed them differently in the Expo this time. Instead of hanging in the runDisney booth where we could handle them, they were on display in cases.
This was my first opportunity to see the Kessel Run challenge medal in person (the one we will receive for completing both the Disneyland and Walt Disney World Star Wars half marathons) – it's fabulous.
All of the Star Wars Dark Side medals look great.
As usual, they had done up the actual entrance to the Expo nicely with different banners.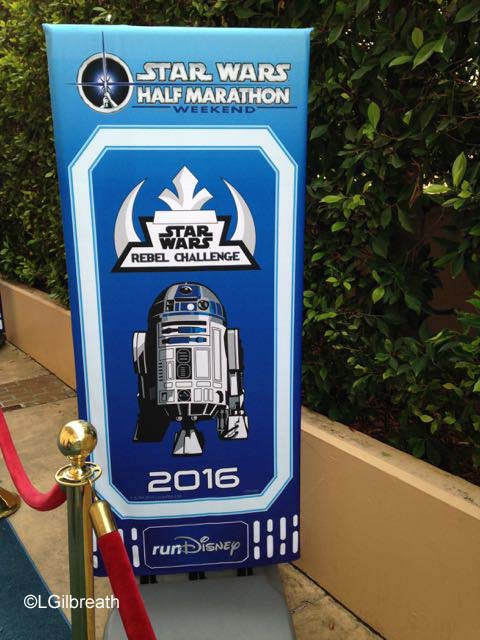 Once inside we picked up our race shirts. Really nice designs this year, though some of us joked that the 10K shirts were recycled from unused 2014 Wine and Dine half marathon shirts, since they are the same color.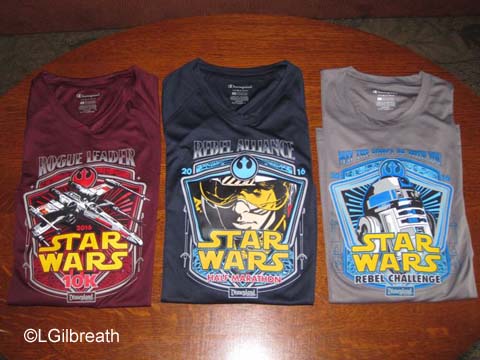 I was very disappointed that I wasn't registered for the Rebel Challenge since the shirt has R2D2 on it!!! Sigh. I won't make that mistake next year.
We went over to the official merchandise area. At almost 5:00 there was still a line to get in, though it wasn't too bad – we waited 10 minutes or so. Inside there still seemed to be a good variety of merchandise remaining.
There were lots of Rebel Challenge items.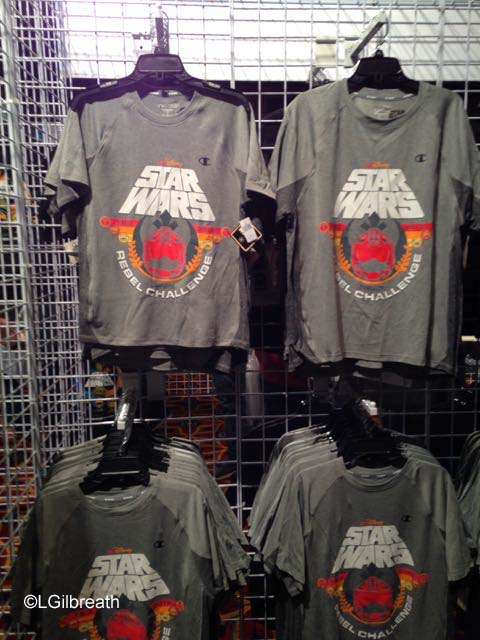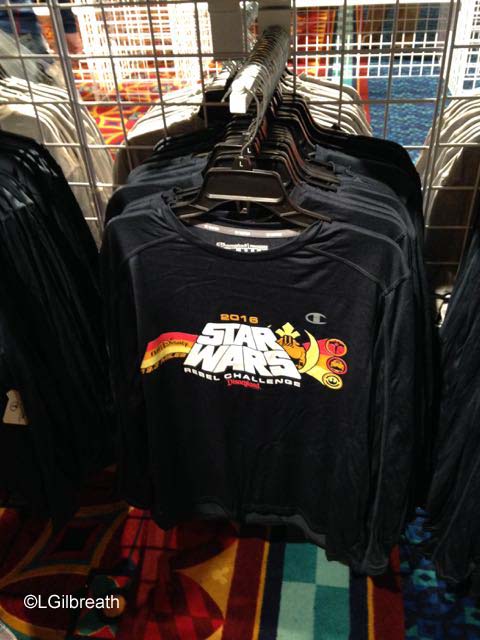 I thought this one was clever – 13.0999. 🙂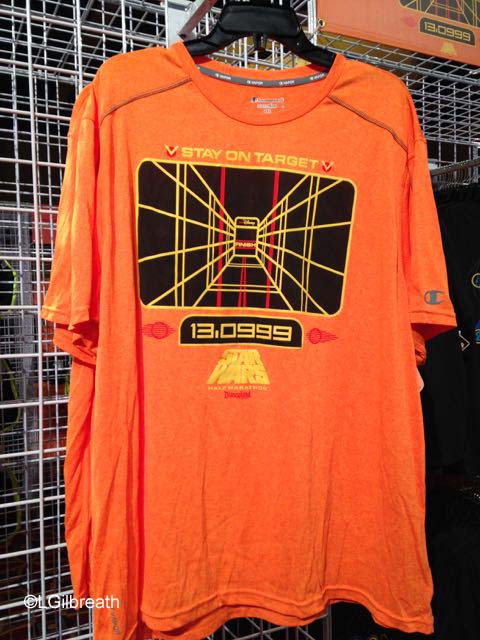 Some items were down to limited sizes, though – Lee would've purchased the men's version of this shirt but it was only available in a medium.
One wall had only runDisney branded merchandise, so it was obvious that some items had sold out.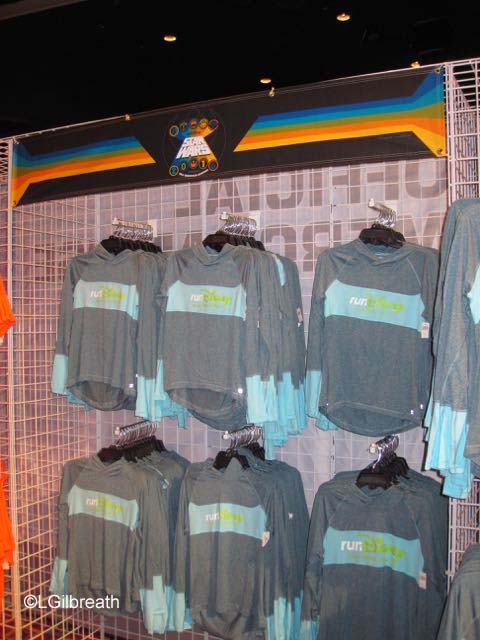 All of the "I Did It" shirts were still available, most in both men's and women's cut.
There was still a good selection of magnets – I purchased the race weekend magnet.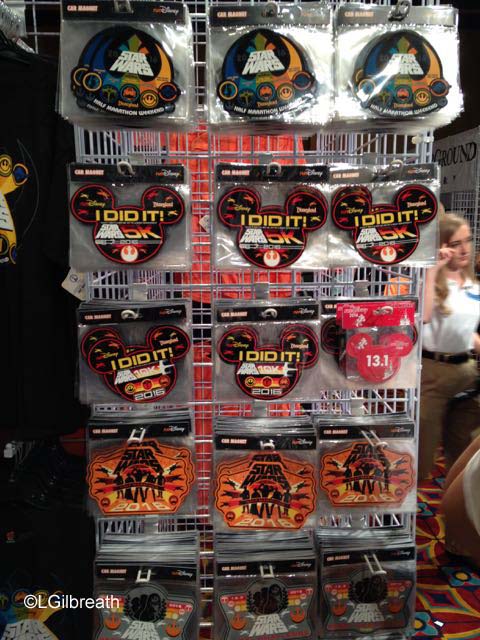 The only mini medal pins were the half marathon, Rebel Challenge, and Coast-to-Coast pins. I would've bought a 10K medal pin, though I'm not sure that one was available at all. There seemed to be plenty of race pins available.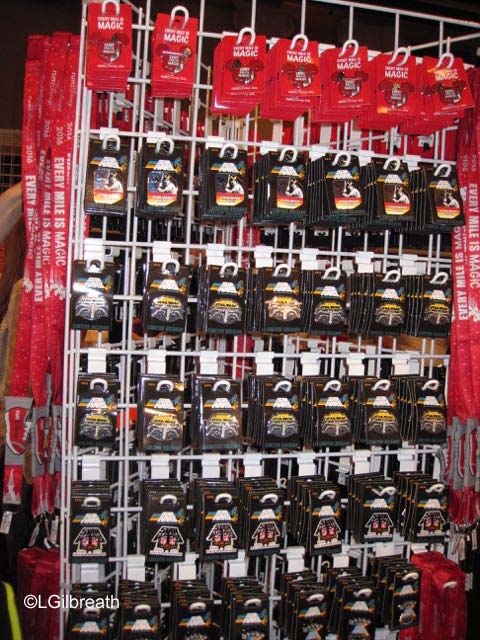 There's a new Coast-to-Coast shirt this year.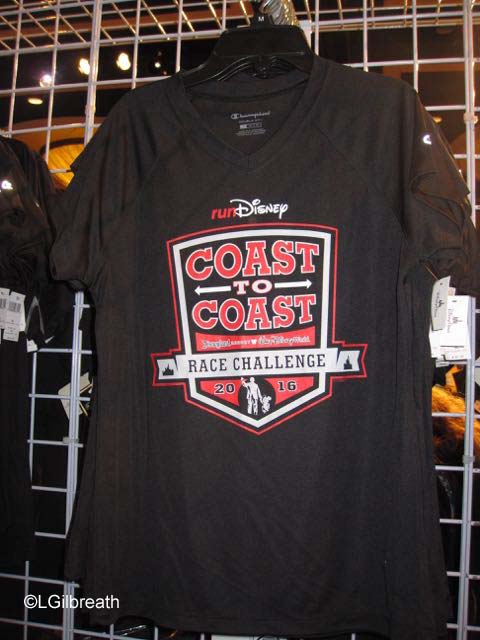 Most of the race shirts featuring Inside Out and other characters were still available.
There were also mugs and water bottles, headbands, pins, and a very nice messenger-style bag. I was happy to see that there weren't racks of generic Star Wars merchandise like we saw last year when they had run out of so much of the race merchandise.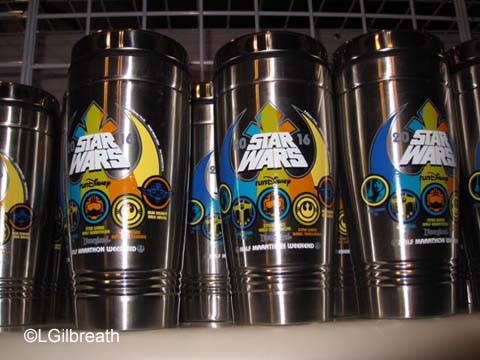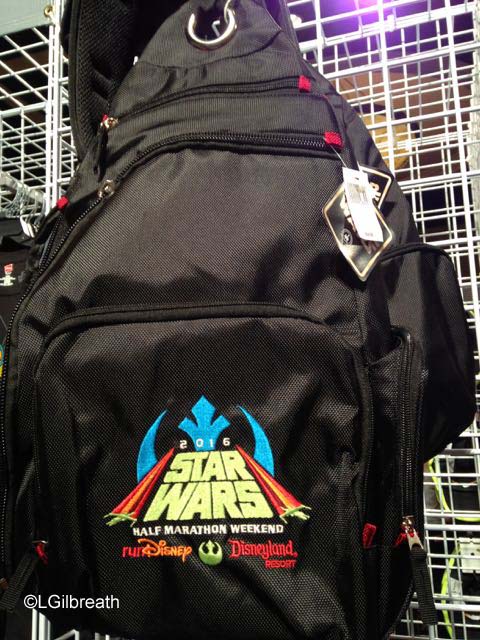 The rest of the expo seemed to have the usual merchants. Champion had some new shirts that were mashups of Star Wars and (mostly California) universities.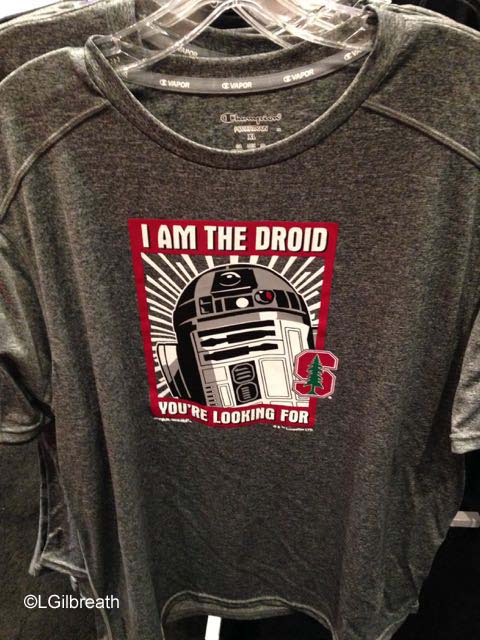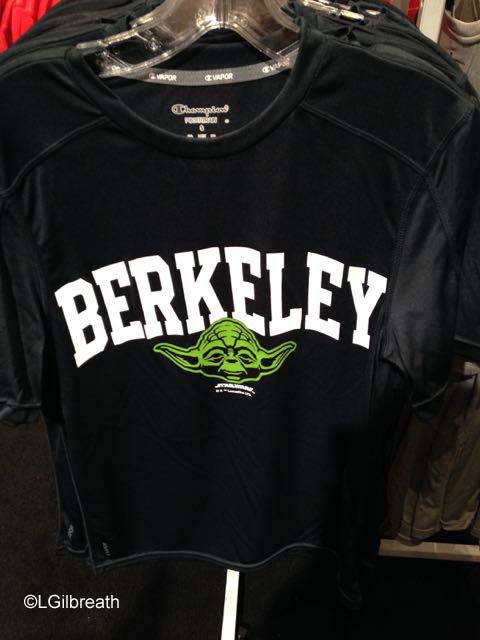 New Balance has new Disney shoe styles. These were much more appealing than last year's black and white shoes and there lots of people purchasing them. We continue to resist the temptation. (One of the few runDisney temptations that we have successfully resisted, if truth be told. 😉 )
In the lobby outside the Expo there was a photo op. No line, so we had the CM there take our photo.
Expo done, we checked into the Grand Californian (thank goodness for DVC points) and unpacked, had dinner, etc.. We made it an early night, since 3:30 a.m. was going to come early for the 10K wake-up call the next morning.
To Be Continued…