So as you might recall from our last installment, we took a visit to the Walt Disney Animation Studios Tujunga Campus to get some exciting details on their upcoming 55th animated feature, "Zootopia."
[Photos provided by Disney]
Different departments took turns revealing some of the process involved in creating a big animation project like Zootopia. The first subject was "Characters: Creating the Citizens of Zootopia," with Character Design Supervisor Cory Loftis, Character Look Supervisor Michelle Robinson, Character CG Supervisor Dave Komorowski and Simulation Supervisor Claudia Chung Sanii.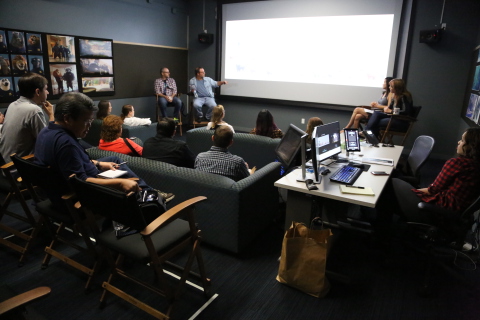 "Early on in the film, we partnered with Cory and Cory has drawn us this lineup of the kinds of characters we wanted to place in Zootopia…we quickly found that scale was going to be a big issue because our smallest critter is our mouse, over there, and our largest character is our giraffe and actually the discrepancy is such that it would be…you'd have to stack 97 of those mice head to toe in order to reach the top of the giraffe's head."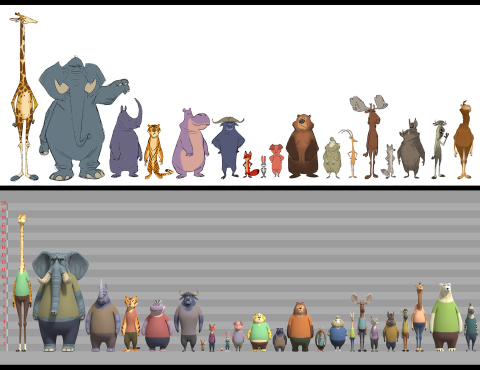 Other considerations:
–Shots had to be framed so that Judy Hopps, the protagonist, is visible and on the same level with animals both much larger and smaller than she is.
–Each habitat had to have representation, so animals from all ecosystems needed to be developed in both male and female varieties, using color and shape.
–Clothing specific and appropriate to each animal and environment had to designed.
–Quadruped animals required adaptation to bipedal movement, without losing their distinctive animalness.
"One of the things we discussed were all the classic Disney animal movies…we ultimately decided that it was the personalities that were so memorable about them. We wanted to make sure those personalities came across in the characters of Zootopia, and that's not necessarily through the design, but you have to give the animators all those dials to push so that they can get the performance to get that character across."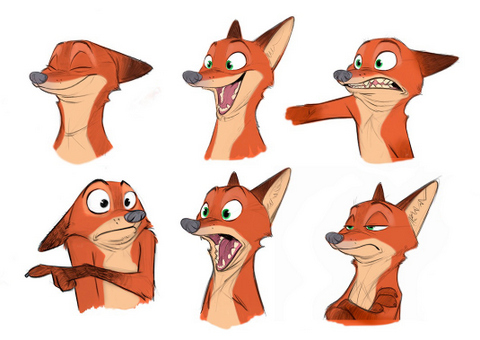 –Pants proved a specific problem, as animal and human anatomy had to be blended to make them look like they fit right.
–Some animals couldn't wear pants because their legs were too short, so they were kept in shorts.
–The hardest part was getting the cloth of the clothes to move believably, given the different anatomy and movement of each species.
–Designs for both Nick and Judy evolved throughout development to accommodate the changes made in their characters.
–Research started at Animal Kingdom Lodge and San Diego Wild Animal Park.
–A small team went on a two-week safari to Kenya.
–The differences in fur became apparent after many trips to the Natural History Museum: Texture, light refraction/reflection/transmission, etc.
–At the time, there were around 400 unique species and costumes that dress the world of Zootopia.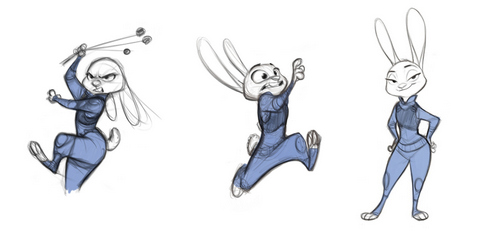 Afterwards, Loftis gave AllEars a few minutes to talk about differences he noted working on video game-related animation ("Wreck-it Ralph") versus actual video games ("Wildstar.")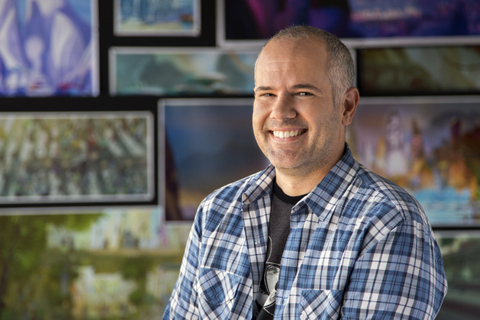 "The work itself is actually very similar…what we spend our time focusing on is very different…When you're running around in a game, you're always thinking about the player, right? And they're doing all the action, they're making their own story, so you're trying to put as much cool stuff in front of them as possible. Give them the coolest armor and the coolest creatures to kill and the coolest environments to be in and the coolest stuff to ride–you're always doing that. But when you go to film, you're trying to create the same things, except all those things are in service to the story. So if that cool thing is distracting from the performance happening on the screen–it's no good, right? Everything is in service to that acting, that performance, that scene, and that's the biggest thing it took to get used to, is trying to make stuff not too cool and not too distracting in the background and have it add to the story instead of distract from it."
The next panel was "Production Design/Environments: Building a Magnificent Mammal Metropolis," with Art Director of Environments Matthias Lechner and Environment Look Supervisor Lance Summers.
"When we designed the city of Zootopia, we wanted to make it feel like a real city. Not just some typical future city, but with dirt…buildings from different eras, some better kept up, some falling down…all the stuff that you find in a real city."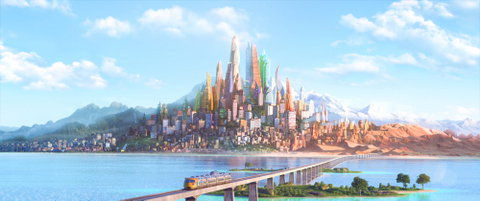 –On arranging the various habitats of Tundratown, the Rainforest District, etc., around the downtown of Zootopia where all the animals mix, the layout ended up slightly resembling that of a Disney park with a central hub and surrounding lands.
–Sahara Square is the first part of the city Judy Hopps encounters–a ritzy area with beaches and lots of nightlife, given that most of the animals are nocturnal.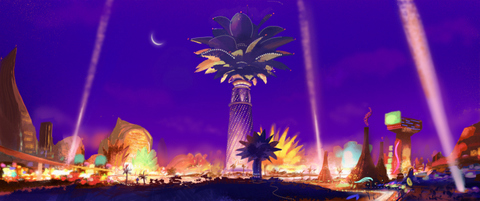 –A surrounding wall radiates heat from one side for Sahara Square, and cold from the other, to create Tundratown: An city covered with ice and snow, and influenced heavily by Russian architecture.
–The Rainforest District is marked by constant rainfall and moist vegetation. With a preponderance of vertical structures, aerial forms of transportation are necessary.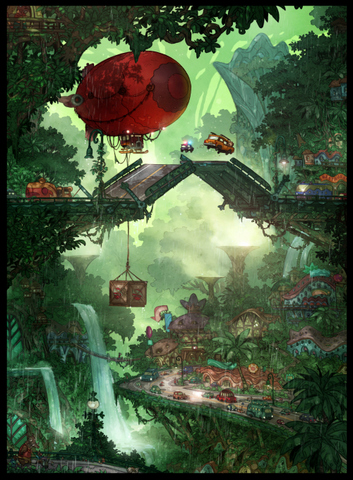 –Little Rodentia is designed to be a perfect tiny town that's set off so it won't get trampled by larger animals.
–Of course it gets trampled by larger animals in a madcap chase.
–Elements of the city appear to be repurposed elements from larger structures. Vegetation is strategically placed to reinforce scale.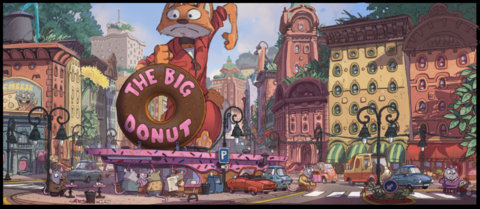 On whether the hub-and-spoke transportation system of Zootopia was influenced by the Progress City models: "Well, it's Zootopia with utopia in it, so yes, that's part of what you were supposed to see when you look at that city. It's also a very green city…it's a nice environment. You get a chance to make a city, you might as well make a nice one."
Next time with "Zootopia:" We hear from the Animation and Story departments.