One of the hot topics I get asked about a lot is photographing while on a ride at Disney themeparks. There is an easy way and a harder way which I will be talking about and giving examples.
First, let me stress the importance of securing your camera while on rides. Whether you are taking pictures or not. You do not want your camera to bang up against anything during the ride or, worse, dropping it. I always use my camera strap around my person and then around the wrist which holds the camera.
Once secured, the next thing I worry about is how I want the photo to come out. If I am taking photos of people on the ride, I will use a fast shutter speed to get a nice and sharp image of them. That is what I did with the photo of my daughter on Big Thunder Mountain Railroad in the Magic Kingdom. I put my camera in Shutter Priority and set it to 1/800th of a second. This happened to open up the aperture to f/4.5 which gave the background a pleasing out of focus area or bokeh.
The type of lens is important, too. Wide angle lenses are best or a zoom set to its widest focal length. Believe me when I say it is not easy aiming the camera as a ride is in motion. A wide angle lens gives the best chance for a successful photo.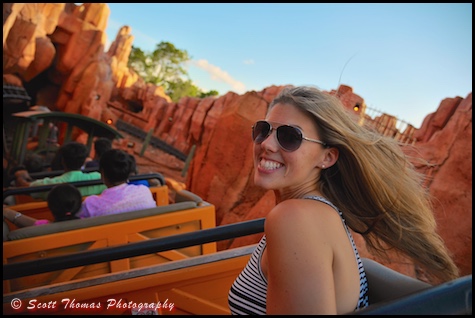 Riding Big Thunder Mountain Railroad using a fast shutter speed.
Nikon D700/24-120VR, 1/800s, f/4.5, ISO 200, EV 0, 24mm focal length.
The harder way is slowing your shutter speed down to keep the ride vehicle(s) in sharp focus but the background becomes a blur. That is what I did when I rode Tomorrowland's Astro Orbitor in the Magic Kingdom. I again used Shutter Priority and set my camera to 1/10th of a second. I took several photos during the ride and this photo was the only one which came out the way I wanted it to.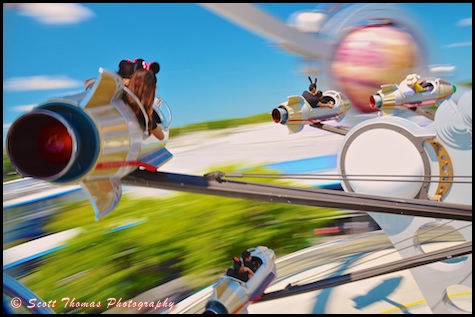 Long exposure photo of the Astro Orbiter from the Pilot Seat.
Nikon D700/28-300VR, 1/10s, f/22, ISO 200, EV 0, 24mm focal length.
Another ride for cool slow shutter speed photos is the Mad Tea Party or Tea Cups in Fantasyland. Here you need to get the cup spinning fast. Start out with a shutter speed of 1/125 and decrease to 1/60, 1/30 and even as low as 1/15th of a second. I would love to show you a photo I took but I can not stomach the Tea Cups. My friend, Joe Penniston, an accomplished Disney photographer, can and captured this wonderful photo.
Slow shutter on the Mad Tea Party or Tea Cups.
Nikon D3S/14-24mm, 1/15s, f/6.3, ISO 200, EV 0, 20mm focal length.
Do not forget one very important ride photo…the end of the line photo showing everyone survived!
End of the ride photo on Big Thunder Mountain Railroad.
Nikon D750/Tokina 16-28mm, 1/250s, f/2.8, ISO 320, EV +0.3, 16mm focal length.
Remember, secure your camera first. Then enjoy photographing the ride.