I have had the pleasure of accompanying Disney Historian Jim Korkis and fellow photographers on tours around Walt Disney World. On each tour, Jim repeated how important it was to photograph and document "everything" in the parks and resorts. Over time, things change, get replaced or plain disappear from guest areas.
With rumors swirling around Disney's Hollywood Studios as attractions are closed without word of what may be coming to replace them, I sought out various details around the park during my last two visits.
Signs in the Streets of America New York area.
Nikon D700/28-300VR, 1/320s, f/9, ISO 200, EV 0, 65mm Focal Length.
Streets of America is filled with details movie sets need in a backlot. Authentic locations and details to make people believe they are in New York when it was filmed in Orlando.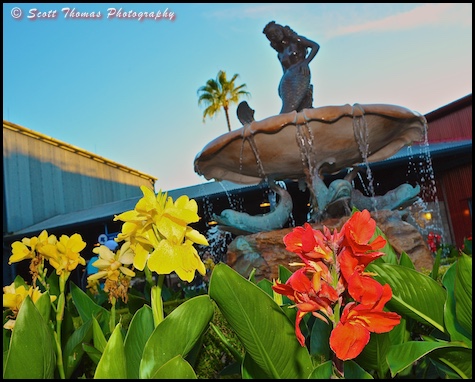 Flowers around the mermaid water fountain from the 1984 movie, Splash.
Nikon D700/28-300VR, 1/160s, f/11, ISO 1100, EV 0, 28mm Focal Length.
This prop always makes me smile remembering this was from Tom Hanks breakout movie, Splash, back in 1984. And, it's right down the street from Pixar Place and Toy Story Midway Mania, something else Tom Hanks had a hand..er, voice, in.
Ruby slippers worn by Judy Garland in the Wizard of Oz imprinted in a cement block outside the Great Movie Ride.
Nikon D7100/24-120VR, 1/125s, f/5, ISO 100, EV +0.3, 31mm (47mm DX) Focal Length.
I was thrilled to learn Disney and Turner Classic Movies were getting together to give the Great Movie Ride some much needed face lifts. The removal of the Sorcerer's Hat brings back the original appearance of Disney's Hollywood Studios and this should help bring back the luster to the attraction, too.
The sign outside of the Indiana Jones Adventure Outpost shop.
Nikon D7100/24-120VR, 1/125s, f/4, ISO 160, EV +0.3, 95mm (143mm DX) Focal Length.
You have heard the rumors and I have heard them, the area known as Echo Lake may look a lot different in a few years. Attractions, restaurants and shops could be removed, changed or replaced. For anyone looking to get the iconic Indiana Jones hat, the Indiana Jones Adventure Outpost is where you want to go before it gets replaced with something else in the galaxy.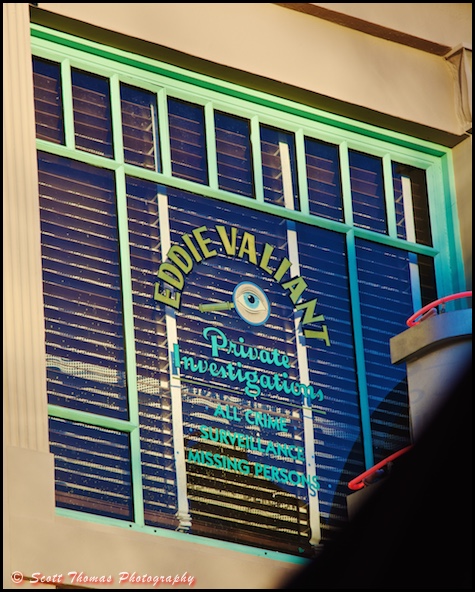 The window to Eddie Valiant's Private Investigations above the Hollywood & Vine restaurant.
Nikon D7100/24-120VR, 1/250s, f/4, ISO 100, EV +0.3, 120mm (180mm DX) Focal Length.
Back in 1989, when Disney's Hollywood Studios opened (then called Disney-MGM Studios), Who Framed Roger Rabbit references where found throughout the park as the movie had been a huge hit the year before. Over the years, many of the references have been moved or disappeared. As of today, you can still spot the office window of Eddie Valiant's Private Investigations above the Hollywood & Vine Restaurant.
Have you photographed something in Disney's Hollywood Studios in the past which is no longer there or moved to a different location in the park or the resort? Share them with us in the Comments below.