Lee and I visited Disneyland on Friday, July 3. We hadn't been able to get to the parks since the end of May. Our main goal for the day was to see the All-American College Band. We were hoping that some of the 4th of July festivities might also take place on July 3 (that's happened in the past), but not this year.
We arrived at the Toy Story parking lot about 9:45. I've given up trying to get into the Mickey and Friends parking lot when coming from the south – if I get re-routed, it adds an extra 20-30 minutes to the whole parking experience. In addition to the parking ticket, the attendant also handed us this pamphlet. In nine different languages it says that Selfie Sticks are not allowed in the parks, because they "have become a growing safety concern for both our Guests and Cast." There were also signs at the tram stops and outside the bag check tents. I don't know if it was because of the selfie sticks or for some other reason, but the bag checkers were doing a more thorough job, so that process took a little longer.
We went into Disney California Adventure first, though at that point (10:00) neither park had much of a line at the turnstiles. We met up with Jason and his family and went to Fiddler, Fifer, and Practical Cafe – aka Starbucks. In case you didn't realize it, they serve one version of the special Diamond Anniversary Cupcakes here. 🙂
This one is the orange cupcake with berry filling. In the name of research I tried it, even though I think orange as a cupcake flavor is just wrong. The sacrifices I make! 🙂 For a flavored cupcake it was pretty good, though I prefer the lemon version that is available at Disneyland (and I still can't believe they didn't make a CHOCOLATE cupcake!).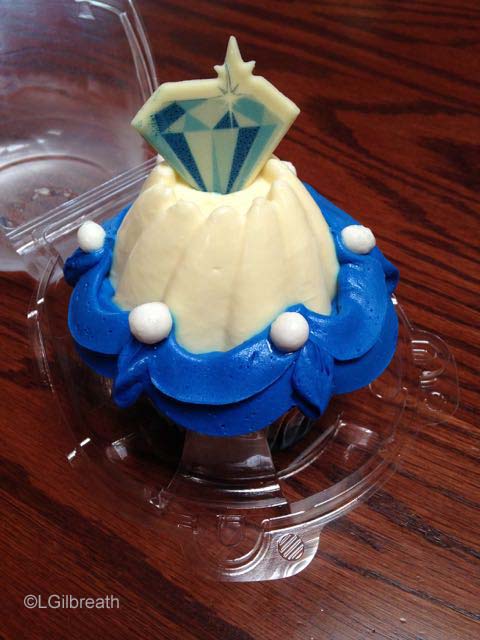 In addition to the berry filling (which there wasn't much of) there were little bits of fruit in the cake, which I think were currants. The cream cheese icing was very tasty but there was a LOT of it – Lee used some on his scone and there was still a lot left. The "pearls" were interesting – we never really figured out what they were. Some kind of candy-coated crispy thing. And the blue icing is very blue, and it will dye your tongue and your fingers, and anything else it comes into contact with.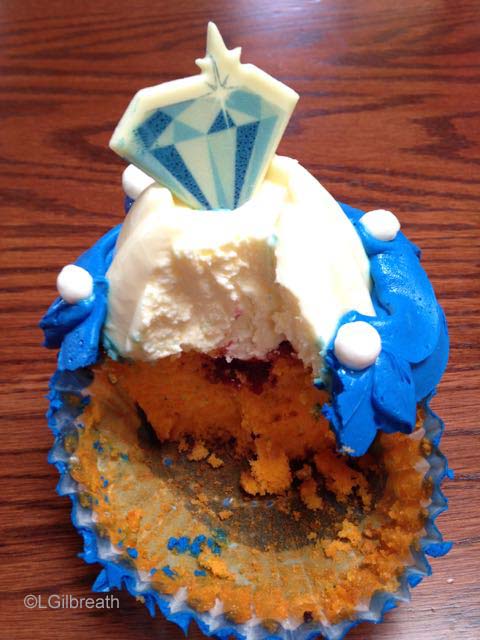 Also offered here was a 4th of July cookie. I didn't think there was much of a 4th of July presence in the parks this year – usually there are banners on Main Street and Buena Vista Street, but this year it's all of the Diamond Anniversary stuff instead.
In addition to the band, the other group we wanted to see was the United States Air Force Honor Guard. For July 2-6, there were several different military groups that were performing in the parks, and on Friday it was the Air Force group. We saw their first set in Disney California Adventure (Jason also saw them later in Disneyland).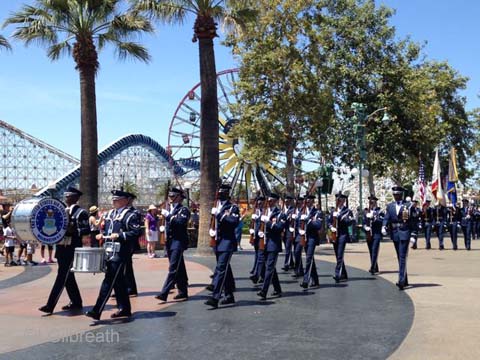 They did some really well-choreographed and synchronized routines. Jason has more in his blog, but here is a short video he put together of some clips. They told us that those rifles they are flipping around to effortlessly weigh 13 pounds!
While it wasn't a hot day, it would have been very warm standing in the sun in those dark uniforms. I'd find it very challenging to never change expression or scratch an itch or wipe my face, but they did it.
A sneak peek of the upcoming Ant-Man movie is showing (appropriately) in the "It's Tough to be a Bug" theater. Where it takes advantage of all of the special effects used for the regular show. 🙂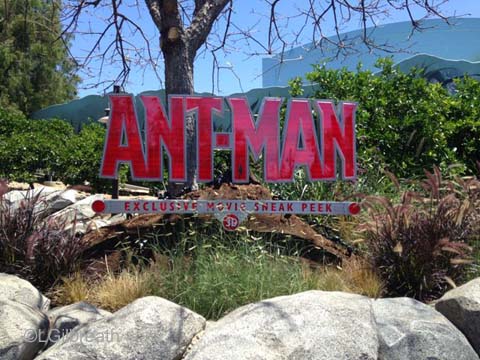 The Ant-Man suit was on display outside. I can't say that seeing the preview really gave me much desire to see the movie. But there were quite a few people in the theater. And there were Disney survey takers outside afterward asking about the experience.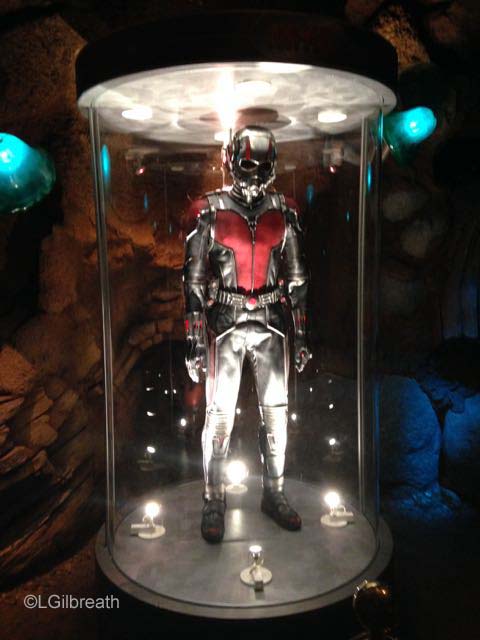 For lunch we went to Flo's in Cars Land. It had been quite a while since we had eaten lunch/dinner there – much of the menu has changed since the last time we ate there. I had the Spit-Fired Rotisserie 1/4 Chicken served with mashed potatoes and roasted vegetables. The chicken was ok – the roasted vegetables were actually very good.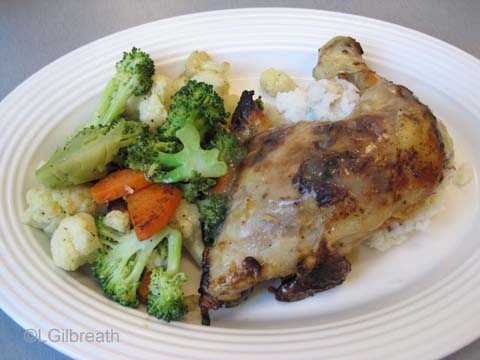 Lee tried the BBQ Pork Ribs with Coca-cola barbecue sauce, mashed potatoes, and coleslaw. Lee enjoyed them, and said the sauce was very good. I thought the ribs were a little dry.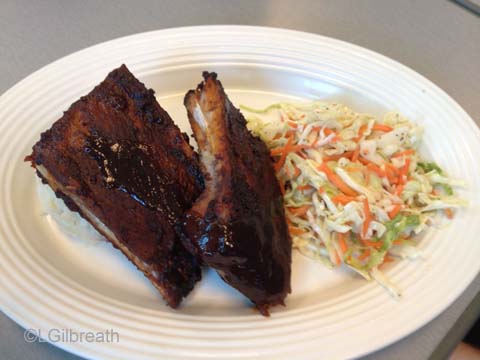 Flo's offers their Pie-o-Rama for dessert. Mud pie and apple cheddar are always available, but there is a seasonal, which was coconut cream. That's Lee's favorite pie, so we tried it. But it was disappointing – the filling didn't taste much like coconut at all. Most of the coconut flavor came from what was sprinkled on top.
We didn't really have any plans until 3:00, so I suggested the Wilderness Explorer Ceremony at Redwood Creek. It was very exciting – we learned the Wilderness Explorer Oath, the Wilderness Explorer Call. Ok, so apparently I was the only person in our group who was excited. 🙂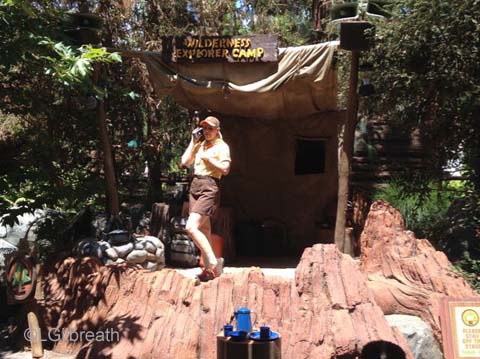 There was our senior scout, and Russell, and we even saw Kevin! I don't remember Kevin's appearance from the last time I saw it (which admittedly was a number of years ago).
We made a short detour into the Grand Californian Hotel to see the Sleeping Beauty Castle Cake in the lobby. It's very pretty. Lots of marshmallows, white chocolate, rice cereal, and fondant.
The 2015 All-American College Band's first performance of the day was their jazz set at the Hollywood Backlot stage. This is their 45th season – 45 years of bringing together some of the best college musicians to perform at Disneyland during the summer. These kids are so talented. This set even included vocals – one of the guys sang "Zero to Hero" from Hercules.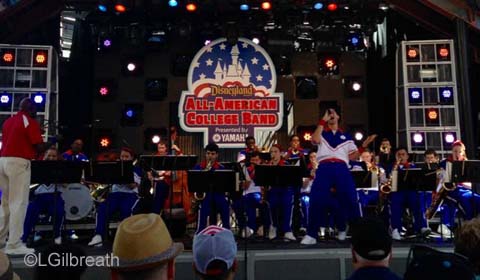 Time for a snack – so we went to Ghirardelli. I had my new favorite Nob Hill Chill. The hot fudge sundae you can drink. 🙂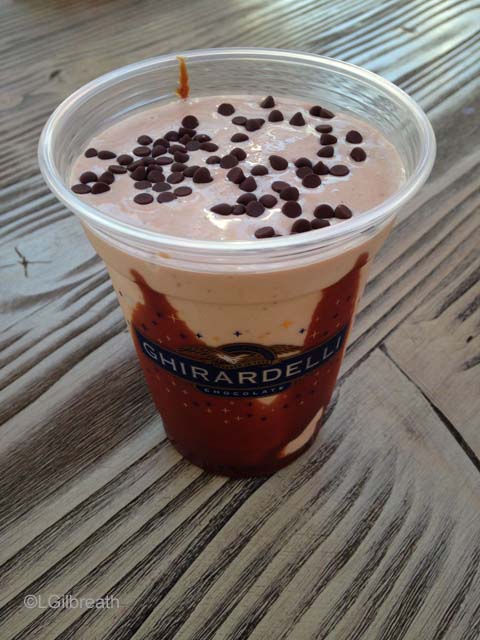 Over in Disneyland we checked out the second of Enchanted Windows on Main Street. This one switches between Cinderella's transformation and dancing at the ball. The reflections make them very difficult to photograph, especially during the day.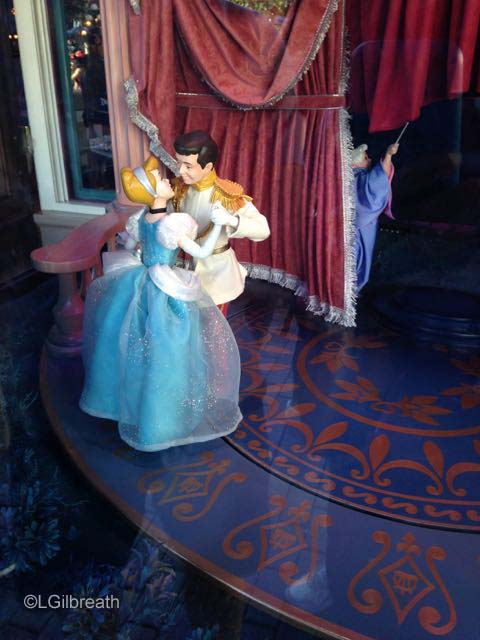 We continued to stalk…I mean follow…the College Band, as they performed during the nightly Flag Retreat. There's only 21 of them, but they put out a lot of sound!
The parks were surprisingly not that busy, especially considering that it was a holiday for many people. Maybe most were waiting until July 4 to visit. The line for Splash Mountain was over an hour, but all of the other big attractions were less than an hour. Peter Pan just re-opened after a pretty lengthy refurbishment and it was very popular, with a 50-minute wait. Lee and I didn't get there but Jason did, and he has video and photos in his blog.
At 6:15 we watched the band perform their set at Sleeping Beauty Castle. Their medley of music from different Disneyland attractions is always very popular.
They marched down Main Street, stopping to perform a couple of different songs.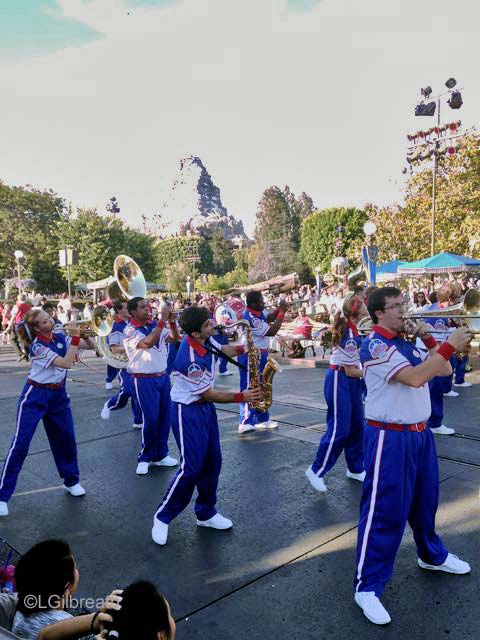 The band didn't have much of a break before their next set in front of the train station. This year they are performing a Stevie Wonder medley, as well as their Earth, Wind, and Fire finale. They are so talented and so much fun to watch!
I'd hope to eat dinner at the Plaza Inn, but the line was way out the door. Lee suggested Jolly Holiday Bakery. I had the Artisan BLT. I'm not exactly sure what was "artisanal" about it. 🙂 But it was tasty. I really like the house chips they serve here.
Lee suggested the Bakery because he recalled the excellent Oven-roasted Turkey Sandwich he'd had before, which is what he ordered this time. It's REAL turkey breast, and that makes a huge difference.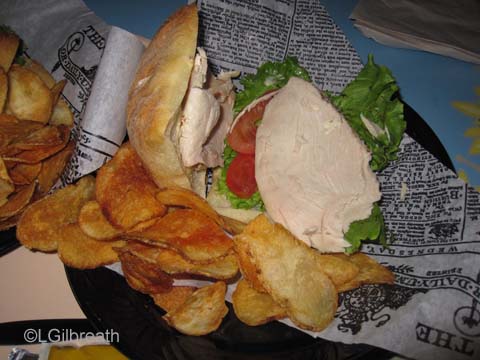 I wasn't paying attention to the drink menu, and missed my opportunity to try another of the specialty tea beverages that are available during the Diamond Anniversary. Jolly Holiday offers the Frozen Pomegranate Silver Sparkler, which I really like, but there's also another one I hadn't seen before: Very Berry Diamond Tea. It's $3.59, or $7.59 with a diamond glow cube.
Jason texted us to tell us there were still spots for Paint the Night where he was standing on Main Street. We hadn't planned to stay for the parade and fireworks, but at this point the start of the parade was only 30 minutes away, so we figured we should grab the opportunity. While we were in the back of the section, it was still a really good view of the parade.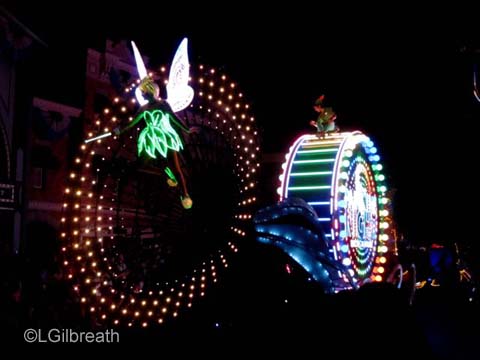 And this is still a spectacular parade. This was only the second time we'd seen it, so I'm still seeing and especially hearing new things. I really like the music.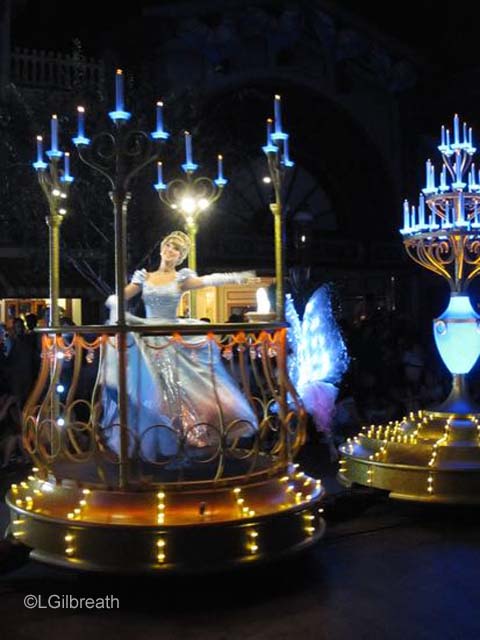 The dancers' costumes are fantastic, but they are in almost constant motion so it's very hard for me to get good photos of them.
As soon as the parade ended we rushed into the street to get in place for the fireworks. We were next to the Crystal Arcade, so we had a fairly clear expanse of buildings on either side of us. The immersive effect of being on Main Street is something you really have to experience with this show.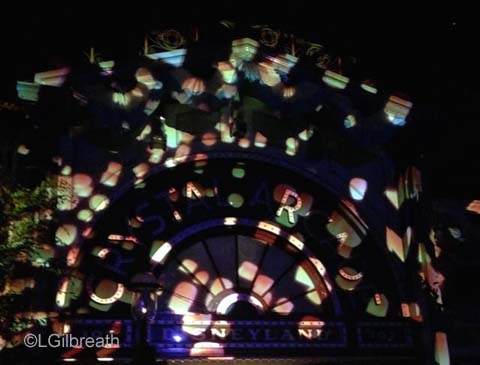 The crowd really gets into it when they hear The Lion King music begin.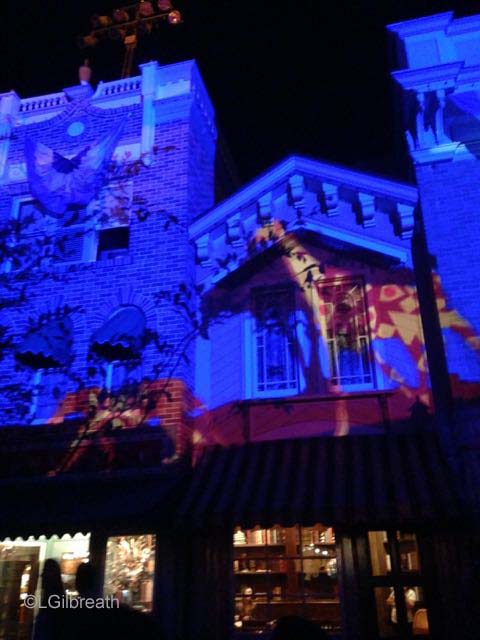 The search lights overhead are interesting to watch, also.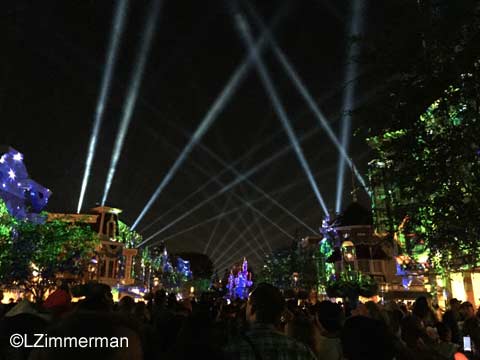 Oh, and there are fireworks, too. 🙂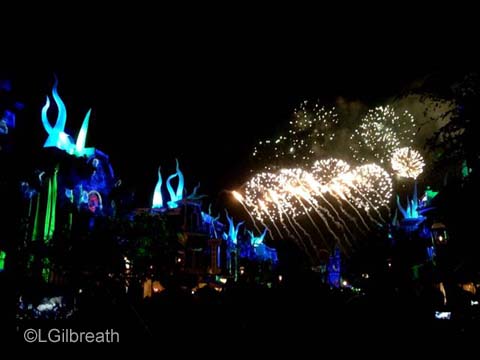 While roaming around the parks earlier in the day we had picked up this S'mores Mickey Crispy Treat. We tried it the next day at home. It was just ok. The graham crackers had gotten soft. If they had been crisp it might have been better – but I still don't think it would have made much difference.
We had a wonderful day at the parks – the weather was great, and the crowds weren't bad at all. Though we didn't really experience the crowds that much since we weren't trying to do attractions. We can have a good time just wandering around and taking advantage of all of the entertainment options.