Many of the Hidden Mickey images in moving attractions are fleeting and difficult to capture in a photo and thus challenging to verify. I think I finally snapped a decent photo of this Hidden Mickey on C-3PO's right forearm at Star Tours – The Adventures Continue. Just after you're seated for the ride, C-3PO appears in a screen at the front right of the room. A tiny, white classic (three-circle) Mickey is on the lower part of his right forearm near his wrist. (Thanks to Madison, Gracie and Dana Hall, and Richard Rando).

Someone (a guest or maybe a Cast Member?) has embellished this Hidden Mickey in Mama Melrose's Ristorante Italiano. On the left wall between the waiting room and the dining area, a classic Mickey is plastered on the brick. You'll find it in the middle left part of the wall, just above the counter. Recently, red and green crayon markings have appeared on the Mickey image.

It's difficult to get clear photos from a 3D film such as the MuppetVision movie. I think you can make out the Mickey balloons in this photo, taken near the end of the movie. After the cannon shoots holes in the theater and as Kermit rides in on a fire truck, you can see that some of the observers outside are holding Mickey Mouse balloons.

Keep watching that same fire truck for a Hidden Surprise! An image of Cinderella Castle is on a license plate at the right lower corner of the fire truck Kermit is riding. (Thanks to Devon Newport, Donna McMurrey, Sharon Dale, and Matt Perkins.)

Another video image that is often elusive to photographers is the coffee mug with the white classic Mickeys in the Magic of Disney Animation movie. I think you can see them in this photo!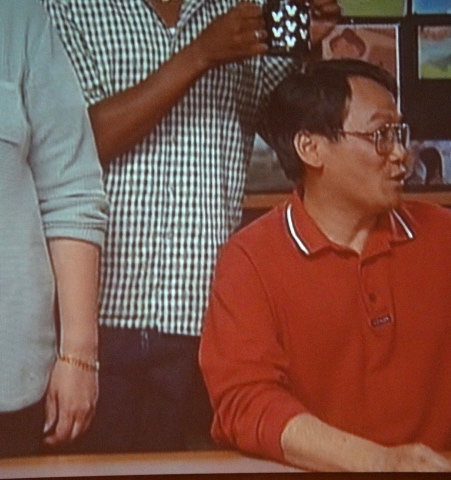 Happy Hunting!
Looking for more Hidden Mickeys? Have one to report? Visit Steve's website at: http://hiddenmickeyguy.com/