With a recent string of chilly nights (and days) in Orlando, it may be difficult to think about being outside, let alone enjoying your back yard. But that's exactly what Walt Disney World gardeners have been doing. Plans for the 2015 Epcot International Flower & Garden Festival have been in the works since last year's edition ended. The Flower & Garden Festival begins March 4 – just a little more than two weeks away!
Walt Disney World officials have given us a taste of what we can expect this year, and AllEars.Net has those details in our News Blog.
But a recent article in the Disney Rewards newsletter, a quarterly newsletter mailed to Disney Visa card members, offers more specific information about a brand-new garden. The Urban Farm garden will demonstrate "creative ways to grow fruits and vegetables, including raised beds, container gardening, and hanging methods that maximize productivity in small spaces." That sounds a lot like what Disney World does best, doesn't it? All three methods are easily visible throughout Disney property, though they are more often seen with flowers than food. Certainly, hydroponics and other growing methods for fruits and vegetables can be seen during the Living With The Land attraction at Epcot, however.
"The team is excited about this new garden because we all enjoy growing food," Eric Darden, horticulture content manager at Walt Disney World, said in the newsletter. "There's something so satisfying about saying, 'I'm going to run outside and pick some strawberries for my cereal this morning'."
In addition, there will be a display of home-size aquatic systems to raise fresh fish, information about chicken coops and raising chickens, and a beekeeping display.
"Currently, only about 35 percent of Americans are avid gardeners, but it is becoming a fast-growing trend," Darden said in the article.
Guests will be able sample foods that they might grow at home at the Urban Farm Fresh outdoor kitchen. Outdoor kitchens, which sell appetizer-size portions of foods, are similar to the booths at Epcot's popular Food & Wine Festival in the fall. Although the Urban Farm garden will be new, the Urban Farm Eats booth is not. It debuted last year and its menu included: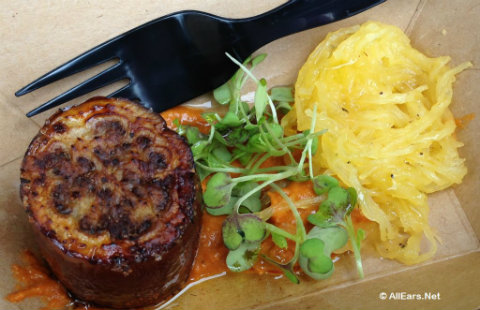 ** Land-grown eggplant "scallop" with romesco sauce and spaghetti squash $3.75
** Pickled beet salad with goat cheese cream, mizuna and pistachios $3.50
** Ghost pepper-dusted tilapia with crisp winter melon slaw and mint oil featuring
** The Original Sauce Man's Kick It Up Rub $4.75
** Cucumber lemon spa water, finished with a sprig of fresh mint $2.00
** The Vegan Vine Chardonnay $3.25
** The Vegan Vine Cabernet Sauvignon $3.25
** Redbridge Gluten-Free Sorghum Beer, Anheuser-Busch $6.50
** Seagram's Orange Citrus Sparkling Water $2.75
** Minute Maid Light Lemonade $2.75
** Dasani Bottled Water $2.50
No word on if the menu will remain the same.
This will be the third year that the Flower & Garden Festival includes outdoor kitchens. The Epcot International Flower & Garden Festival runs through May 17 and is included in regular admission to Epcot.