With the many amazing experiences theme parks in Orlando offer, it would be difficult to pick a single favorite place. But SeaWorld Orlando's Discovery Cove is among our family's top picks because of the unique and relaxing day it provides guests.
In my previous blog, I wrote about the park's signature Dolphin Swim Package. Although that certainly is one of the main attractions for many visitors to Discovery Cove, we also enjoy that there is enough to do at this park to fill a day for even the most active family.
Reservations and pricing
First, know that Discovery Cove is not inexpensive. It is priced more like a resort than a theme park: Prices vary based on seasons and can increase as the date approaches. The current Florida resident special is $219 per person, and admission is more for out-of-town visitors, especially in the summer. Guests who do not want to swim with dolphins can purchase a Day Resort Package, which covers everything except the actual dolphin interaction, at a discounted price.
However, part of the appeal of Discovery Cove is that it is not crowded. Although officials won't give an attendance number, it's commonly thought that only about 1,000 guests are admitted each day. For these reasons, it is recommended that you book your reservations in advance. (Discovery Cove does allow one complimentary rescheduling should that need arise.)
Planning your day
Because you are paying a premium for your day at Discovery Cove, presumably you will want to make the most of it. As basic as this sounds, one way to do this is to know the operating hours: 7:15 a.m. to 5:30 a.m. This is not the day to sleep in! Check-in begins at 7:15 a.m., breakfast service starts at 8 a.m. and the waterways open at 9 a.m. You can take your time exiting the park, however. Guests can swim right up until 5:30 p.m. and still be able to shower, shop at the gift shops and purchase photos. As one team member told me, "We stay open until the last guest leaves." My daughter and I were walking to our car about 6:45 p.m. and never felt rushed. (During colder periods, the park only is open Friday through Monday.)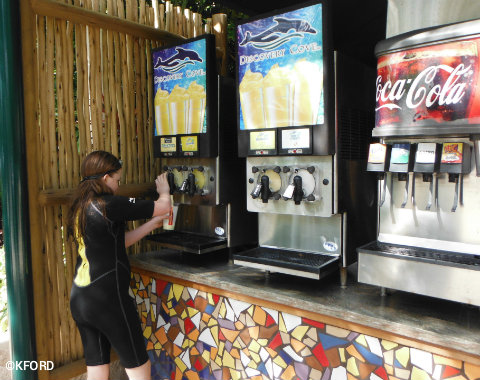 What's included
Discovery Cove is an all-inclusive experience. Every admission comes with an all-you-care-to-eat breakfast, lunch, snacks, drinks and alcohol for those 21 and older. The meals include hot and cold entrees, as well as healthy and gluten-free options. Breakfast is served from 8 to 10:30 a.m., and lunch is 11 a.m. to 3:30 p.m. You may go through the serving line as many times as you would like during those times. Snacks and drinks are served at the Beach and Island Bars from 10 a.m. to 5:30 p.m. I think my daughter stopped every time we passed a bar for one of the frozen drinks and either a salted pretzel or warm chocolate-chip cookies. It's fun to sit in the water seats (pictured) across from one of the bars, too.
In addition to food and beverages, your admission includes complimentary parking, the use of a wetsuit (short and long styles are available) and life vests, a locker for the day, samples of sunscreen that is safe for the dolphins, the use of a mask and snorkel (and you keep the snorkel), unlimited towels, changing facilities with complimentary body wash, shampoo, conditioner and the use of a hair dryer, and bags to take home your wet swim suit. (An aside: Prescription-lens masks are available at Guest Services.)
Plus, Discovery Cove guests are given unlimited admission to SeaWorld Orlando and Aquatica for 14 days after their visit to the day resort.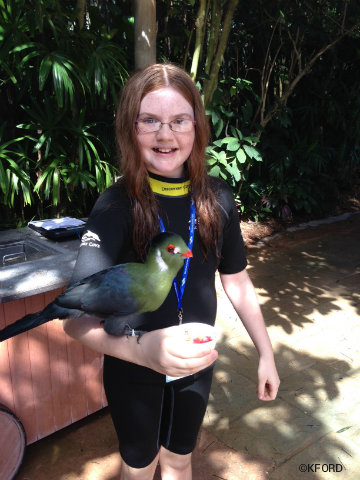 Explorers Aviary
So, if you're not eating and drinking or swimming with the dolphins, what can you do at Discovery Cove? My daughter especially loved hand-feeding the birds in the aviary. Team members provide cups of food, and guests can wander through three outdoor areas to entice the friendly birds to perch on the cups. The not-so-shy feathered friends rest on people's arms and even their heads. My daughter thought this was hilarious! We did the feedings twice and found that the birds seemed to approach my daughter more in the morning than the afternoon, perhaps because they were not yet full. There are not set times for feedings; guests may enter the aviary any time between 9 a.m. and 5:30 p.m. There is a hand-washing station at the exit.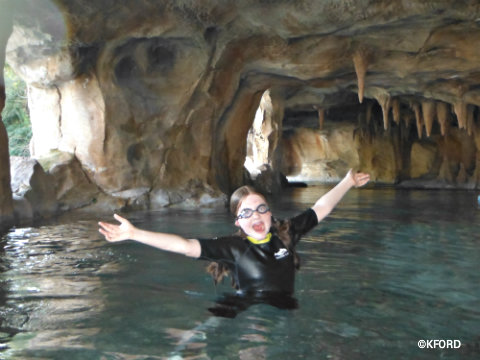 Wind-away River
The Wind-away River is my favorite non-dolphin attraction at Discovery Cove. It's essentially a slow lazy river, but one that doesn't really feel like a man-made attraction. The foliage on the banks is thick and lush, so you can't see the rest of the park, for the most part. Swimmers enter the river through a cave that features waterfalls. At the beginning, you can pick up a "noodle" to use as a float, which I would recommend if you don't have a life vest on and don't want to swim the whole route. There are many spots that are too deep to stand. Also, there are a lot more lifeguards stationed along this lazy river than I have seen at other water parks. See Wind-away River for yourself in this video I shot: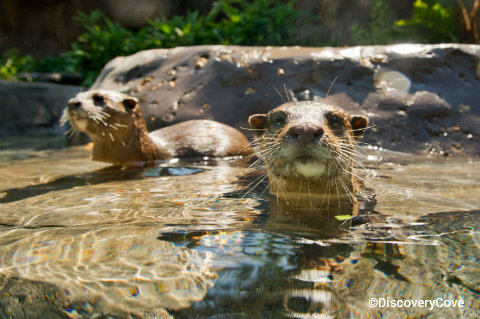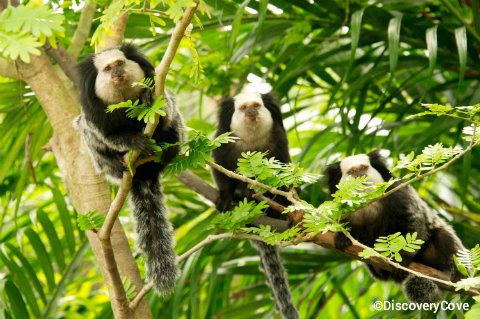 Freshwater Oasis
In the Freshwater Oasis, swimmers can see otters and marmoset interactions up close as they float or wade by their habitats. The marmosets are located behind a moat, and a team member talks abut the creatures and answers questions. The otters are behind a glass tank, and guests can look through their masks and snorkels under the water or view them above the water's surface. The Freshwater Oasis forms a smaller circle than Wind-away River.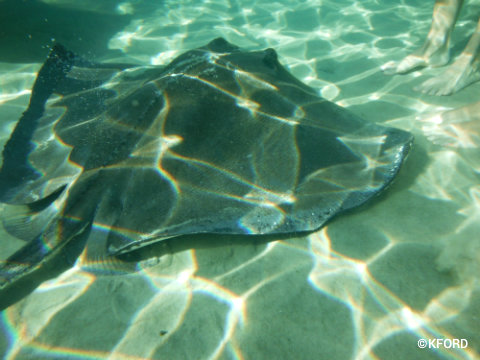 The Grand Reef
The Grand Reef, which opened in 2011, is the newest addition to Discovery Cove. It covers 2.5 acres where about 125 species of marine life live. The reef is open to swimming and snorkeling, and guests seem to be most impressed by being able to be so close to stingrays whose barbs have been trimmed. The rays we saw were gentle giants, though their quick movement and size startled a few children, including my daughter. The rays allowed guests to touch them, and we even saw some of the babies in a special pen pop up as if seeking out a hand. Snorkelers also can see sharks, which are swimming behind a glass wall.
The Grand Reef also is the location for the Seaventure underwater tour. Guests wear dive helmets so they can walk along the reef floor to see and even touch the marine life. The adventure ends with schools of fish feeding around the divers. The program is about an hour long including orientation; the time underwater is about 25 minutes. Groups are capped at eight people per excursion, and the experience costs an additional $59 per person.
Upgrades
Discovery Cove offers several upgrades to enhance your day. My daughter and I were invited to enjoy one of them, a cabana, on our most recent visit. The cabanas are tucked into the landscaping around the waterways and are very private. Ours opened out onto the Grand Reef. It included a table and four chairs, two chaise lounges, a refrigerator, locker, sand toys, towels and the services of an attendant. Cabanas are priced at $199 for six people for the day and can be reserved up to three weeks before your arrival. It was such a treat for us to experience a cabana, but we didn't have as much time as some families to enjoy it. We wanted to experience all the water aspects of the park and didn't spend much time lounging. I can see cabanas being a good investment for groups that have folks that need shade or aren't interested in being in the water the entire day.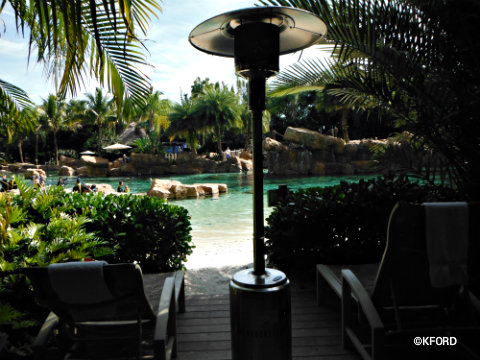 Other upgrades are the Trainer for a Day program, which is open to ages 6 and older, and special occasion packages that are described at DiscoveryCove.com. (Children ages 6 to 12 must be accompanied by a paid adult participating in the trainer program.)
Most people, including myself, would consider Discovery Cove an expensive experience, but perhaps if you factor in everything that is included and compare that total to what you would spend at another local theme park, it would be more comparable. Either way, Discovery Cove excels in offering unique experiences and animal interactions in an uncrowded tropical setting.
DISCLAIMER: My first visit to Discovery Cove was at my own expense, and I was a media guest for my second visit. This did not affect my review. My opinions are my own.