Discovery Cove is an all-inclusive theme park in Orlando that is part of SeaWorld Parks & Entertainment. As far as local theme parks go, it's relatively new, having opened in 2000. (By comparison, SeaWorld is celebrating its 50th anniversary this year.) In its short history, though, Discovery Cove has become synonymous with dolphins, and its layout literally is built around guest interactions with dolphins.
Certainly Florida offers many opportunities for visitors to get up close with bottlenose dolphins, but what sets Discovery Cove apart is its dolphin swim. Other locations allow guests to get in the water to pet and feed dolphins, but Discovery Cove makes it possible for guests to hold onto a dolphin's dorsal and pectoral fins and "swim" through the water. For my elementary-school-age daughter, this was a dream come true.
Here's how it works. When guests check in at Discovery Cove in the morning, they are assigned times and locations for their dolphin interactions, which take place in one of the three pods of Dolphin Lagoon in the center of the park. A few minutes before that time, they are asked to go to the corresponding cabanas for the Sand Dollar, Seahorse and Starfish pods. There they fill out waivers and see a short video presentation about dolphins. A trainer also goes over what happens in the lagoon and answers any questions.
Once that 15-minute segment is completed, the small group of guests heads to the lagoon. Our group had nine participants, two trainers, a photographer and videographer. Talk about feeling special!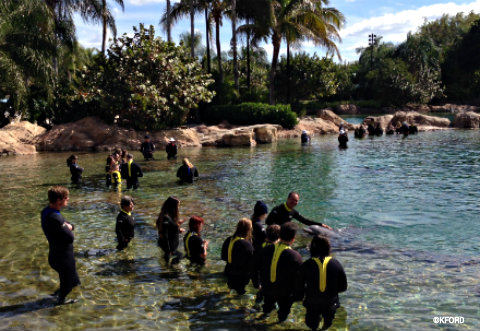 Our trainer talked with us about how and where to touch dolphins before we were introduced to Thelma, an older bottlenose dolphin who is one of the matriarchs at Discovery Cove. Then she appeared and we were able to pet her multiple times, feed her a fish (if we wanted to), and give her some simple hand signals and see her respond. Throughout the interaction, our knowledgeable trainers shared a lot of information about the mammals.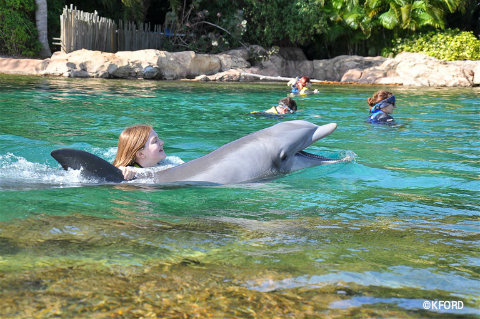 Then, it was time for the highlight of our 30 minutes with Thelma – the actual swim. Most people chose the deep-water swim, which required us to swim a short distance and tread water for a few seconds next to one of the trainers. When Thelma appeared, the trainer reminded each of us where to put our hands and then we were off! Thelma towed each of us back to where we could stand in the lagoon. She did all the work on the gentle ride. (Participants just hold on; they don't actually have to swim.) If the deep-water swim not something you would like to do, the dolphins will do the same tow in the shallow water so you never have to tread water. Honestly, though, the treading water does not last long at all.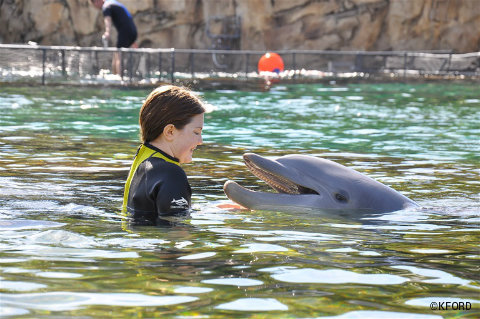 Throughout the interaction, we posed for photos with Thelma. We each were shown how to "kiss" her for the photographer. Plus Thelma posed (tail up, mouth open in a "smile") for family and individual shots. In addition, the photographer captured stills from each person's swim. And the videographer recorded the entire session. All the images and video are available to purchase as part of a photo package or as a la carte products. Be aware that participants are not allowed to take personal cameras in the water, but other members of your party are welcome to capture images from the shore.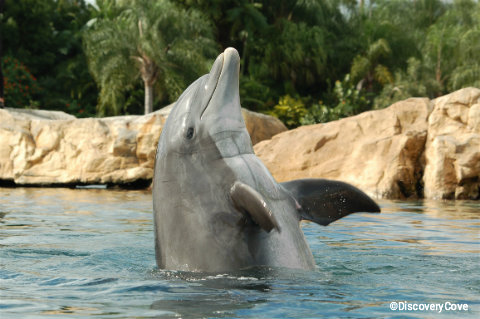 Things to know before your dolphin swim:
** To participate in the dolphin swim, you must be at least 6 years old. Children ages 6 to 12 must be accompanied by a paying adult who also is participating in the dolphin experience.
** Do not worry about whether the dolphin will be able to pull you. We were told Thelma weighs 600 pounds and can pull more than twice her weight.
** Guests are asked to wear wetsuits, which are complimentary and come in enough sizes to fit everyone.
** Jewelry is restricted to what trainers are permitted to wear: A tight-fitting watch and wedding and engagement rings. Guests are asked to remove earrings, bracelets, necklaces, etc. In my opinion, it's better to just leave those at home, but if you forget, you can always stash them in your complimentary locker.
** You also may wear a hat, glasses or sunglasses. This was of particular concern to me because everyone in my family needs glasses for more than just reading. Know that your head does not go under water at any time during the dolphin interaction – unless you choose to put it there! I wore my prescription sunglasses the entire time and was fine. My daughter chose to wear her glasses out into the water so she could see the trainer during the interaction, but took them off during the swim and photos.
** Dolphin swim times are booked on a first-come, first-served basis. Check-in begins at 7:15 a.m. and the park opens at 8 a.m. so get there early if you'd like your dolphin experience to be early in the day.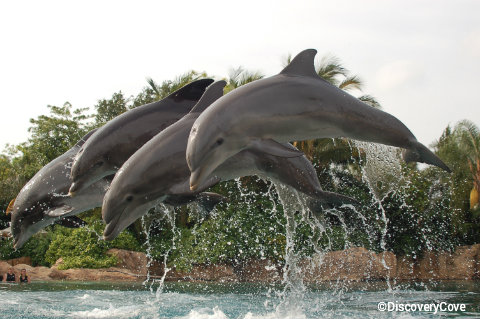 As amazing as the dolphin swim is, that's only a small part of your day at Discovery Cove. My next blog will bring you details about everything else you can do there!
DISCLAIMER: My first visit to Discovery Cove was at my own expense, and I was a media guest for my second visit. This did not affect my review. My opinions are my own.