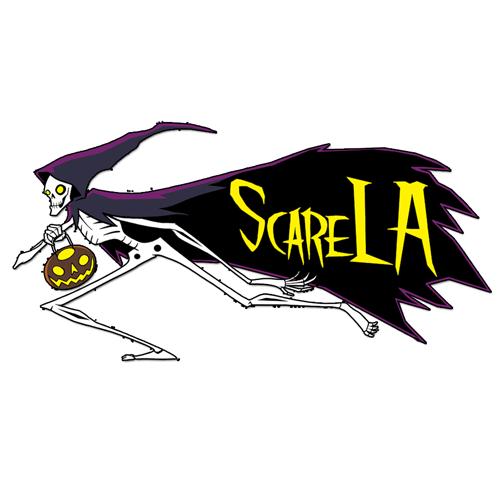 So, now that Halloween is creeping up on us once again, it's time to take a look back at the ScareLA convention that was held this year for the celebration of the season.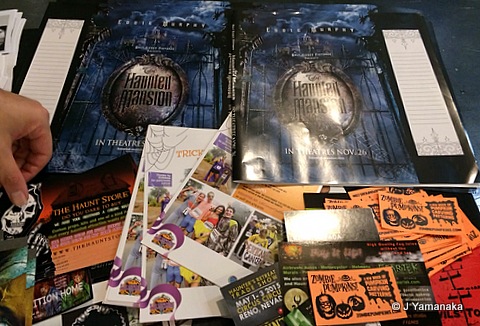 The weekend started off with a presentation commemorating the Haunted Mansion's 45th anniversary, with Disney Legends Bob Gurr and Alice Davis, hosted by DoomBuggies.com's Jeff Baham.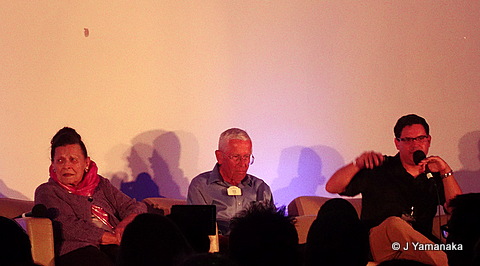 As a part of their show schedule, ScareLA also hosted the Captured Aural Phantasy Theater, performing "Chilling Tales of the Haunted Mansion–Live" in the form of an old radio show.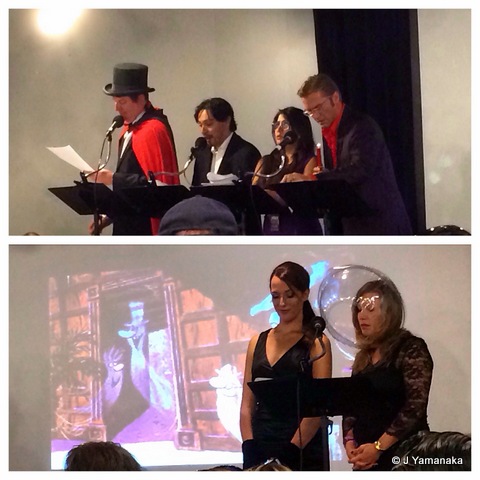 Some names familiar to the Disney community presented a history of "90 Years of the Anaheim Halloween Parade"–artists Kevin Kidney and Jody Daily.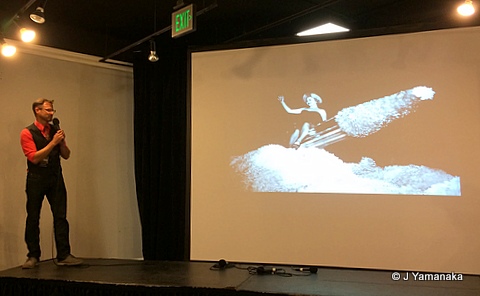 The Anaheim Halloween Parade will be held this month at 6pm, October 25th. If you are interested in either volunteering or just spectating at the parade, information on the schedule and the route can be found at http://anaheimhalloweenparade.org/ I attended last year, and while it was an impressive event then, it looks like they're working hard to make it even better for this year.
Garner Holt, of Garner Holt Productions, Inc., spoke about his personal journey from childhood to leading animatronic expert, in "Garner Holt: I Was A Teenage Haunter."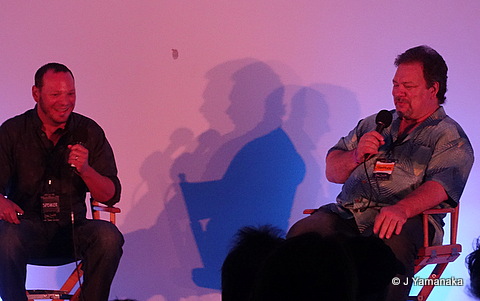 He also showed slides of some of the work he's done for theme parks all over the world, including this one for the Haunted Mansion Holiday Nightmare overlay in Tokyo Disneyland.
Some of the bigger draws were the presentations by Knotts Berry Farm and Universal Studios on their plans for the Halloween season, however there were also a variety of smaller talks on topics like the use of future technology in fear experiences, and Halloween at the Magic Castle.
Along with the regular panels and presentations, there were also activities and storytelling for kids, such as actress Amber Benson reading "The 13 Nights of Halloween."
And, of course, like any convention, there was an extensive exhibitor's floor, where a wide variety of macabre vendors plyed their wares.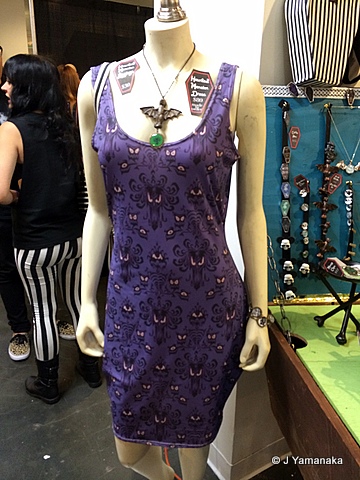 As an added attraction, the floor had several mini-demos from various upcoming Haunted Attractions, such as "The Hellevator from the Field of Screams Haunted Stadium," and "Fear Station's Freakshow of Fears."
Like any good convention, there was far more offered than anyone could experience in one weekend. Simultaneous to the panel presentations, they also offered a wide range of hands-on classes on topics such as pumpkin carving, costuming, and Halloween party planning. A film screening program ran throughout the show, and a "Ghostly Gala" separate ticket party kept conventioneers entertained on into the night.
Things to note for next year:
–Lines just to get in were considerable, particularly on Saturday, and many people were turned away from the Haunted Mansion panel because the room filled to occupancy. Get there early if there's something happening first thing that you really want to see.
–If there are presentations that you have your heart set on, consider purchasing the upgraded "Fear Freak"/"Scare Students" tickets. Those guests got priority entrance before the general admission guests, and in some cases almost filled the rooms by themselves.
–If, like me, you prefer your Halloween experiences on the "not-so-scary" side, maybe take a good look at what you want to see here. This was, in some aspects, a trade show for the whole spectrum of Halloween, from the cute Haunted Mansion ghosts and bats, to chain-saw murderers and ghouls that would prowl the exhibitor's floor periodically shrieking at people for startlement purposes. Be prepared to turn from admiring a display of cartoon monsters, to gaping at an operating room tableau with bloodied instruments and flayed open bodies. ScareLA has a ton of fascinating offerings for those interested in all things Halloween and horror, but it may not be for everyone.
Information on ScareLA can be found at their website: http://scarela.com/ They are also on twitter as @ScareLosAngeles.