Over the years, one of the most common questions asked of Scott, Barrie (you remember her), and me, is about night photography. Our reply always includes the need for a tripod or steady flat surface so that your camera is still. Why does it need to remain motionless? Because is in order for the digital sensor or film to record/absorb light in dark situations, the shutter must stay open longer than if it were daylight. If a camera moves during a long exposure, the shot will be soft or blurred. Even if you think you're holding still, so long as you're breathing, you're moving.
I ventured out late one night while vacationing in Miami and hit Ocean Drive on South Beach with my tripod and Canon EOS 30D and EF 17-40mm f4L USM. The neon highlighted hotels and restaurants are alluring and with fewer people taking up sidewalk space than earlier, I planted myself in several spots and got to work.
With my ISO set at 100 and aperture at f8, I let the camera's light meter select the shutter speed. After a few shots, I changed composition little by little, as you'll see.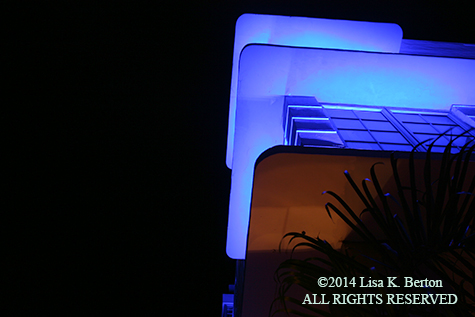 .4 seconds

.8 seconds

.5 seconds, f10
I changed to a slightly faster shutter speed on this last frame so the color would be more saturated and truer to what I saw with my very own eyes.
Looking for neon at Walt Disney World? Try Disney's Hollywood Studios for some night time shooting. They appear to have more of it than the other parks. Headed west? Disney's California Adventure is the place to capture neon glow.
Come on over and "Like" my Facebook page or follow me on Twitter, my handle is lisano1.