Capa Restaurant at the Four Seasons Orlando

Authentic Spanish Cuisine in a Modern, Sophisticated Setting
The highly anticipated Capa restaurant officially opened its doors at Four Seasons Resort Orlando at Walt Disney World Resort on October 20, 2014, providing Resort guests and local Floridians a new, sophisticated dining option rich in flavour and ambiance. Decorated in a striking palette of black, grey and crimson, the 17th level rooftop restaurant is a stylish venue destined to be Orlando's most sought after culinary hotspot. The menu and setting of Capa is inspired by the Basque culture, an area of northwest Spain and southwest France. Capa Bar and Capa Restaurant are open exclusively during the evening for bar and dinner service.
Designed by Puccini Group of San Francisco, Capa is an elegant space with high ceilings and an open kitchen concept that provides warmth and lends a great ambiance. Capa Bar offers a vibrant setting with a spacious terrace and a focal point of a mural made of antique Spanish coins. Dark wood finishes lead the way into Capa Restaurant, a 122-seat space with a wall of windows. A stunning, vibrant red art installation by artist Peter Genetenaar of the Netherlands flows above across the entire ceiling. Black banquettes and intimate tables set the stage for an upscale dining experience.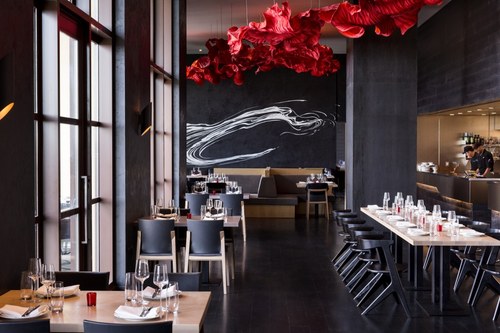 An expansive terrace outside Capa restaurant features an additional 31 seats – what some may say are the best seats in town. Terrace diners enjoy a serene view of the abundant woodlands, the lakeside setting with natural wetlands, the Tranquilo Golf Club greens, and views of all four of the Walt Disney World Resort parks. Terrace diners may be able to enjoy setback views of the Wishes Nighttime Spectacular at Magic Kingdom Park, as well as the IllumiNations: Reflections of Earth show at Epcot. The productions typically occur nightly.
"This is the most scintillating restaurant in all of Orlando," Stephen Wancha, Director of Food and Beverage for the Resort, unabashedly gushes. "The design of the space is absolutely phenomenal – true to Spain's heritage yet with a modern edge. With the terrace overlooking the Walt Disney World Resort area, offering the most incredible views, there's no doubt about it – Capa is the ultimate dining destination for any occasion."
At the helm of Capa's kitchen is Capa Chef Tim Dacey, a Florida native and graduate of Florida State University who is excited to be back in the Sunshine State. Dacey arrived to Four Seasons Resort Orlando by way of Reynard restaurant in Brooklyn, New York, where he served as sous chef. Previously, Dacey was chef tournant at The Setai in Manhattan, New York. His experience also includes serving as chef de partie at The NoMad in Manhattan, which was awarded one Michelin star. Dacey also served two years as the chef de partie at Chicago restaurant Mercat a la Planxa, a tapas restaurant, working directly with acclaimed Latin chef Jose Garces. Additionally, Dacey's culinary background includes serving as chef de partie at Spiaggia restaurant in Chicago, a one Michelin star and a James Beard Award winner. Before honing his skills at these swanky city spots, Dacey started out working with Four Seasons Resort Orlando Executive Chef Fabrizio Schenardi, when the two cooked alongside each other at Pelagia Trattoria in Tampa, Florida in 2004. Schenardi was delighted to bring Dacey back to Florida for the celebrated opening of Capa.
"It's a true honour to have experienced Tim's evolution in his culinary career," notes Schenardi, who oversees the culinary program of the Resort's five on-property restaurants. "His culinary talent has really intensified over the past 10 years while cooking at some of our nation's finest restaurants. I'm definitely proud to have Tim's talent and culinary passion representing Capa. Guests are in for a real treat!"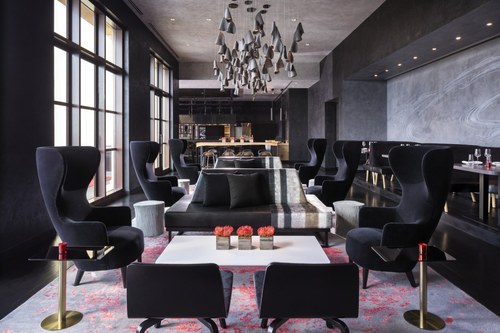 Overseeing the pastry element of Capa is Executive Pastry Chef Rabii Saber. Saber brings ample resort pastry experience to Four Seasons Resort Orlando, including serving as Executive Pastry Chef at Four Seasons Resort Lanai, Hawaii. In addition to his tenure in Hawaii, Saber served as executive pastry chef at the Ritz Carlton Bahrain, as well as the Greenbrier Hotel and Resort in West Virginia. One of the signature desserts on the menu will be churros, accompanied by chocolate and caramel dipping sauces.
Restaurant General Manager Josh Loving Aaronson joined Capa from Four Seasons Hotel San Francisco, where he served as Restaurant Manager for MKT restaurant. Aaronson is a true "foodie" and even spent two weeks in Spain this past May, studying the Basque culture and cuisine and gaining inspiration for specific menu concepts and presentations for Capa. Fluent in Spanish, Aaronson also is a certified sommelier and the Resort's Wine Director.
The cuisine at Capa is inspired by authentic Spanish offerings, often with a modern twist. At Capa Bar, small tapas style plates are featured. Crudos include a selection of oysters and hamachi. Embutidos include a cured sausage, created in the Resort's own butcher shop; both Capa and the Resort's Italian restaurant Ravello feature a charcuterie program. A cheese plate includes Spanish cheeses Cana de Cabra, Garroxta, La Peral and Manchego. Additional para picar small plates include huevos deviled eggs with vadouvan and espelette; croquetas ham with guindilla pepper; olivas wood roasted olives; caracoles escargot with chorizo, tomato and fennel; and cerdo pork belly with apple butter and marcona almond.
At Capa restaurant, oysters and a Chef's Seafood Tasting are available, as well as the charcuterie program including Jamon de Bellota, a pure Iberico acorn fed ham. A cheeseboard and charcuterie board featuring Spanish cheeses are available, plus numerous breads, olives, prawns, anchovies and more. The raciones are slightly larger plates including octopus, fluke, king crab, veal cheeks, beets with goat curd, cauliflower with caper and egg, and radish with smoked yogurt and pomegranate. The main courses at Capa include a seafood selection of snapper or halibut; a paella dish with calasparra rice, mussels, clams, chicken, chorizo and peas; and an assortment of prime meats, including an 8 oz prime filet, a 12 oz bone-in filet, a 12 oz 30 day dry aged NY strip, a 16 oz 40 day dry aged bone-in rib-eye, and a 32 oz porterhouse for two. The meats are expertly grilled on Capa's wood-burning grill over American white oak, a wood traditionally used in Spanish wine barrels that lends a unique flavour to the meat. A variety of salsas are served to accompany the portions, including a jerez sherry reduction, a rioja red wine sauce, and a verde with cilantro, chives and parsley.
Little ones have their own children's menu, including the staple of mac & cheese, and additional options including roasted chicken breast and a petite filet mignon. Children's entrees are served with choice of steamed vegetables or french fries.
Capa will offer a variety of Spanish-influenced cocktails designed by James Beard-nominated barman Joe Cleveland. Cleveland gained notoriety working alongside chef Jose Andres at Minibar in Washington, DC and most recently, Cleveland joined forces with celebrity chef Michael Chiarello in the opening of his San Francisco Spanish flagship restaurant, Coqueta. The In Spanish Fashion is made with Rittenhouse rye, gold dust, and ice cubes made of vermouth, and is served in a glass that has been smoke-infused over a piece of American white oak. Another, the Leche Frita, includes Licor43, clementine-infused anejo and smoked pineapple. The signature Capa GinTonic features Carounn gin, Fever-Tree Mediterranean tonic and striking botanicals of green apple, key lime, juniper berries and edible marigolds. Finally, a delicious cocktail inspired by the setting of Capa, the Magic Mojito, features minted rum, kiwi, and lime fairy floss (cotton candy).
With three sommeliers on staff, including Aaronson, Capa offers more than 50 selections of Spanish wine, including the traditional txakoli, a slightly sparkling, dry wine. Additionally, two signature wines under the Iconoclast label, introduced in 2012 exclusively for Four Seasons Hotels and Resorts are on the wine list: a cabernet sauvignon from the Stags Leap District in Napa Valley and a chardonnay from the Russian River Valley. Made for Four Seasons by the Terlato Family Estates, Iconoclast wines are a Four Seasons signature, available by the bottle or by the glass. The remainder of the 300 bottle list features a broad selection of regional gems and international classics. Additionally, drawing from their strong relationships with Napa Valley producers, Wancha and Aaronson crafted one of the finest collections of California cabernet sauvignon, from iconic producers to cult favourites.
Capa offers two visually appealing private dining rooms that each seat up to 35 guests. Two custom pre fixe menus are available for private dining at Capa. Private dining inquiries can be directed to Robbie Wilcox, private dining room sales manager.
Capa Bar is open from 5:00 to 11:00 pm and Capa restaurant is open from 6:00 to 10:00 pm seven days a week. Visit OpenTable for reservations and become a fan of Capa's Facebook page for the latest news and events.
AllEars attended the media preview of Capa and will be posting a review soon.