To all who come to this photo trivia game, Welcome! Along the way, the photos can make us relive memories and see details Walt's Imagineers put into everything we love in Walt Disney World!
I hope everyone had a lovely Rosh Hashanah! The celebration is still going on as I write this

Happy Birthday to my husband John Blackwell! I just found out that he actually checks out the game. 🙂
The Gunnels Family are at Disney's Vero Beach Resort. Have a lovely time!
Last week's challenge: number #350

And here's the answer:


Copyright © Erin Blackwell
It's the Public Library on the Streets of America in Disney's Hollywood Studios. This is one of my pictures that I took especially for the game. 🙂
Alan Mize, quick! Dave Carriere says they're waving overdue fees; get that book back!
Kristi Strembicki was the first to send in the correct answer! Congratulations to Kristi and to all our winners this week! Jennifer Rowell, Bruce Jones, Danielle Harsely And Agnes Ciotti, Melissa Such, Sandie Albrecht, Mary Beth Tarbet, The Koren Family, Linda Ranatza, Carol Ney, Ed Suscreba, Jim Finley, Ed Elder, Elaine Kleinhenz, Virginia Pierce, Susie Howard, Linda Scrivano, The Kahle Family, Cheryl Costello, Hunter Armstrong, Jill Hauth, Lana Bloomfield, Tom Armstrong, Sharon Pierce, Nan Amor, Kye Layton, Team Hill, Torrey Beasley, Morag Lemon, Gabriella, Terry And Matthieu, Tom Swan, Katie, Ken Maikowski, Amber Penske, Ken Daube, Lee Anastasi, Doug Olson Family, Candice Grimes, The Strukel Family, Ed Bogle, Vera And Izzy Williams, Mike O'brien, Julie Bozeman, Melissa King, Lori Rienhardt, Tricia Petty, Kyra C., Karen Hotchkiss, Vinny Bullara , Maggie Klotz, K Beasley, Axel Beer, Phyllis, Paula Massarelli, Paul Dickson, Luis Rodriguez, Paul Knott, Chris Horne, Mike Amor, Tinkerbell Wells, Pollyanna Buff, Brenda Mclean, Sharon Lucia, Pat Schwier, Claire Gregory, Lindsay Coram, Wendy Barney, Duskin Henard, Patti Gumiela, Suzanne Renfroe, Megan Krainski, Betsy Silvestri, Annette Nuenke, The Parker Family, Dawn Bach, Al &Kerry Ganter, Eric Johnson, Andrea Kruszewski, Paul Scimeca, Deb Ragno, Kris Nixon, Dee Dee Kenney, Janet T Thorn, Carol Collins, Beth Pleban, Nancy Dawkins-pisani, James Steele, Maureen Handy, Dennis F O'reilly Jr, Lee Deroia , Scott Mcbride, Ashley Collins, Maryann Romagnano, Liz Moreau, Elaine Tomko-delucaq, Jamesd, Emily Hudson, Andy Hickey, Dave Freemyer, Ken Savage, Eric Berger, The Kertes Family, Ginger Sneeringer, Jeff Blank, Maggie Biederman, Kathy Morris, Tiffann Gibb, Jamie Fahey, Mickey Eckert, Jamie Fahey, Sherry Hawley, Michele Zowacki, Hobbes And Snorky, Bruce Hinterleitner, Ruben O'meara, Jason Hocker, Jen Peterson, Nadine Grieshaber, Eric Enli, Linda College, Jeremy Hardy, Team Bonnie Sue, Bill Mckim, Jen Eacret, Jodi Cook, Julia Marsh, Greta Lee, Herb Miller, Wayne Chadourne, Brian Delacruz, Trisha Johnson, Arlene Vicek, Rebecca Keenan, Larry Sprenkle, Karen Costa, Susan Barbash, Mary Ann Lamay, Britta Andrews, The Long Family, Jamie Beil, Daniel Record, Bob Ruer, Brian Grabowski, Sarah And Chris, Dallas Hamilton, Paul Ignudo, Jr., Andrew Pettit, Melissa Littman, Vicki Shearman, Brian Mcwithey, Les Whitten, Kate Fischer, Carla C, Jeremy Reichelt, Patti Mccaffrey, Karen Bellamy, Les Stewart, Scott Sangston, George Mundy Jr, States Family, Terry Blair, Chloe Mayhew, Diana Grady, Josh Carney, Dave Carriere, Kelley H, Randy, Grumpy's Groupies, Smitty, Mike Haeberle, Mary Jo Gallion, Jan Rosato, Rob Blundin, Matthew Frey, Pati Nystrom, Heidi Goodhue, David J Miller, Kay Egan, Tim Johansen, Susan Higginbotham , Chris, Gretchen, And Katie Barnes, Kimberly Timm, Ron Harper, The Gunnels Family, Jennifer Snook, Davida, Carolyn Como, Ken Rhinehart, Kristan Bertelmann, Belicia Cullen, Scott Cullen, Vicki Britt, Chris Kelly, Alan Mize, Mark Proper, Mike, Darrell Shortt, John Foggo, Esther Chernak, Theresa Rucando, Jackie Graebel, Sheila Bagg, Brian Miller, Theresa Maradei, Joseph M. Zafia, Kerri Coggins, Tom Higbee, Matt Holley, Hillary Waldroop, Kyle Burdo, Jen Tremley, Barclay Bakkum, Owen States , Jim & Lorie Sonnen, Brian Yesutis, and Kerry A.
__________________________________ _____________________
Challenge #351 Where in the world is this?
Can you believe we're at the end of September? So where is this picture to end the month?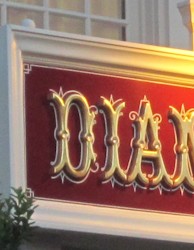 Do you know? Do you have a guess? Please send in your answer, before the end of the day on Thursday, October 2nd, by clicking on the blue box below. Please do not post answers using the Feedback Form link at the bottom of this post.
See you next week, Players!


_______________________________________________________________________
Everyone who sends in a correct answer to a Where in the World Challenge this month will be entered in a drawing at the end of the month for some special AllEars® goodies!