UPDATE 3: No sign of the escaped virtual ghosts at the first Mickey's Not-So-Scary Halloween Party on Sept. 1, and the Mayhem at the Mansion app has been removed from the iTunes store.
UPDATE 2: There will not be a "mingle" after the Villains Mix & Mingle stage show, as there as been in years past. To meet the villains, look for greeting areas throughout the park, Club Villain dance party or the pre-paid Sinister Soiree.
UPDATE 1: The Evil Queen and Maleficent will NOT be in Princess Fairytale Hall. They are only available at the Sinister Soiree dessert party, which costs $99 per person.
———
This year, Halloween at Walt Disney World begins even earlier than usual. Typically, the resort offers its first Mickey's Not-So-Scary Halloween Party during the second week of September. This year, the first party is Sept. 1 — that's next Monday! Presumably, the early date is planned to catch guests vacationing at the resort for Labor Day weekend.
Expect to see the fall decorations going up along Main Street, U.S.A., this week and throughout the Magic Kingdom, where the party takes place. Already, we saw plenty of Halloween merchandise at The Emporium over the weekend, and the store has two of its window displays dedicated to the upcoming holiday.
Although the basic format of the party remains the same, there are, of course, some tweaks and changes to the entertainment lineup. Perhaps the most significant are the character meet-and-greets. In the past, the princes posed with their beloved Disney Princesses. This year, characters such as Flynn Rider and Prince Charming will not be attending the Halloween party. (They will be present at Mickey's Very Merry Christmas Party, however.)
Instead, Disney is capitalizing on the increasing popularity of its villains. And if lines at its recent Villains Unleashed and Rock Your Disney Side All-Night events are any indication, you'll want to join these queues early. Jafar will be meeting guests in Adventureland, the Queen of Hearts near Mad Tea Party in Fantasyland, and Lotso near Buzz Lightyear in Tomorrowland. Originally, it was reported that the Evil Queen and Maleficent would appear with Snow White and Aurora at Princess Fairytale Hall, but that is no longer the case. Instead, the same princesses that are there during the day will be appear at the hall during the party: Elsa and Anna on one side and Cinderella and Rapunzel on the other.
Walt Disney World also is introducing a Villains-themed dance party inside The Diamond Horseshoe in Liberty Square that has been named Club Villain. (This party replaces the Toy Story-themed dance party that featured Woody, Jessie and Bullseye.) Expect to find Cruella De Vil, Dr. Facilier, Anastasia, Drizella and Lady Tremaine — and there may be other surprise villain visitors.
Plus, Disney has announced that a popular baddies staple will return: Villains Mix & Mingle – Live on Stage. The Mix & Mingle is a short performance on the Castle Forecourt Stage that has featured Maleficent, Dr. Facilier, Queen Grimhilde, Captain Hook, Cruella de Vil, Queen of Hearts and Judge Claude Frollo. In the past, the characters descended into the audience for photos afterward, but that has changed and will not occur this year.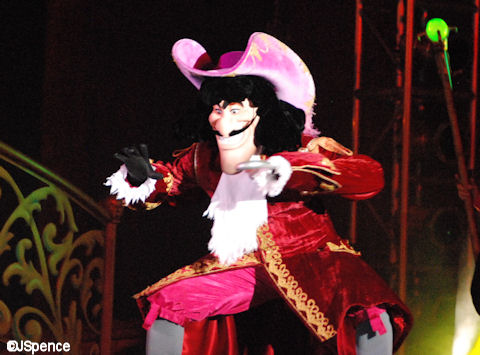 Walt Disney World also is introducing a special dessert party that only will be offered during Mickey's Not-So-Scary Halloween Party. Villains' Sinister Soiree: A Wicked Takeover of Cinderella Castle not only offers treats and preferred viewing for the 8:15 p.m. Mickey's "Boo To You" Halloween Parade and Happy HalloWishes fireworks, but it also is the first dessert party to have characters. Lady Tremaine and her villainous friends will entertain guests, accompanied by a live piano player, at Cinderella's Royal Table inside the castle. The dessert soiree starts at 10:15 p.m. On Sept. 1, 9 and 12, there also is an 11:45 p.m. dessert party, as well. The price is $99 per person, which includes the preferred seating for two events, desserts and non-alcoholic specialty drinks, an autograph card and a souvenir Maleficent dragon cup. That price is in addition to your admission to Mickey's Not-So-Scary Halloween Party. To make a reservation, call 407-939-5262.
In other character news, the Seven Dwarfs will return together for photo opportunities, as will Jack Skellington and his lady love, Sally, from "The Nightmare before Christmas." Both sets traditionally are very popular, so I recommend lining up well before the party officially starts at 7 p.m. so you don't waste precious party time. Also, Wreck-It Ralph and Vanellope will join Mickey's "Boo To You" Halloween Parade for the first time. (The pair won't be meeting guests during the party, but guests can interact with them daily at Disney's Hollywood Studios.)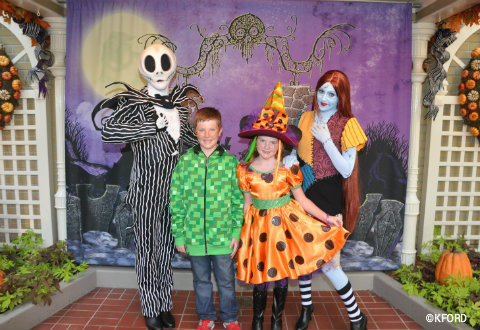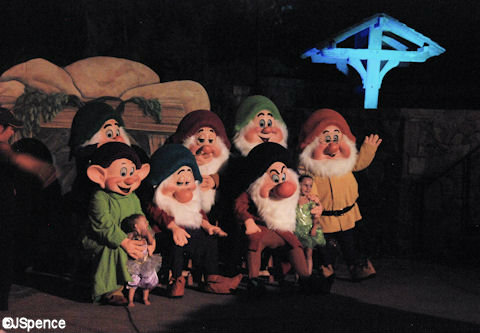 Since the interactive game began, Sorcerers of the Magic Kingdom has issued a new card each year that only can be obtained during Mickey's Not-So-Scary Halloween Party. This year, the card will feature the Helmsman pirate from the Pirates of the Caribbean attraction. Past years' cards have depicted Chip 'n' Dale and the Hitchhiking Ghosts. To pick up your card, go to the Firehouse on Main Street, U.S.A. You'll need to show a party ticket and a wristband to receive the card. This means each person actually has to be present to collect his or her card. In past years, distribution has begun before the party actually starts.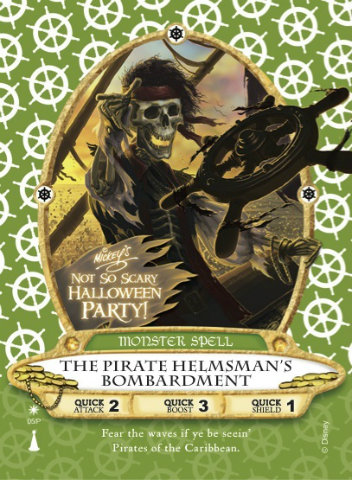 Another new attraction that Disney officials have hinted at is "Mayhem at the Mansion," an augmented reality game that will be available during Mickey's Not-So-Scary Halloween Party nights. Guests need to download an app for iOS and Android devices and then use it to take photos of themselves and ghosts throughout the theme park that they find using a map. The app would appear to be similar to Aurasma, which is used at Hollywood Studios for Star Wars Weekends and Frozen Summer Fun events.
The official description of the game, from StitchKingdom.com, states: "It was just a matter of time. With so much going on outside those walls that house 999 happy haunts for more than four decades, some of them are bound to get restless and seek some time away and now they've managed to do just that. And now, now it's up to you, the foolish mortals, not only to find them, but to capture them – capture them and return them to the Haunted Mansion before it's too late! And if you happen to grab a souvenir photo along the way, all the better."
A Disney official confirmed that "Mayhem at the Mansion" is coming to the Halloween parties and indicated more details would be released soon.
Each year there is a selection of Halloween-themed merchandise only available to party guests. Among the new offerings this year is a Limited Edition (5,000 total) MagicBand with the party logo. It sells for $29.95 and must be linked to an active ticket, MagicBand or Memory Maker card at the time of purchase.
Of course, guest favorites will be returning to Mickey's Not-So-Scary Halloween Party, including Happy HalloWishes fireworks, unlimited trick-or-treating for the young and young-at-heart, and the Phineas and Ferb Creepa Crew pre-parade interactive experience. Plus, select attractions will be open, and the lines typically are pretty short. (FastPass+ is not available during the party.)
Mickey's Not-So-Scary Halloween Party takes place on 26 nights from Sept. 1 to Oct. 31. (Please see the AllEars.Net resource page for other details, including pricing, which varies, and available discounts.) Halloween night already is sold out. Remember that you can enter the Magic Kingdom at 4 p.m. with a ticket to Mickey's Not-So-Scary Halloween Party, even though the party activities don't start until 7 p.m. That extra time is great to get dinner out of the way and line up for character meets, so you preserve more of your party time for the special events.
And check back at AllEars.Net, where several team members will be attending various nights of the Halloween party to bring you full coverage of the event.