Good news for families, like my own, who have been playing the popular Disney Infinity game on their Nintendo Wii systems and want to continue playing the game on the latest Nintendo platform without having to repurchase the game.
When Disney's revamp of the Disney Infinity game comes out next month, Disney Infinity: Marvel Super Heroes will only be able to be played on Nintendo's Wii U, not the Nintendo Wii or even the company's 3DS platform.
Disney Infinity 2.0 also will be compatible with Playstation 4, Xbox One, iOS tablets, PCs and smartphones. But what about all the Nintendo gamers who have been playing Disney Infinity on Wii since the game was released a year ago?
Well, Disney Interactive is making it easier to enjoy playing the original game on the Nintendo Wii U, if you choose to upgrade game systems, with your existing accessories. You can get the free download at the Wii U eShop and then use your Wii U Gamepad to start creating worlds in the Toy Box or unlocking items in the Play Sets. You also will be able to enjoy online multiplayer modes of play, as well.
This free download is a great concept that gives gamers who already own Disney Infinity toys and the game for Wii a chance to move up to the Wii U and still play with their game pieces without buying a new copy of the game for Wii U.
Note that you will need a Disney Infinity base and figure to use the free 9.15 GB download.
Like the Disney Interactive site explains: "Play as Sulley in his early student days in the world of Monsters University, plunge into adventure as Captain Jack Sparrow in the Pirates of the Caribbean, and activate the powers of Mr. Incredible on a quest to save the world from Syndrome and his super villains in The Incredibles Play Set."
"Disney Infinity launched one year ago, and in that time the number of Wii U players has significantly expanded," said John Blackburn, Vice President and General Manager of Avalanche Software, in a press release. "Given our commitment to compatibility for our players, we wanted existing Wii owners to be able to experience the Wii U version of the first game for free. With the upcoming launch of the 2.0 Edition of Disney Infinity we want all Nintendo players to experience the game's Wii U functionality."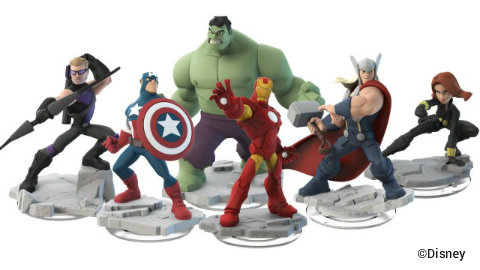 Disney Infinity: Marvel Super Heroes is scheduled to hit shelves in September. In addition to the heroes and villains, other collectable characters to be released include Donald Duck, Jasmine, Aladdin and Tinker Bell.
Merida and Stitch will be featured in a new Toy Box Starter Kit for Disney Infinity 2.0. It also includes the same video game disc as the Marvel Super Heroes Starter Pack; a Disney Infinity base; Disney Originals "Toy Box Game Discs" – Stitch's Tropical Rescue and Brave Forest Siege; one web code card; and a poster. The Toy Box Starter Kit goes on sale in November.
Activision, which owns competing franchise Skylanders, offered a similar incentive earlier this summer. Gamers with Skylanders Trap Team for Wii were offered the Wii U version for free.