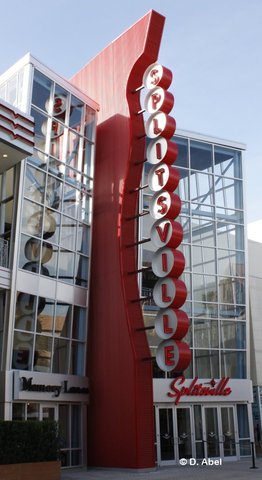 by David Abel
AllEars® Guest Blogger
Back in February, Disney Vacation Club announced "Member Magic," featuring a collection of discounts and events especially for Vacation Club members. One of the new events featured is Member Night at Splitsville Luxury Lanesâ"¢ at Downtown Disney. My traveling party during the Flower & Garden festival opted to experience this new event, so we booked a 5 p.m. session the first week of March. (At the time, there were 5 p.m. and 7:30 p.m. sessions. Now the DVC Members' website indicates only a 6 p.m. event.)
We arrived at Splitsville a few minutes early and checked in at the main desk, providing our names and shoe sizes. Once our shoes were ready, we were escorted to our lane, lane #1 along the windows on the first floor. We soon found out we'd be joined by another family bringing the total number of bowlers on our lane to eight!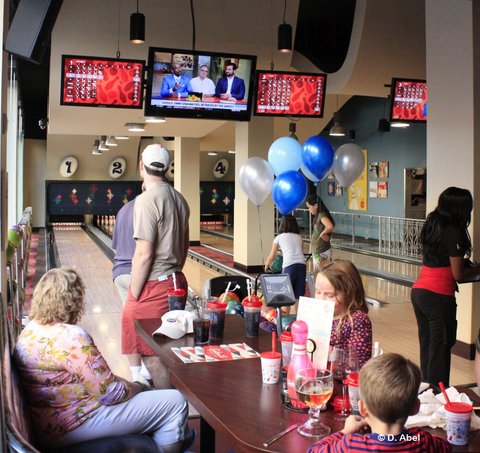 As with any bowling outing, the event was only as fun as you make it. We had two full hours of bowling time, but with everything going on (including the food to be talked about shortly), we only bowled one full game and about four more frames.
With the package, which cost $188 for a party of four, we each received a 'Signature beverage' (a glass of beer or wine, or a refillable souvenir [soda] cup), a shared appetizer (one for every two people) and an entree. We ordered the Blazing Chicken and Alley Nachos for our appetizers, and then we ordered a Steak Fajita Bowl, Cheeseburger Deluxe and two Cheese Pizzas.
When a server came for our drink order, I asked for a raspberry ginger ale and was told they didn't have that. When I commented that I thought they had a 'Coke Freestyle' machine, I was told that wasn't included in our package, so we just ordered four regular sodas. The server brought us our beverages and then he never came back. I noticed DVC members at other lanes receiving the souvenir cups for the Freestyle machine. These members told me that the cups were included, so I asked the server taking care of the lane next to us, and she brought us our cups.
The food pretty much came all at once and we hardly had enough room on the table for all of it!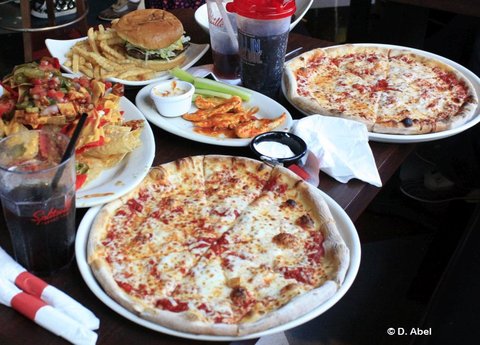 At the end of the event, we were given a 'bill' even though we had pre-paid. The waiter explained that we didn't need to pay it, but that it was only 'informational,' as gratuity was not included. On our way out, I asked about the 'special gift' listed on the website and we were each given a pair of Splitsville socks.
So how do I really feel about the event? Having been a Disney Vacation Club member since the very beginning, I must say this is the most disappointed I've been with anything related to DVC. Most of this disappointment falls directly on Splitsville, but some I feel also falls on DVC.
In the recent issue of Disney Files Magazine, there's a description of the event: "The special package includes an extended bowling time of an hour and 45 minutes with shoe rental, a shared appetizer, a select entree, a signature beverage and a special Disney Vacation Club gift, all for a fixed price that represents a significant savings off the regular cost of a standard bowling session with equivalent food and beverage. Special decor and entertainment, including music by Radio Disney, add to the festive atmosphere."
The 'extended bowling time of an hour and 45 minutes' is confusing as that's the time shown on Splitsville's website for 6-8 people, and we actually bowled for two hours. Maybe this is a misprint in the magazine.
The amount of food, coming as it did all at one time, was too much for the tables at the alleys, especially since we had eight people bowling and eating. I would have preferred to have the appetizers while we bowled, and then the entrees afterward (when our bowling clock was done ticking).
Maybe I set my expectations too high, but I don't really consider a pair of Splitsville socks to be a "special Disney Vacation Club gift." I was hoping for an exclusive pin designed for the event.
I also question whether the "fixed price represents a significant savings off the regular cost." As I said before, I was charged $188 for the four people in my party. By my calculations, the regular cost of our event was $213.80, indicating there was indeed a 12 percent savings. However, had we really been there "on our own," we would have used our Tables In Wonderland card on the food and beverages and we wouldn't have purchased the Splitsville socks. Our bill would have been $167.84, which would have been 10.7 percent less than the DVC's "significant savings" price.
As for the special decor, there were balloons tied to the ball returns. Maybe there was music by Radio Disney, but we didn't really pay notice to that. We didn't see or meet any representation of Disney Vacation Club, or anything that made it really special.
Splitsville was hosting a major reception event the night we were there, and the whole second floor was dedicated to that. I wonder if that event had not been going on, would we have had a different experience? I really hope other members have better feelings about this event than I did.