Many of us have our favorite foods at Walt Disney World — those meals, snacks or sweets that we just *have* to taste as soon as we get the parks or hotels. What is it for you? Is it a world-famous Dole Whip? A Mickey waffle? A peanut butter-and-jelly milkshake? Or something more substantial, like the filet at Le Cellier?
Whatever your favorite Disney food is, if you're like me, you probably crave it between visits and may even try to recreate a version of it at home — with varying degrees of success. Sure, Disney publishes wonderful cookbooks from its chefs, but wouldn't it be easier if we just took extra portions with us on our last day of vacation? Of course, that works better if you live locally or have driven to Walt Disney World and can pack your take-home food in a cooler.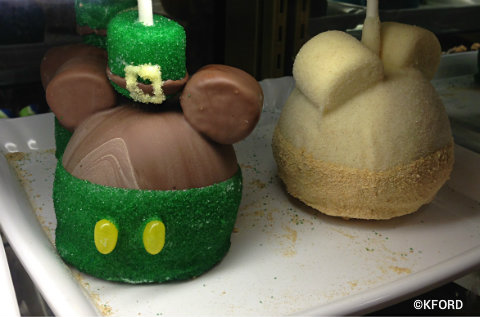 My absolute favorite thing to bring home from the Disney Parks are the caramel- and candy-covered apples. You can find them in several locations, including Big Top Treats at Magic Kingdom and Goofy's Candy Company at Downtown Disney, both of which feature at least five different versions at any given time. At, Karamell-Kuche in Epcot, the apples are covered in Werther's caramel. These treats are expensive, ranging in price from about $5 to $10 each, but they also are large enough to share, if you're willing. I have found that the apples travel well and stay fresh for several days if you do not ask to have them cut. They don't need to be refrigerated, either.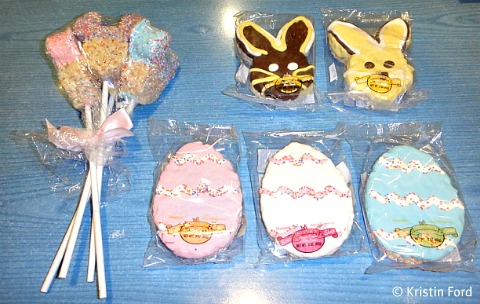 It's pretty common to see families using their last snack credits on the Disney Dining Plan for the themed rice krispie treats that can be found in hotel gift shops and the parks. Who doesn't love these cookies that change designs seasonally and don't easily go stale? At this time of the year, guests will find Easter egg treats of all hues.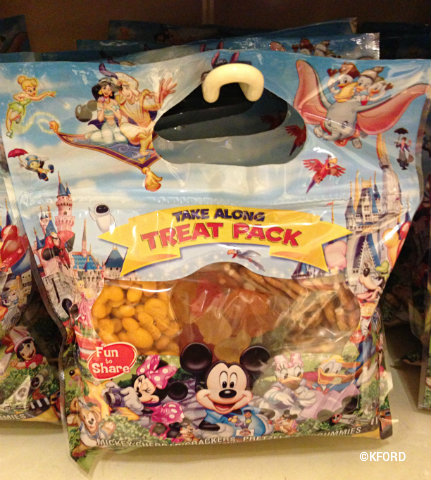 The easiest foods to take out of the parks are the ones that are pre-packed and intended to go home with you or eaten at your leisure. Kids can find snacks such as Mickey Mouse-shaped crackers and snack mixes to bags of various candies. Parents might be more excited to find the Mickey-shaped pasta.
Maybe the craziest foods I've taken home from Walt Disney World are the salads. I love the Broccoli Peppercorn Salad at Columbia Harbour House in the Magic Kingdom and the Wilderness Salad at Roaring Fork inside the Wilderness Lodge. Cast members are happy to put the dressing in a separate container and give you the salad in a to-go box. I've found this allows me to at least enjoy the salad the next day.
Of course, popcorn is fun food but you might not think of it as something that special to take home from the parks – unless you consider the fact that you can do so in a special commemorative plastic container that little kids will enjoy long after you leave the park.
The same concept applies to the drinks you can purchase at Animal Kingdom in an assortment of animal-themed cups. For youngsters, the apple juice tastes sweeter and the lemonade is cooler when it is being sipped through a straw atop a safari-themed menagerie of fun animal shapes.
Do you have a favorite food that you've been successful at taking away from Walt Disney World? Please tell us in the comments.