Epcot's World Showcase is a treasure trove of photographic opportunities. I find new things to photograph in the countries with every trip. Here are three examples.
I photograph lots of t-shirts when traveling. I like to use them for online galleries and slideshows. This t-shirt I found in an outdoor kiosk at the Canada pavilion would be a good one for an introduction slide to Canada.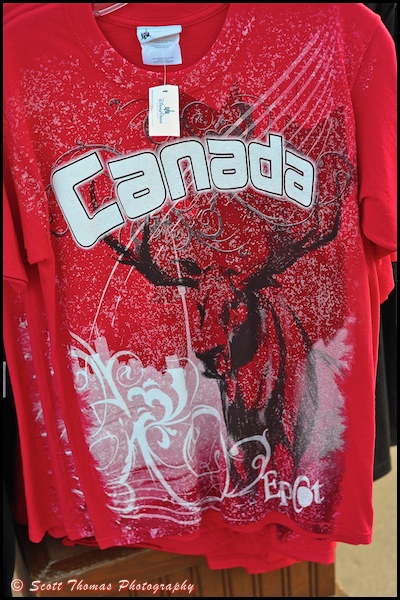 A T-shirt for sale in the Canada pavilion.
Nikon D700/50mm, 1/80s, f/4.5, ISO 200, EV +0.3.
When people think of the Cathedral of Notre Dame, I believe the famous Gargoyles which "guard" it come to mind. Outside the entrance to Impressions de France at the France pavilion sits a replica of the Spitting Gargoyle which may be the most famous resident of the cathedral.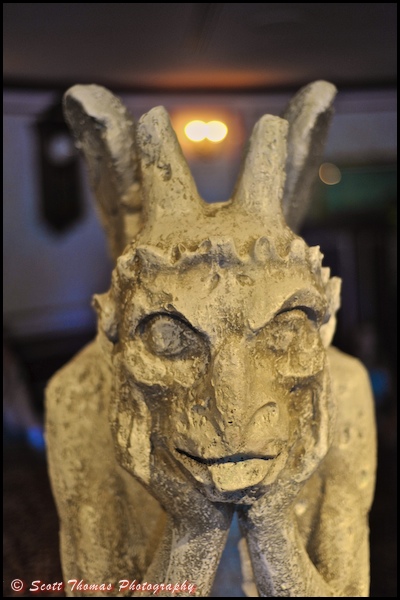 Spitting Gargoyle replica at the France pavilion.
Nikon D700/50mm, 1/60s, f/1.8, ISO 900, EV +0.3.
The Morocco pavilion is one of the most detailed around the World Showcase. The tile work is beautiful and colorful. Add a touch of falling water and I could not resist.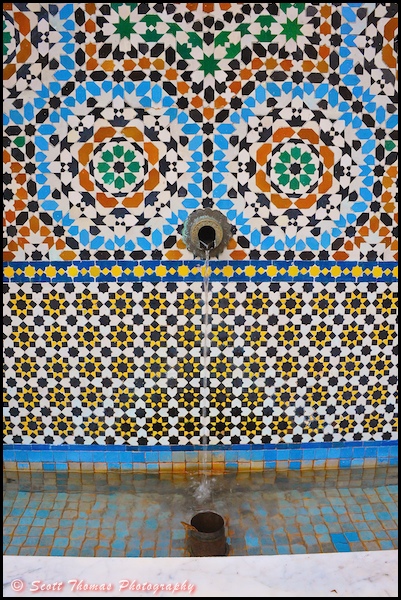 Water fountain at the Morocco pavilion.
Nikon D700/28-300VR, 1/40s, f/8, ISO 6400, EV 0, 28mm focal length.
Keep your senses peeled as you walk and explore Epcot's World Showcase pavilions and share with us what you find.