Next week, I'll be on a plane to Anaheim California for the 2013 D23 Expo at the Anaheim Convention Center. I'm really excited about going… I mean, where else can you be in Disney heaven between Imagineers, seminars, movies, autographs, costumes, characters, legends, and let's not forget shopping!

Here are my tips for attending the D23 Expo
1) Bring your Patience! The last 2 Expos were famous for long lines and long wait times to attend any of the seminars. D23 has listened and some improvements have been made for 2013. The Stage Pass is like a FastPass for the seminars. You must visit the ticket distribution area to obtain a Stage Pass. There are limitations but at least this offers a viable option! The other improvement is the 2,000-seat overflow simulcast area where guests can watch entire presentations of the D23 arena.
2) Come Prepared! – attending the D23 Expo without any pre-planning is like, well, arriving at a Disney park for the first time and having no idea where to go or what to see. The D23 website is filled with official information such as the detailed schedule of events. There is also a D23 Expo app, free from ITunes. The D23 folks promise to send out push notifications throughout the expo of seminars that are filled and any changes. The D23 Expo Guide is available to download as well.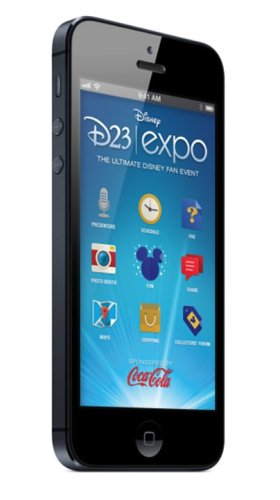 3) Have Realistic Expectations – Realize you won't see it all! Despite all your marathon expo training (you did train right?) seminars will fill, you'll get hungry, you'll find a long lost online friend and lose track of time, your at the wrong end of the building and have 5 minutes to try and make your next seminar…. and so on and so on.
4) While in Line Meet your Line Neighbors -Tired of staring at your phone and/or Ipad? Talk to the folks around you who are also waiting in line. Disney fans love to trade stories and share adventures. It's a great way to pass the time!
5) Don't miss the Collector's Forum Several exhibitors have autograph guests (some Disney legends), others offer opportunities to buy that Disney trinket you've been searching the internet for, others offer prizes. Also many websites and authors will have booths too .. so meet the folks you read all year long! All Ears Sponsors: MouseFan Travel and Orlando Attractions Magazine both have booths in the Collector's Forum.
6) Shop Early — If you want that special limited collectable, then your first stop on Friday morning needs to be the Disney Dream Store, followed by a visit to Mickey's of Glendale.
7) Spend time just soaking it all in!!! – You'll have sensory overload very quickly as you step onto the Expo floor. Instead of rushing off here and there, arrive early and give yourself the opportunity to just walk around and see what's going on. You never know what you'll find!
8) Be sure and say HELLO to the AllEars folks who will be covering the D23 Expo. This year Deb Wills, Debra Martin Koma, Laura Gilbreath, Lee Zimmerman, Jeanine Yama, and Jason Dz will be exploring the expo and seminars to bring you up-to-date coverage. And if you see either Deb Wills or Deb Koma, be sure to ask for your free AllEars Trading Card Sampler Pack! Follow us on Twitter and Instagram Deb Willshttps://twitter.com/AllEarsDeb will also be tweeting from her account!!
Ok, got all that? Those are my suggestions. But let's get some tips from the head of D23, Steven Clark.
"First, I'd encourage anyone planning to attend the Expo to download the D23 Expo mobile app, which is available now in both the iTunes and Google Play stores. It allows guests to plan out their Expo experience before they arrive at the Anaheim Convention Center – plus, there's a show floor map, talent bios, trivia and more. When guests arrive, I'd encourage them to use our StagePass system, which works similarly to a FASTPASS; guests will be able to pick up a ticket for a presentation they'd like to see in Stage 23 or Stage 28, and they will be guaranteed a seat up until 15 minutes before the show, which we hope will alleviate some of the time guests spend waiting in lines. And the third is stretch, hydrate and don't forget to eat. OK, those are three things in one, but we really have packed the event with three solid days of outstanding Disney experiences and we want to make sure everyone has a great time!"
I also asked Steven if there was a "sleeper" exhibit – you know the one that folks may walk past but really should stop and explore. "The great thing about the Expo is that it brings out every type of Disney fan, so one person's "sleeper area" may be another's "must-see." The Expo is a great opportunity for a Disney theme park fan to stop by one of the animation pavilions to see how we're making the next Disney classic. Disney movie lovers can visit Treasures of the Walt Disney Archives to see the actual props and costumes used in some of their favorite films. And I personally can't wait to see the creativity of our guests on display at the "a la mode" Costume Contest on Friday, which I think will be a visual highlight of the weekend."
And if you are still on the fence about attending, Steven's suggestion is to "Check out D23Expo.com just for a glimpse at the celebrity appearances, engaging presentations, once-in-a-lifetime concerts, immersive pavilions and sneak peeks at the latest Disney movie and TV shows. There really is something for everyone."
That's about it for now. I'm Looking foward to a great Expo and meeting many of you! Now what was that about being prepared? Guess I better become familiar with the D23 Expo app!