I'm pretty sure the most important thing you need to know about Captain Cook's Snack Company at Disney's Polynesian Resort is that it sells Dole Whips. (Yes, there is a place outside the Magic Kingdom where you can get that popular pineapple dessert!) But you might not be aware that some equally popular Disney foods can be found at Captain Cook's, too.
First, the skinny on the Dole Whips. For years, the only place to find the frozen, soft-serve concoction was at Aloha Isle in Adventureland. Though the stand is not heavily advertised, you know it when you see the queues, which rival some lines for popular rides. Clearly, Dole Whips have a cult-like following. Aloha Isle sells pineapple Dole Whips in a cup ($3.79) or as a float with pineapple juice ($4.99).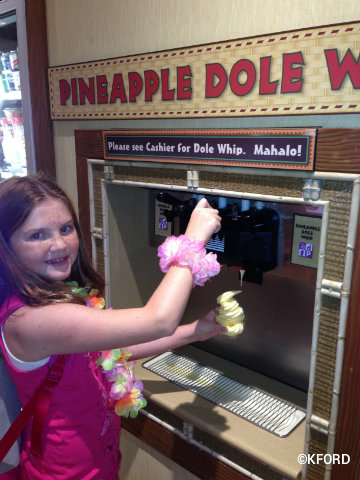 When Captain Cook's was renovated in late 2006, a Dole Whip machine was installed. The beauty of this addition is that customers help themselves after paying for the bowl. There is only one size bowl and the price is comparable to those at Magic Kingdom. (Pineapple floats are not available at this location.) During our stay at The Polynesian, we saw some very skillful Dole Whip architects getting the most for their money.
If Dole Whips aren't reason enough for you to pop into Captain Cook's, consider two other Disney favorites on the breakfast menu.
Tonga Toast, which has its own share of passionate fans, is served at the quick-service counter in Captain Cook's. For those who have never heard of Tonga Toast — gasp! — it's a thick sourdough bread stuffed with bananas that is lightly fried and topped with cinnamon and sugar. Tonga Toast has been served at the Polynesian since the resort opened in 1971.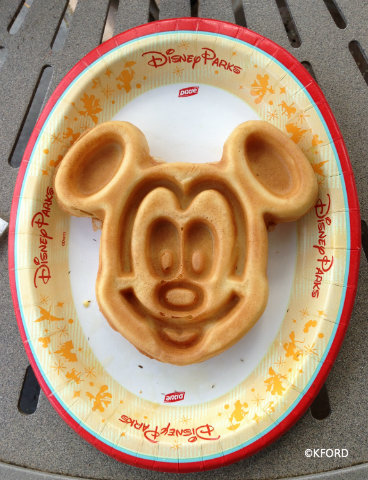 And my absolute favorite breakfast food, a Mickey waffle, is available in several varieties. A kid's meal offers two smaller Mickey waffles with yogurt and seasonal fruit. A large Mickey waffle can be purchased with or without strawberry topping. Breakfast is served from 6:30 to 11 a.m.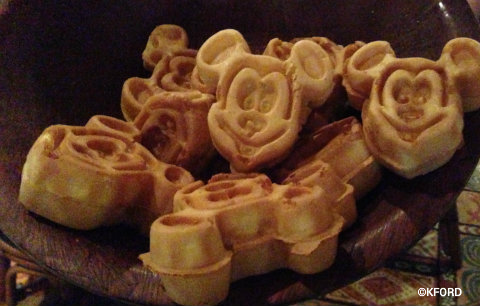 Big deal, you say? Mickey waffles are served across Disney property. They are a signature food, after all. That is true. But most of the places where Mickey waffles and Tonga Toast are served require reservations because they are table-service restaurants. This also means your meal is likely to be more expensive. I like knowing there is a spot where I can pop in at my leisure without a lot of planning and be served the Disney foods I love.
During slower periods, you may be able to park at the Polynesian if you tell the parking attendant you are going to Captain Cook's. At busier times, it may be necessary to park at the Transportation and Ticket Center and walk or ride the monorail to the resort.