With only two months until the scheduled launch of Disney Infinity, the highly anticipated gaming system that is expected to give Activision's Skylanders a run for its money, the marketing is ramping up. Participants at the three-day E3 (Electronic Entertainment Expo) in Los Angeles that begins today will be among the first to play. It had been previously announced that the gaming platform would be available to guests at Orlando's Downtown Disney last week, but that didn't happen.
Disney Infinity allows players to place physical versions of their favorite Disney characters onto an Infinity Base and seemingly transport them into the virtual worlds of Monsters University, the Incredibles, Cars, Pirates of the Caribbean and the Lone Ranger. What sets Disney Infinity apart from Skylanders — and other Disney Interactive games — though, is its Toy Box feature, which allows users to mix various Disney and Pixar stories and characters.
Disney describes the Toy Box concept this way: "Unlock virtual toys from each play set – characters, buildings, weapons, gadgets and more – and bring them into the Toy Box where you can mix them all up to create your own game. In the Toy Box, there are no rules and you can create any adventure you want."
Disney Interactive will be offering E3 participants the opportunity to try all of the announced play sets and the Toy Box mode at its 18 demonstration stations. In fact, when they approach the booth, those same attendees will feel as if they have stepped onto a life-size version of the Infinity base that lights up.
"If you look around from the base, you will catch glimpses of iconic Disney characters and environments, re-imagined as toys using our unique Infinity art style. You will see new characters like Wreck It Ralph and Tonto mixing it up with old favorites like Bullseye from Toy Story and Stitch," according to the press release.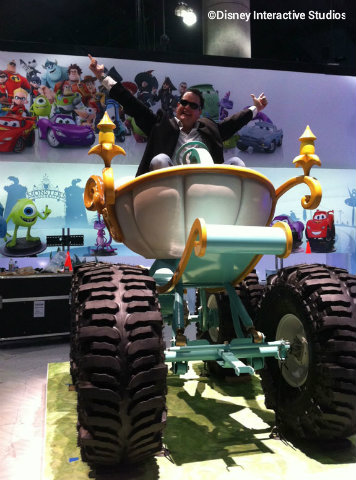 Executive Producer of Disney Infinity John Vignocchi
There also will be a photo op that features a Toy Box-like fusion of Cinderella's Coach and a monster truck in front of the famed princess's castle.
Among the Disney merchandise that fans are sure to stand in long lines to get their hands on: custom T-shirts, shirt sleeves or hoodies made from 10 combinations exclusively at the booth and pre-release Infinity character toys that will be distributed through a vending machine.
Like Skylanders, Disney Infinity will be available for a variety of console gaming systems, including Nintendo Wii, Nintendo Wii-U, Xbox 360 and Playstation 3. Disney's version also will be compatible with PC computers and mobile devices later in the year. One or two players can tackle the structured adventures, and "Toy Box" mode allows up to four players in the game.
Starter packs, which include the video game, Infinity Base, three play sets, three characters, one Infinity Power Disc and web codes, go on sale August 18 for about $75. Additional play sets are priced about $30 to $35.
Through June 23, Nintendo is hosting a booth outside Once Upon a Toy Store at Downtown Disney at Walt Disney World as part of its Wii U Tour. Guests can stop by and try at no charge a variety of Wii U games, including Nintendo Land, New Super Mario Bros. U, LEGO City Undercover and Need for Speed Most Wanted U. Disney Infinity was expected to be available, as well. Perhaps after the marketing splash at E3, it will be. We'll keep you posted; expect a review if it becomes available.