For the past five or six years I have suffered with arthritic knees and it has had a significant impact on my ability to enjoy all that Walt Disney World has to offer. For the first few years it merely slowed me down, but unfortunately it also slowed down all those I was travelling with. That made me feel a bit guilty!
Finally my condition deteriorated to the point where I had to break down and rent an Electric Convenience Vehicle, commonly called an ECV or scooter. It was a bit of a blow to my ego but a big boon to my enjoyment.
It also gave me a whole new perspective on mobility. It was a real eye-opener!
I developed an understanding of the difficulties those with mobility issues face on a regular basis and I also saw how Disney does as much as they possibly can to make life easier for those with mobility challenges.
You've all seen scooters at home and at Disney so you know what they look like but I'll take a minute to describe how easy they are to operate. There are only three main controls, a key to turn the scooter on and off, a dial you turn to adjust the speed and a flipper you press to make it move. Press the flipper on one side and you move forward, press the other side and you back up.
The battery packs hold a charge which will get you through a rigorous day at the parks but be sure to plug them in to recharge overnight!
The ECV's come in 3-wheel and 4-wheel models. The 4-wheel version is a bit more stable to operate but the 3-wheeler has a tighter turning circle and is easier to manoeuvre with. I prefer the 3-wheeler.
Disney rents 4-wheelers at each of the theme parks. The current cost is $50.00 per day plus a deposit of $20.00 which is refunded when you return the scooter at the end of your day. There is no guarantee scooters will be available. Also, you can use your receipt at a different park on the same day, but again, no guarantee of availability.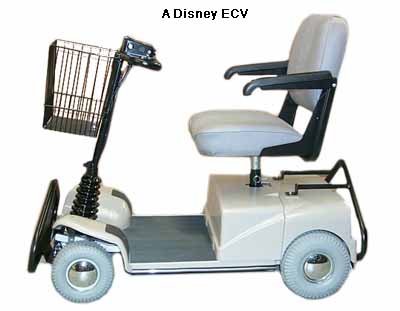 You can also bring your own ECV as long as it falls within the 32″ x 48″ size required for use on the Disney Transportation System.
There are also many other vendors such as Buena Vista Scooters who will deliver an ECV to your resort for the full duration of your vacation and then pick it up when you leave. This is much more economical than renting from Disney and gives an added advantage – you can use the scooter everywhere, not just at the parks. The one disadvantage is that you have to transport the scooter from your resort to the parks.
All Disney buses, monorails and many of the boats are accessible but you need to back the scooter onto the ramp before loading it on the bus. Be sure to practice backing up!
We normally stay in our motor home at Fort Wilderness Resort & Campground and we always ensured that the ECV we rented would fold up and fit in the trunk of the car we tow to Florida.
AllEars has some much more detailed information on ECV's here.
Now let me describe my experience in the parks.
There are a few impediments to travel on a scooter, the principal one is the curbs along the roadside. Anything higher than about 2 or 3 inches is impassable for an ECV. Fortunately there are ramps located at all the major crossing points so there's always one nearby.
The queues for most attractions are wide enough for a scooter to maneuver quite easily and once you have boarded the attraction a cast member will move the ECV to the unloading area so it's waiting when you finish your ride. Some attractions, such as The Haunted Mansion, Spaceship Earth and Star Tours have special boarding arrangements; a cast member escorts you to the unloading area where you have a bit of extra time and space to get settled in your car.
Whenever you encounter stairs, such as near the entry to the Jungle Cruise, look around – there will be a ramp for ECV's, wheelchairs and strollers nearby.
There are special viewing areas for Illuminations, Fantasmic, the nightly Wishes fireworks show and the new Celebrate the Magic castle show which will debut in November. These areas are set aside for people in wheelchairs and scooters and they all have great sight lines. If you don't use one of these areas you will probably see nothing more than the back of the person standing in front of you! Ask a cast member for directions to the nearest viewing area. These areas are filled on a first come, first served basis so plan to arrive early. Once you get there a cast member will direct you to the front of the roped off area where you will have an unimpeded view. Everyone else in your party can stand behind you and all the others seated in chairs and ECV's.
Overall Disney has done a terrific job of ensuring that all areas of every park are accessible. There were very few impediments to travel on my ECV and only a few minor delays. I did not find a single attraction that I could not enjoy.
For more complete details on accessibility at Walt Disney World look here.
Here are a few important things you should know about ECV's and a few tips as well:
1. Scooters have no brake pedal and they don't stop on a dime. When you release the throttle (that little flipper that makes it move) the electric motor acts as a brake to slow you down fairly quickly and then when you are almost stopped you will feel a slight "clunk" as the motor locks to hold you in place. It's sort of an automatic parking brake.
This becomes very important when a child darts in front of you. Since you are at Walt Disney World you will encounter lots of children who are so wrapped up in the magic that they lose track of their surroundings. They dodge and dart everywhere and that is not going to change . . . it's a natural result of all the things we enjoy about Disney! Always leave a safe distance in front of you and stay alert! I'm still surprised that in all my scooter travels I didn't mow down a child!
Unfortunately, the same is often true for adults. They get wrapped up in the magic too, but there's also another issue. When they are standing and you are seated you normally fall below their line of sight. When they look around they often look over top of you and you do not register in their consciousness. Once again, leave a safe distance in front of you and stay alert!
At times things will get really congested, such as after a parade when everyone is heading toward the exit. When this happens it's much easier and safer to just pull off to the side for five minutes or so. The crowd will disperse in no time and you can be on your way.
2. Keep your speed appropriate to the traffic you are in. The ECV's Disney rents are slow; their top speed is just a nice walking pace. Some of the other vendor's scooters will zip along at up to 20 mph . . . far too fast for a busy theme park. Take it slow and easy and always leave plenty of room in front of you!
3. Practice backing up. As I mentioned earlier, you will need to back the scooter onto a small ramp in order to load it on a Disney bus and it will save time and inconvenience for you and for others if you can hit the ramp correctly the first time you try. It's also a good idea to back into an elevator so you can drive straight out when you get to your floor. Practice makes perfect!
4. All scooters have a basket on the front. This is a great spot to carry a bottle of water, sunglasses, a rain poncho, your camera and all the other things you need to survive a day at Disney. Use the basket . . . DO NOT hang anything from the handlebars. One time on our way to Soarin' I was waiting for the elevator in The Land. The elevator door opened and a lady on a scooter came flying out at full speed . . . 20 mph . . . her eyes were like saucers as the hurtled across the elevator foyer and crashed headlong into a vending machine. She had hung her purse on the handlebars and it got tangled with the throttle flipper. She was a little dazed and so was the man who was servicing the vending machine, but fortunately no one was seriously hurt.
5. When you leave the ECV be sure to remove the key, this will extend your battery life and prevent someone from accidentally taking your scooter. There is a little lever under the seat which cast members will flip to put the scooter in neutral so they can move it; they do not need the key. Also be sure to remove all valuables from the basket. I have never had anything go missing from the scooter, but better to be safe than sorry.
6. Take your time and pace yourself. You will not be able to move as quickly with the ECV as you could on foot so be sure to allow some extra time – and take time to enjoy the experience of your magical Disney vacation.
Scooters are a reliable means of transport but they can be a source of fun too. Some of our friends decorate their ECV's for the season.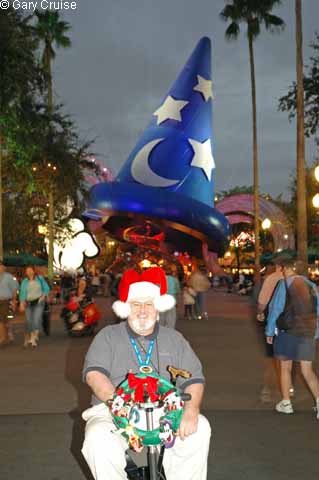 A few of my friends played a prank on me one day. They decorated my scooter while I was off riding Tower of Terror. When I returned it was festooned with pink balloons and streamers. A sign taped to the front proclaimed my new nickname – Princess Poopy-Knees!
I proudly rode around with balloons and streamers the rest of the day. The ECV was very easy to locate, it was one-of-a-kind!
Fortunately I am now the proud owner of two brand new knees so my scooter days are behind me . . . hopefully for a long while to come! I am thankful that the ECV allowed my to enjoy several vacations I would have otherwise missed. It was a good experience, it really opened my eyes to the challenges many people face.
If you are holding back from a Walt Disney World vacation because you have mobility issues – a scooter might be the solution you're looking for!
Rent an ECV and go have some fun!