SPOILER ALERT: This post discusses the plot of "The Odd Life of Timothy Green."
Disney's "The Odd Life of Timothy Green" is a sweet but predictable movie that is sure to tug at any parent's heartstrings. The movie follows the tried-and-true story arc of most Disney movies that even my almost-10-year-old son recognized, and the themes are not complicated. Still, the feel-good ending has the potential to leave most in the audience satisfied with the film's story.
Cindy and Jim Green (played by Jennifer Garner and Joel Edgerton) are a happily married couple who are desperate to have a child. They have exhausted all infertility treatments when they allow themselves one last night to dream about what their child would have been like. Then, the Greens literally and figuratively bury those dreams.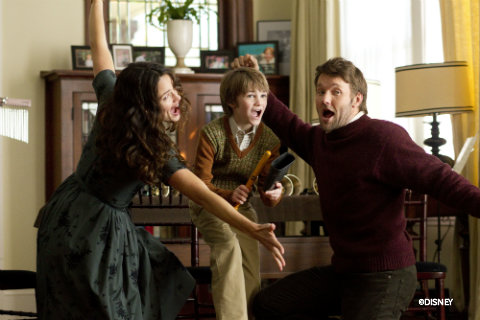 And that's when 10-year-old Timothy (CJ Adams) unexpectedly enters their lives. Timothy is different from other kids, and he's not self-conscious or apologetic about it. His innocence and inability to lie charm most of the adults. When he meets his grandfather for the first time, the elderly man says, "Hello, young man." Timothy responds, "Hello, old boy."
But it's tough being the new kid in Stanleyville, where the main industry is the factory that produces pencils and everyone worries about the plant closing. Kids are cruel because he is not like them, and his parents walk a fine line, trying not to upset the town's leaders and bullies' parents. This feels like an all-too-familiar setup to explore the themes of acceptance and standing up for what you believe in.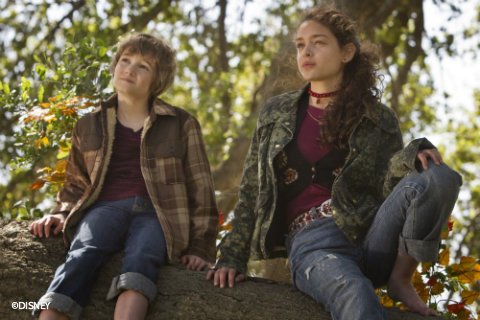 Timothy does find friendship in a kindred spirit, a girl who understands that being different makes them special. Joni (Odeya Rush) becomes Timothy's biggest champion, cheering for him when no one else does. The pair create their own magical outdoor world, where they both are most comfortable.
In the end, though, Timothy must return to his origins, despite the pleas of those who love him. This, of course, is the film plot device even my son saw coming: a sad event that so often precedes a happy ending like in so many Disney movies. Yet it's also the way for the movie to show that no one is ever fully prepared to be a parent, and by the time you think you know what you're doing, it's time to let your child go. In illustrating this, the film allows Timothy to leave the Greens ready to fight for the right to adopt a child.
Overall, my children and I enjoyed "The Odd Life of Timothy Green." My son better understood the plot nuances than my almost-8-year-old daughter, but she still was engrossed in the story. I think most children can relate to finding that one special friend who understands them, and parents certainly will appreciate what the Greens have to go through, making this a good choice for a family movie.
Walt Disney Studios recently launched The Odd Life of Timothy Green Sock Drive, aimed at providing new socks for families in need across the U.S. People are asked to take new pairs of socks to any of the community drop-off locations nationwide listed on Facebook.com/OddLifeMovie between now and September 3. Hanes will match donations up to 10,000 pairs of socks, and the Association of Gospel Rescue Missions (AGRM) will distribute them.
DISCLAIMER: I was a guest at a screening of "The Odd Life of Timothy Green." My opinions are my own, and this did not influence my review.