Almost exactly a year ago, I wrote about a friend and fellow Walt Disney World passholder who was invited to test a new merchandise concept. The invitations were sent to a limited number of families with girls 3 to 16 years old, and during their sessions they helped determine how the new D-Tech Me customized princess figurines would be offered.
Last week, the Disney Parks Blog announced the figurines will be available beginning August 26 at World of Disney in Downtown Disney Marketplace. During the 10-minute experience, cameras capture images of each girl's face from multiple angles. The images are then used to personalize the face a princess figurine of her choice — Ariel, Aurora, Belle, Cinderella, Rapunzel, Snow White and Tiana. While the gowns are traditional, the hair, skin and eye color of each princess also will match the guest's. My friend who participated in the test said the figurines were made of a rubbery material, not hard plastic.
Guests must be ages 3 to 12 years to participate, and it takes five to six weeks for the finished figurines to be shipped to their homes. Participants can choose from a 7-inch figurine for $99.95 or a 3-inch model for $39.95. Each girl also receives a silver link necklace with gem. Reservations can be made now by calling 407-WDW-TECH.
I certainly can see the appeal of these products, even if they are not my taste or priced in the range I would spend for this type of merchandise. Little girls love personalized souvenirs, and parents on a once-in-a-lifetime vacation may be willing to spend big bucks for a unique gift.
I'm the mother of an almost -8-year-old girl who loves the Disney Princesses and identifies with the royal heroines that she thinks share similar traits. I get that, and I'm sure that's what Disney marketers are hoping for. Unlike some other mommy bloggers responding to the D-Tech Me dolls, though, I don't worry that my child's enjoyment of the Disney Princesses is damaging her ability to think for herself or develop into a strong woman. It's my job as a parent to help her develop those skills and self-confidence. Placing her face on a princess statute isn't going to sway my daughter's beliefs about herself.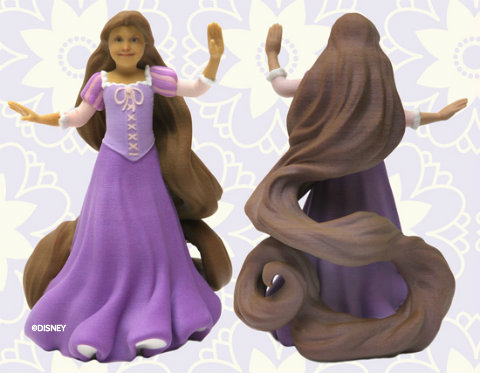 But for me, there's something just a little too weird about having my daughter's exact likeness on a princess statue. I guess it's like that uncanny valley hypothesis in robotics and 3D animation, which is defined as "when human replicas look and act almost, but not perfectly, like actual human beings, it causes a response of revulsion among human observers."
I'm more a fan of American Girl dolls, which come with a variety of hairstyles, eye colors and skin tones. Girls are encouraged to pick dolls that appeal to them for their similar "personality" or physical attributes, and they look more like siblings to their owners. For the same $100 price tag, girls are getting a toy they can play and grow with, rather than just a keepsake.
So, what do you think about the new D-Tech Me princess figurines? Would you purchase one?