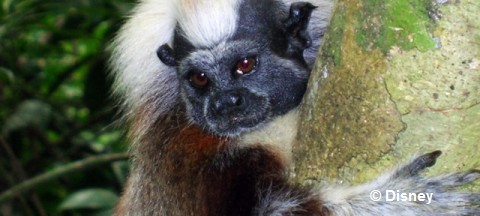 LAKE BUENA VISTA, Fla., Aug. 3, 2012 – While lions may be known as the king of the jungle, a tiny, one-pound monkey will have top billing at Disney's Animal Kingdom. Throughout the month of August, guests will be invited to join in activities centered around the cotton-top tamarin, a critically endangered primate from northern Colombia.
August 15th, is the official Day of the Cotton-top Tamarin in Colombia so we've created a celebration for our guests to enjoy. Get ready to participate in a variety of activities from learning how scientists track tamarins in the forest, what cotton-tops like to eat, and how people in Colombia are helping to recycling plastic bags into amazing tote bags called eco-mochilas. But a cotton-top tamarin celebration wouldn't be complete unless you learned the cotton-top tamarin dance and enjoyed a tasty cotton-top tamarin cupcake.
Sometimes called the "punk rock primates" because of their wild manes of white hair that outline their black faces, their numbers are dwindling because of habitat loss and the pet trade. Because of efforts by Dr. Anne Savage, Conservation Director for Disney's Animal Programs and other conservationists, the cotton-top tamarin has been added to the critically endangered species list, giving them international protection from the federal government to prohibit them from being hunted or captured.
"We created this celebration as a way to highlight the effects that humans have on natural habitats," said Anne. "Conservation celebrations are important because it helps people of all ages understand and appreciate these amazing animals and learn what it takes to protect them for future generations."
Guests can see cotton-tops in Discovery Island in a habitat in front of the Tree of Life and also at Rafiki's Planet Watch in Habitat Habit!, a fun and educational wildlife trail between the Wildlife Express Train and Conservation Station. Cotton-tops have been on exhibit at Disney's Animal Kingdom since 1998 and serve as ambassadors for the species so that guests can better understand the importance of conservation efforts to help protect them.