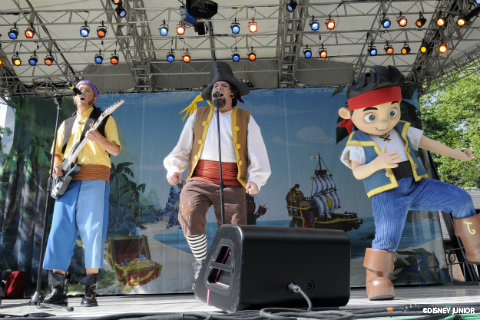 Strolling through Pleasure Island last week with my children, I was reminded how much live music appeals to all ages. As we passed first a female singer on a restaurant's patio and then a male guitarist, my son asked to stop to listen — even though he did not recognize the songs — and my daughter started dancing down the sidewalk. The upbeat music definitely called to them.
And Downtown Disney is tailoring that appeal to the younger set with special performances by The Never Land Pirate Band, which includes Jake, Sharky and Bones from the popular Disney Junior show, "Jake and The Never Land Pirates." There's still time to check out one of these free concerts! Sunday, August 12, wraps up a 10-day gig for the band at Waterside Stage at The Marketplace.
The trio performs at 2, 3 and 5 p.m. daily. Guests are invited to dance and sing along to swashbuckling favorites, such as "Roll up the Map," "Castaway on Pirate Island" and "Talk Like a Pirate."
The Waterside Stage is home to daily performances by school groups and, during peak times, a DJ hosting kids' dance parties at night. It's an outdoor venue across from World of Disney that's rarely empty when performers are on stage and certainly adds a festive note to the shopping and dining district. (To find out about all the other inexpensive and fun things for kids to do at Downtown Disney, please read my previous blog.)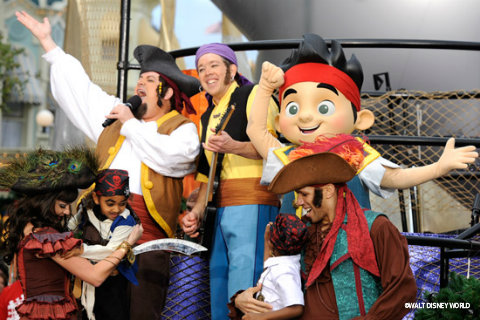 The Never Land Pirate Band made its debut at Walt Disney World last December when the guys rode on a float in the annual Disney Parks Christmas Day Parade and sang an original holiday song.
Not going to be in Orlando this weekend? Your children still can see Jake at two locations inside Disney's Hollywood Studios the next time you visit Walt Disney World. At the Hollywood & Vine restaurant, guests can join Disney Junior characters for breakfast or lunch and some singing and dancing. Characters make the rounds to each table. Reservations are recommended. Prices range from $15 to $35, depending on age, meal and time of year.

Jake and his pals also appear multiple times each day on stage during "Disney Junior — Live on Stage!" This puppet show has several interactive elements for the audience, including bubbles, confetti, singing and dancing. When my children were younger, they couldn't get enough of this show. "Disney Junior — Live on Stage!" performances are included in your theme-park admission. Characters from the show also do meet-and-greets outside the theater in Animation Courtyard.