I recently had the tremendous opportunity to stay at Disney's Aulani resort in Ko Olina, Hawaii. This was my first ever trip out to our fiftieth state and I could not have asked for a better introduction than staying at here for a few nights. Aulani is everything you would expect from a Disney resort in terms of quality, theming, and detail and all this is added to the fact that you are in such a breathtaking setting.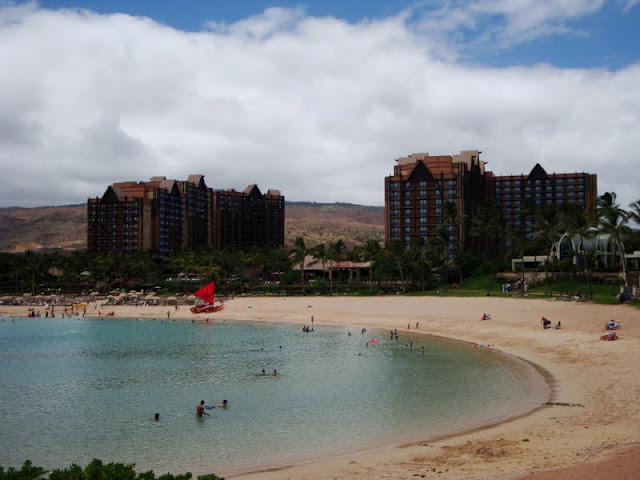 I have had the opportunity to stay at many of the resorts in Walt Disney World and I would not hesitate to say that Aulani trumps them all in terms of sheer beauty and grandeur.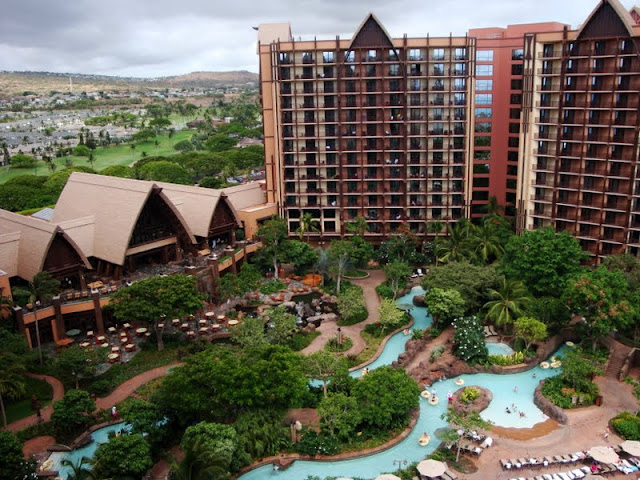 Of course, no trip to Aulani would be complete without sampling some of the resort's cuisine. Here I will offer an overview of the various dining options available at Aulani.
Aulani is a resort that is meant to celebrate Hawaiian culture, history, and traditions. This is evident from the moment you enter the resort's lobby. As soon as I entered the resort I was struck with the same sense of grandeur that I get when stepping into the lobbies of Wilderness Lodge and Animal Kingdom Lodge at Disney World.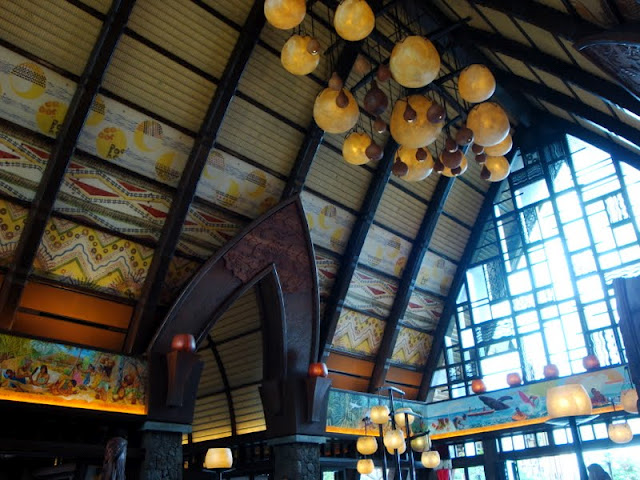 With its high ceilings and beautifully intricate artwork, the Aulani's lobby helps set the tone for the rest of the resort. It is a resort that is built to showcase its location. Indeed, it seems as though no matter where you walk in the resort you are treated to breathtaking views of the ocean or other forms of natural beauty.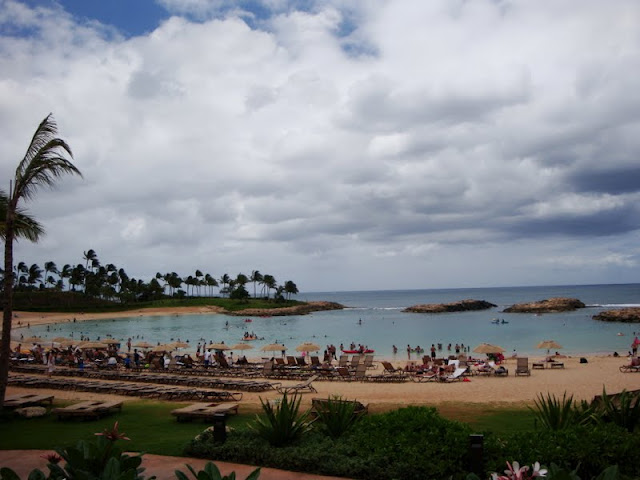 Enhancing this natural beauty is the artwork found throughout the resort that goes a long way in immersing you into Hawaiian traditions and culture.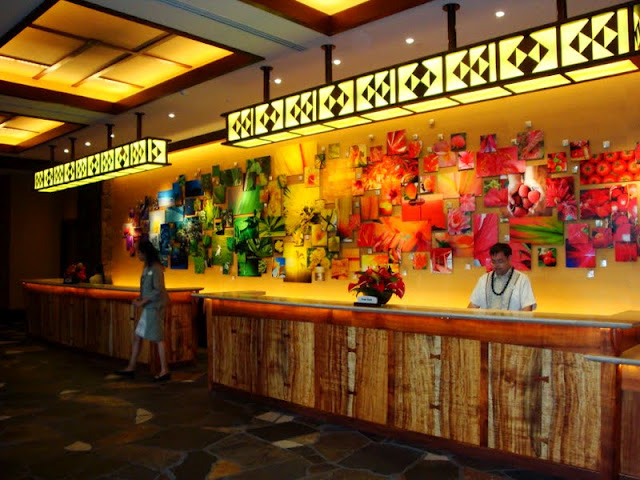 Another way to be immersed into Hawaiian culture while staying at Aulani is dining at one of the resort's restaurants. Aulani's restaurants present traditional Hawaiian cuisine and, just as with the rest of the resort, do so in beautiful settings that honor Hawaii's natural beauty and its people's artistry. Here are the various dining options available at Aulani:
Makahiki:
Makahiki is named for the annual Hawaiian harvest festival held in Oʻahu to celebrate the season of bounty and peace. The story of the Makahiki festival is brought to life in the restaurant's dining room with a series of elegantly composed, jeweled murals which depict scenes of feasting, games, and celebration.
The dining room also has large windows that allow in plenty of light and bring in some of the natural beauty from outdoors.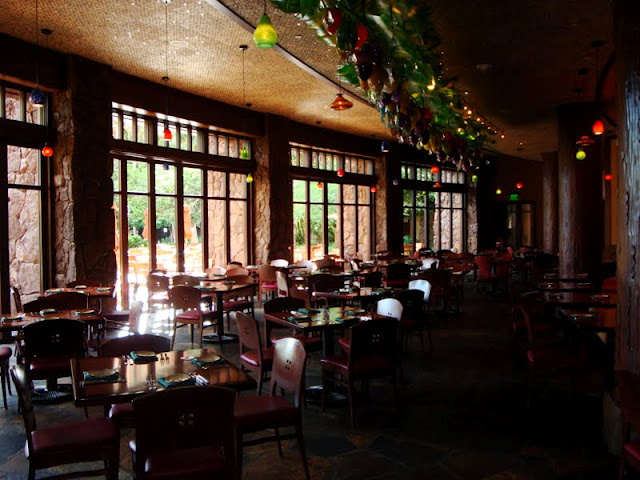 There is also a very unique lighting fixture where the lights look like fruit growing along the branch of a tree.
The restaurant offers a buffet breakfast served from 7:00am-11:00am, an a la carte lunch from 12:30pm-3:00pm, and dinner from 5:00pm-9:30pm that offers the option of either buffet or a la carte. On Tuesdays, Wednesdays, Fridays, Saturdays, and Sunday breakfast at Makahiki is transformed to "Aunty's Breakfast Celebration" and features some of your favorite Disney characters. Cost of the breakfast buffet is $27 for adults and $14 for children nine and under. However, on the days with characters the cost of breakfast increases to $32 for adults and $18 for children nine and under. The dinner buffet is $43 for adults and $21 for children nine and under.
The buffet is divided into different sections to highlight the various components of Hawaiian cuisine. At breakfast this includes a Continental section of fruits, yogurt, pastries, and bread pudding; the Western section features scrambled eggs, vegetable frittata, both pork and Portuguese sausage, corned beef hash, baked ham, pancakes, waffles and French toast; the Chinese/Japanese section contains grilled and seared island fish, noodle salad, miso soup, and fried rice; and there is also a Live Action Station where they prepare made-to-order omelets.
At dinner the buffet features a wide variety of offerings. The Starters section includes field green salad, Asian noodle salad, sushi, and soup of the day; there is a section of Seasonal Seafood on Ice that has shrimp, marinated squid, and oysters on the half shell; the Entrée section is comprised of huli huli style chicken and guava barbeque ribs; the Asian section features Chinese pork buns, fried noodles, wok-fried vegetables, and assorted tempura; the Grill section includes kalbi short ribs, soy steaks, and lamb osso bucco; the Seasonal Vegetable section is comprised of island sweet potatoes with macadamia nut butter, and sautéed bok choy; and the Dessert section features mango cheesecake, apple cobbler, bread pudding, molten chocolate cake, and cream puffs.
When it comes to the a la carte menu, lunch offers a lighter fare comprised primarily of sandwiches, salads, and pizzas including an interesting create your own section:
For dinner the a la carte menu features appetizer offerings such as Shrimp Cocktail ($12.00), a Blue Crab Cake ($13.00), and Caesar Salad ($7.00). Entrees include Grilled Teryaki Salmon Filet ($27.00) served with Japanese noodles and stir-fried vegetables, a Pan Roasted Ahi Tuna Steak ($28.00) with peppercorn sauce, wasabi mashed potatoes, and tempura asparagus, and Fafalle Bow Tie Pasta ($21.00) with seasonal vegetables and a creamy basil pesto. The dessert offerings are comprised of a New York Style Cheesecake ($7.00), Chocolate Cake ($10.00), and Apple Pie ($7.00).
The Olelo Room:
Located adjacent to Makahiki is a lounge known as The Olelo Room. Olelo is the name of the Hawaiian language and the lounge's unique décor features wooden representations of common objects and labels that convey their Hawaiian names.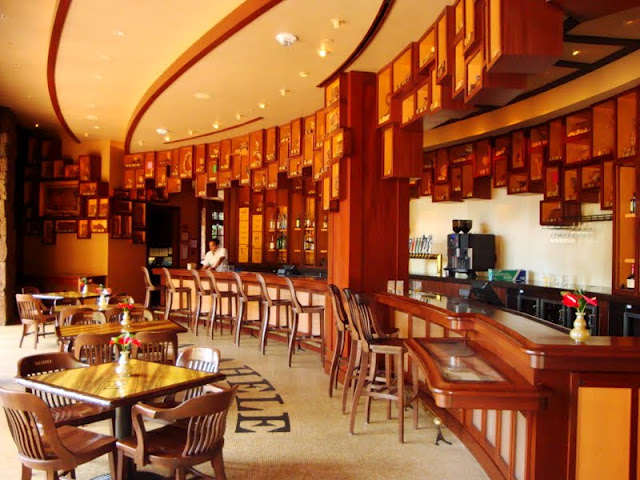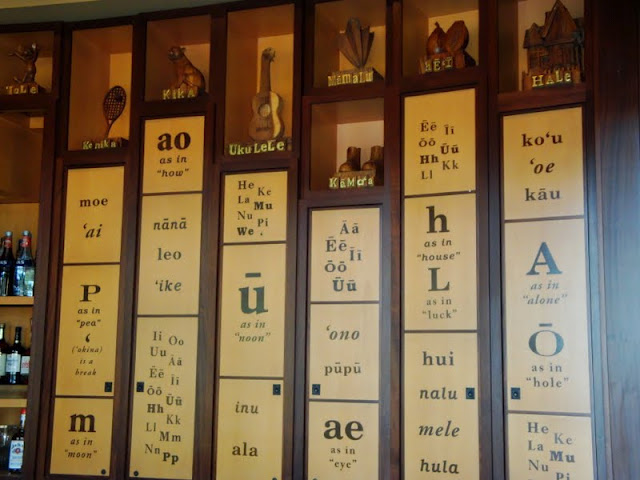 The lounge is open from 6:00am-10:00am for a Continental breakfast featuring house-made pastries, fresh fruit, breakfast sandwiches, and specialty coffee drinks. The lounge then opens again from 5:00pm-11:00pm and features live nightly entertainment and an assortment of dinner appetizers.
The Olelo Room's appetizer offerings are a great option if you are looking for a lighter and more relaxed and casual dinner. Some of the offerings include Oyster Shooters ($16.00), Kobe Beef Sliders ($15.00), Kalua Pork Nachos with Pineapple Salsa ($14.00), Sweet-and-Spicy Guava Barbecued Chicken Wings ($14.00), and Crispy Calamari ($15.00)with spicy Luau and sweet Chili Dipping Sauces. The ʻŌlelo Room is also a great place to stop by for a drink before or after a meal offering tropical cocktails, mai tais, mojitos, margaritas, new twists on classic cocktails, fruit-infused sangria, Hawaiian beers, and wines.
Mama's Snack Stop:
If you are just looking for a quick bite to eat there are actually not too many options at Aulani. One such option is Mama's Snack Stop located right in the middle of the resort's main pool area. The brightly colored stand is certainly hard to miss and its location makes it very convenient for grabbing a quick snack while lounging by the pool.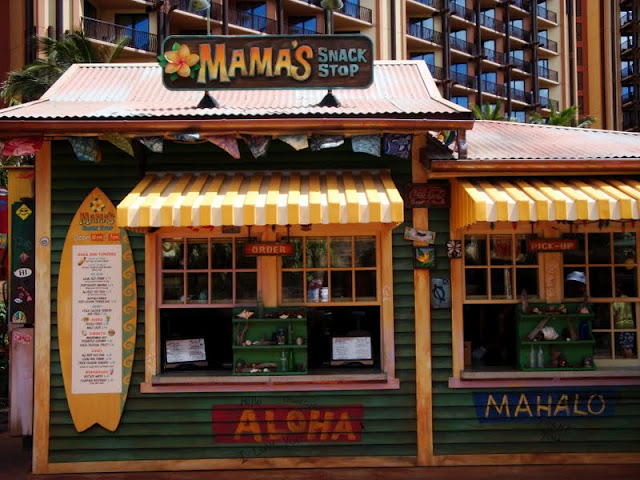 The menu includes a variety of "dogs" that come on your choice of either a soft roll or crusty bread. There is the Local Red Frank ($5.75), a hickory-smoked all beef hot dog, Portuguese Sausage ($5.75), an All-Beef Hot Dog ($5.75), and a Buffalo-Ranch Fried Chicken Tender "Dog," basically a fried chicken sandwich ($6.75). The menu also features Fried Chicken Tenders ($9.95) served with French fries. The dogs do not come with fries, but a side of fries or Maui chips can be purchased for $2.95. For something sweet there is a Macadamia Nut Pineapple Cupcake ($4.50). Mama's Snack Stop is open from 10:00am to 7:00pm.
Papalua Shaved Ice: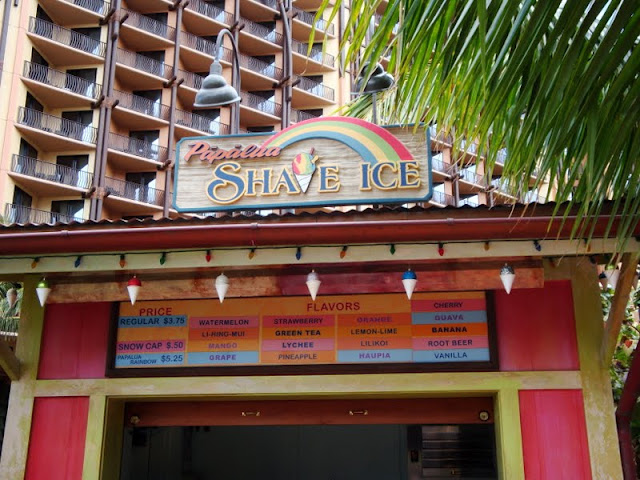 Right next to Mama's Snack Stop is another of the resort's snack options. Shaved ice is a very popular local favorite and a very refreshing treat while sitting in the sun by the pool or on the beach. For $3.75 this is a great value if you are looking for a quick snack. The shaved ice comes in a wide variety of flavors including watermelon, mango, grape, strawberry, green tea, pineapple, orange, lemon-lime, cherry, guava, banana, root beer, and vanilla. This definitely seems to be the resort's most popular snack options and I witnessed many people around the pool area enjoying one of these frozen treats.
One Paddle, Two Paddle:
Tucked in an out-of-the way corner of the main pool area is another of the resort's counter service dining options. If you are not specifically looking for One Paddle, Two Paddle it is very easy to miss and one of the odd things is that it is only open from 5:00pm to 8:00pm. The menu features an assortment of sandwiches, wraps, and salads that make it a good option if you are looking for a lighter meal: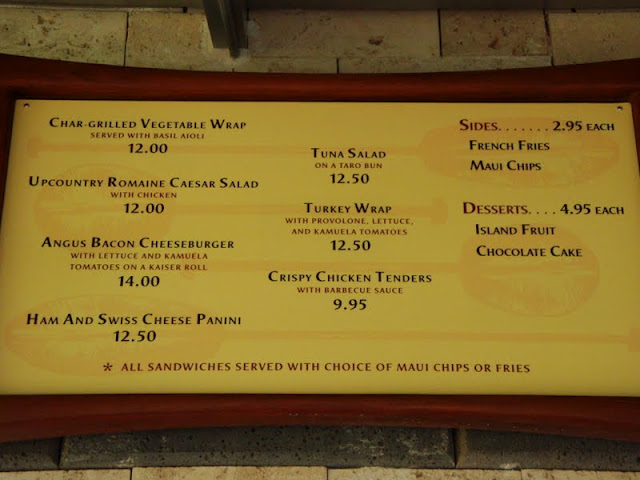 Off The Hook: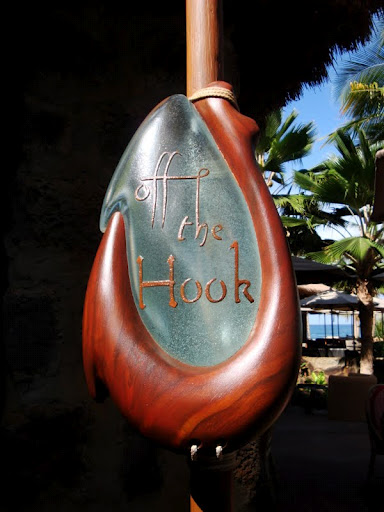 Aulani's main poolside bar is Off The Hook, featuring an open-air bar area with big screen televisions and ample seating to enjoy a tropical drink or a bite to eat.
Designed to resemble a fisherman's seaside shack, including decorations such as cowry-shell lures, shark-tooth knives, and fishhooks, the bar offers great views of both the main pool as well as the beach.
If you are looking for a refreshing drink to cool off while sitting beside the pool, the bar features mai tais, piña coladas, Blue Hawaiʻi, Long Island Ice Tea, signature cocktails, wine, sangria, margaritas and Hawaiian beers.
For lunch, from 11:00am to 5:00pm, Off The Hook serves the same menu featured at One Paddle, Two Paddle. The menu changes at dinner time to an assortment of appetizers that make it a great option if you are looking for a lighter meal while enjoying the Hawaiian sunset or while sitting under the stars. One of the appetizer highlights is the build your own seafood platter. This offers a choice of Oysters, Prawns, Alaskan Crab Legs, and Sustainable Catch Ceviche served with chili pepper water and cocktail sauce. It is priced per piece with Oysters $1.50 each, Prawns $3.50, each the Sustainable Catch Ceviche $7.00, and two once Alaskan Crab Legs $11.00 each. Other appetizers include Spicy Korean Fried Chicken Wings ($12.00), Kobe Beef Sliders ($15.00), and Hoisin Barbecue Pork Riblets ($14.00. If you are in the mood for something sweet there is the Miniature Dessert Sampler ($13.00) that includes Chocolate Mousse with Toasted Brownie, Coconut Panna Cotta with Braised Pineapple, and Macadamia Nut Cheesecake with Guava Pate de Fruit.
Wailana Pool Bar: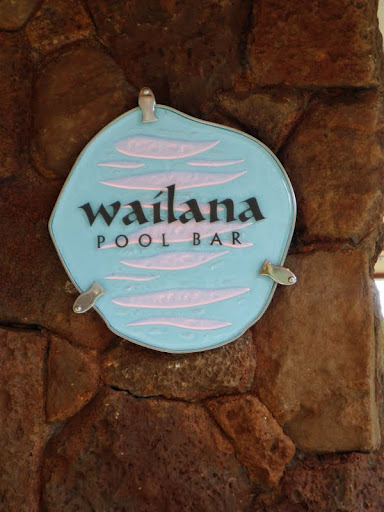 Located next to the resort's quieter secondary pool, the Wailana Pool Bar offers the same selection of drinks found at Off The Hook in addition to serving the same menu as One Paddle, Two Paddle from 11:00am-5:00pm. The nice thing about this pool bar is that its more out-of-the-way location makes it less crowded than Off The Hook. It is also a great place to grab a cocktail before enjoying Aulani's Starlit Hui, which is held on the lawn adjacent to the bar.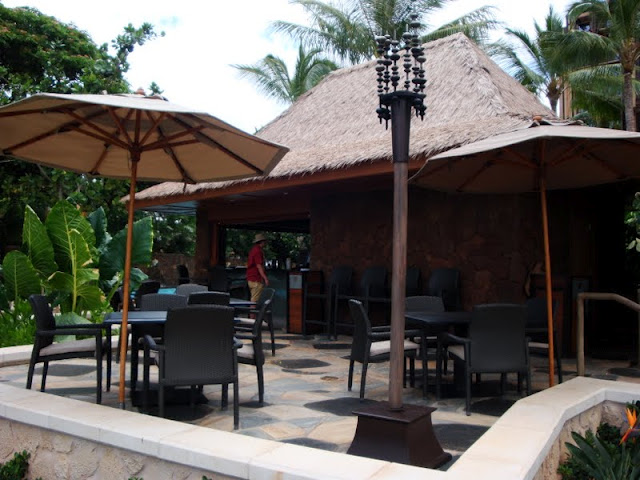 'Ama 'Ama: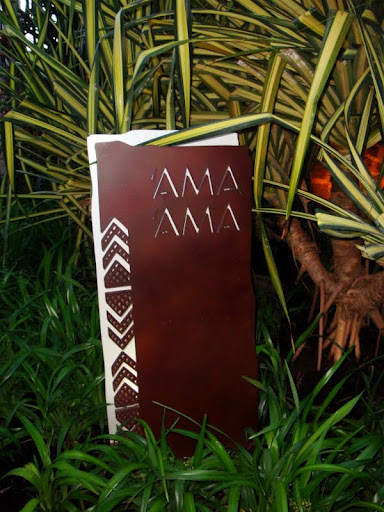 Aulani's signature dining experience is Ama Ama. Open for breakfast, lunch, and dinner, if you are staying at Aulani this is definitely a restaurant you do not want to miss. The highlight of the restaurant is its open-air dining room that offers amazing views of the ocean. The chefs here use fresh local ingredients and island flavors to create distinctive Hawaiian dishes that combine traditional with contemporary.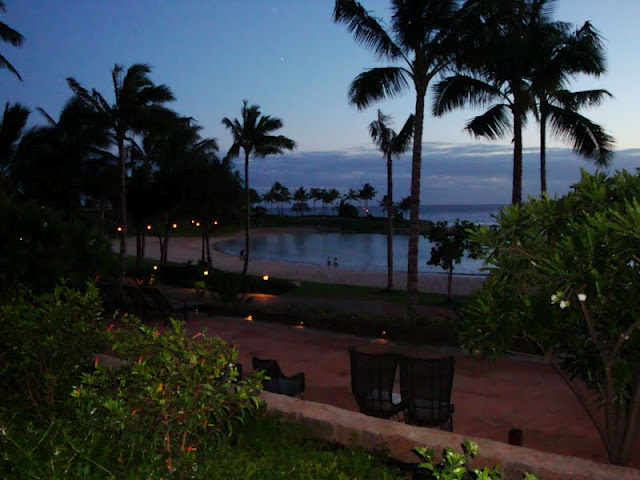 Breakfast is served here from 7:00am to 10:30am, lunch from 11:30am to 3:00pm, and dinner from 5:30pm to 10:00pm. I had the good fortune of dining here for dinner during my stay which I will go over in greater detail in my next review. Here though is a look at the restaurant's breakfast and lunch offerings.
Breakfast features many traditional items, but with a Hawaiian flair. There is the Three Egg Omelet ($14.00) served with Aulani Potatoes, Sweet Potato and Portuguese Sausage Hash ($15.00) accompanied by poached eggs and marinated hearts of palm, Poached Eggs with an Island Crab Cake ($17.00) topped with a soy-wasabi hollandaise, a Belgian Waffle ($13.00) with grilled island pineapple and salted caramel sauce, Chocolate Milk-Dipped Haupia Bread French Toast ($15.00) stuffed with bananas and peanut butter 15.00, and Whole Wheat Pancakes ($13.00) served with island papaya and coconut syrup. The menu also features two Bakery Baskets: the Classic Flavors, featuring a Cinnamon Roll, Croissant, Almond Bear Claw, and an Apple Fiber Multigrain Muffin ($8.00) and the Hawaiian Flavors, which includes Guava Fan, Coconut Cream Pocket, Croissant, and an Orange-Macadamia Nut Muffin ($8.00).
Lunch features appetizers such as Hearts of Palm and Grilled Jumbo Shrimp ($16.00), Ahi Tuna Tempura ($13.00) with mustard and pickled vegetables, Crispy Curried Chicken Firecracker ($13.00) with mango, and a Kahuku Corn Chowder ($9.00) with taro and salmon. The menu's sandwiches are all served with a choice of sweet potato fries or an island field greens and include a Kalua-Roasted Pulled Pork Sandwich ($14.00), Crab and Lobster Roll ($24.00) with wasabi mayo and cucumber, Roasted Chicken Salad on Ciabatta ($14.00), Char-grilled Vegetable Sandwich on Foccacia ($12.00), and an Angus Chuck Burger ($18.00) with caramelized balsamic onions and Vermont white cheddar. If you are looking for something a little more than just a sandwich the menu also includes Today's Hawaiian Sustainable Catch (Market Price), Grilled Sirloin Steak ($24.00) with sautéed mushrooms and sweet potato fries, and Goat Cheese Ravioli ($23.00) with local baby vegetable stew.
Disney's Aulani Resort is pure paradise. It has all the little magical touches that you would expect of a Disney resort added to its absolutely stunning location. If you are looking for a relaxing and care-free vacation, look no further than Aulani; the toughest decision you will have to make during your stay here will be whether to sit by the pool or on the beach. The resort's various dining offerings match perfectly with the overall feel of the resort, presenting an array of both classic and contemporary Hawaiian cuisine.
My only complaint about the resort are that the dining options are somewhat limited. The resort could definitely benefit from the addition of a food court, another counter service restaurant, and maybe a more casual and economical sit-down restaurant. As luck would have it, the Disney Parks Blog just recently announced the addition of two new quick service dining locations at Aulani with construction set to begin in September. Aulani is still in its infancy and I expect the resort will continue to grow, develop, and add new experiences through the years, which will help make an already great resort even better.
See past reviews by Guest Blogger Andrew Rossi.