I am always excited to try a new restaurant that I have never dined at before, especially when I constantly hear people singing its praises. However, all this hype can be a double edged sword because it puts you into a mindset where your expectations are so high that no restaurant could possibly meet them. This was the situation I faced prior to dining at the Yachtsman Steakhouse at Disney's Yacht Club Resort.
Talking with friends and family, as well as reading other reviews, people always rave about the Yachtsman Steakhouse as one of their favorite restaurants in all of Disney World. Even Disney itself sets Yachtsman apart by classifying it as a Signature dining location, one of few such restaurants across Disney property that are noted for their high quality selections of food and wine in addition to their refined atmospheres. For this reason, I went into my meal at the Yachtsman Steakhouse expecting something truly special and it is safe to say that I was not disappointed at all.
Overview:
Disney defines its Signature restaurants as dining experiences that "provide unparalleled cuisine served in elegant and relaxed settings." These are restaurants that Disney considers to be the best of the best and they seek to offer guests a meal unlike any other. For this reason, Disney's Signature restaurants feature a dress code to accompany their more refined settings. For men, Disney recommends khakis, slacks, jeans, or dress shorts along with collared shirts. Women are asked to wear capris, skirts, dresses, jeans, or dress shorts. Among the articles of clothing not permitted in the dining room are tank tops, swimwear, hats, cut-offs, or torn clothing.
Personally, I have no problem with these restaurants having a dress code and applaud Disney for attempting to create a more upscale atmosphere by putting these criteria in place. However, I was greatly disappointed to see that this dress code was not very strictly enforced. Seeing so many people casually dressed really did take away from the ambiance of the meal.
Located at Disney's Yacht Club Resort, the Yachtsman Steakhouse certainly lives up to its Signature status. The Yacht Club brings the grandeur and grace of nautical New England to the middle of Florida and, next to the Grand Floridian, might be the most upscale resort on Disney property. The Yachtsman Steakhouse matches this overall feel of the resort and, combined with its Signature status, makes for the perfect dining location if you are looking for an escape from the hustle and bustle of the theme parks.
This is a restaurant that can make you forget about all the crowds and possibly make you forget that you are in Disney World altogether. If you are looking for a romantic night out this is certainly the restaurant for you. While there were some families with young children present during the course of the meal, the predominant demographic were couples or families with teenagers and older children. Whether on a date, celebrating an anniversary, or just looking for a quiet meal with a spouse, friends, or family, the Yachtsman Steakhouse is sure to deliver a truly special dining experience.
Atmosphere:
The Disney World website describes the Yachtsman Steakhouse as having a New England theme and with the restaurant's location at the Yacht Club resort one would expect this to be the case. However, I think Disney is a little mistaken with this description. I am originally from New England and I found very little in the Yachtsman Steakhouse that reminded me of home. Unlike the rest of the resort, there are few nautical touches to be found in the décor besides a sailboat on the restaurant's sign. I felt the restaurant focused more on the steakhouse angle rather than a seafaring theme. Instead of having the feel of nautical New England, I would describe the restaurant's atmosphere as having more of an upscale rustic feel.
From its wooden floorboards and wood-paneled walls to the wooden beams supporting the ceiling, the Yachtsman's dining room suggests more of being on the prairie or the frontier rather than at a pier or wharf along the seashore.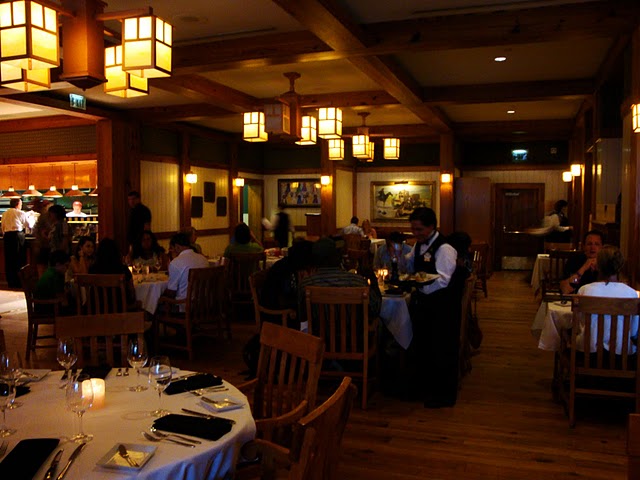 Even the artwork adorning the walls reinforces this theme, with paintings of cattle, cowboys, and rodeos.
Nowhere in the restaurant will you find model sailboats, oars, anchors, brass compasses, or any other details you would normally associate with a nautical theme. That being said, the overall décor of the restaurant is fairly simple and plain. This is a restaurant that truly lets its food do the talking because there is really nothing about the atmosphere of the dining room that makes it special.
I found the restaurant to be fairly dimly lit and, although it features some large windows that let in natural light, after sundown it is somewhat dark inside. This helps create a more mature, intimate, and romantic setting that is great for adults and probably not the best choice if dining with small children.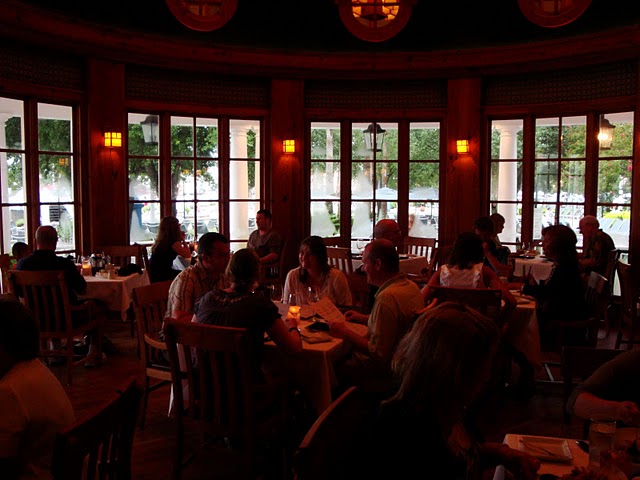 Although the dining room is large, it is divided into a series of smaller rooms and the tables are spread out rather than right on top of one another. This adds to the restaurant's intimacy and creates a quiet, relaxing environment in which to enjoy your meal.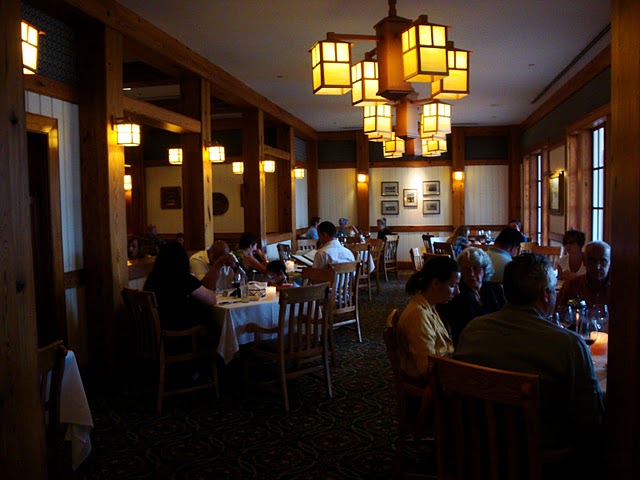 While there is nothing spectacular about the Yachtsman's décor or atmosphere, there are a couple of things that stood out. First, as soon as you enter the restaurant you are greeted by a large butchering room where all the steaks served in the restaurant are hand-cut. It is very interesting to see the different types of steak that are served and there is also a very useful diagram that lets you see from which parts of the cow certain cuts of beef come from.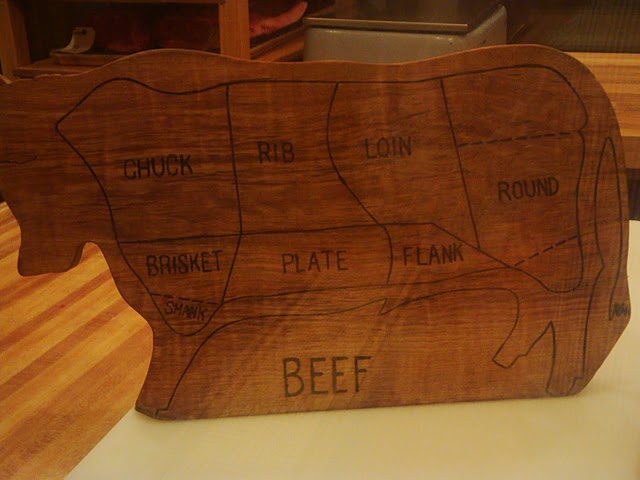 Another nice feature is an open kitchen where you can see the chefs hard at work preparing steaks on the grill. The aroma that comes from the kitchen is amazing and gets you very hungry before even being seated at your table. Restaurants that feature open kitchens can sometimes get a little noisy with all the hustle and bustle, but I did not find that to be the case here; there was no loud crashing of pots and pans, no shouting among the chefs, but instead just the sizzle of cooking steaks.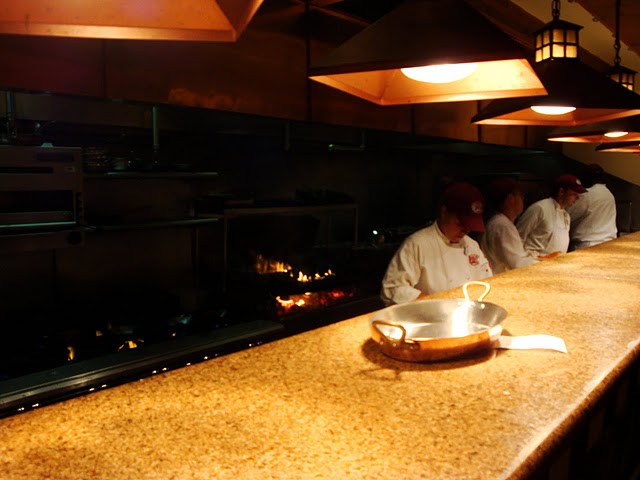 The Menu:
One of the hallmarks of a Signature restaurant is that the menu changes very frequently in accordance with the seasons and what ingredients are most fresh at the time. Being a steakhouse, steaks are always going to be a constant on the Yachtsman's menu, but how the steaks are prepared and what accompanies them can change regularly. The following is what the menu was like when I dined here at the beginning of August.
The appetizer selections offer a little taste of New England not found in the restaurant's atmosphere, with seafood predominant among the various choices. There is an Ahi Tuna Crudo ($16.00) with celery mignonette, salt cod aioli, and American osetra caviar, Escargot ($15.00) with pork sausage, garlic, and herbs, Lobster Bisque ($11.00), and the Pan-Seared Diver Scallops ($14.00) accompanied by a roasted pepper hummus, olive chermoula, and summer radish.
If you are looking for something other than seafood there is the Charcuterie Board ($15.00) featuring smoked duck sausage, venison terrine, black and blue beef tartare, and artisanal cheeses. On the lighter side there is the Caesar Salad ($9.00), Heirloom Tomato Salad ($13.00) topped with a lemon-basil emulsion, olive tapenade, and goat brie cheese, the Summer Beat Salad ($11.00) served with assorted baby greens, prosciutto, avocados, and a sherry-mustard vinaigrette, as well as the Assortment of Artisanal Cheeses ($14.00) accompanied by a toasted sourdough baguette.
When it comes to entrees, steak is the star of the menu. I am not really picky when it comes to particular cuts of beef, so I based my selection on what accompanied the steak; the sauces and sides are just as important to the entree as the actual steaks themselves. The steaks on the menu come in different cuts and different sizes (which is another factor to consider when ordering). It should also be noted that if you have your heart set on a particular type of steak and do not like its accompaniment substitutions can be made (including baked potatoes which are not found on the menu).
In order from smallest to largest there is the 8oz Center-Cut Filet Mignon ($40.00) accompanied by mashed potatoes and a cabernet wine sauce, the 12oz Prime New York Strip Steak ($42.00) served with carmody potato gratin and a peppercorn brandy sauce, the 16oz Boneless Ribeye ($43.00) which comes with sweet potato beignets and red wine butter, and the 24oz Center-Cut Porterhouse ($44.00) accompanied by smoked paprika fries and roasted garlic butter. The menu also featured a Beef Wellington Deconstructed ($47.00) served with a trio of wild mushroom duxelles, puff pastry, parsnips, potatoes, carrots, and cabernet wine sauce.
If you are not in the mood for steak, there are still plenty of other options on the menu. There is a Braised Beef Ravioli ($32.00) with crispy wild mushrooms and summer radishes, Copper River Stockeye Salmon ($38.00) with white asparagus puree, English peas, fava beans, olive oil, and herbs, a Young French Hen ($30.00) accompanied by wild rice hash, rhubarb preserve, and a poultry jus, and the Parmigiano Reggiano-Riccotta Gnudi ($29.00) which is a type of gnocchi made with ricotta cheese and comes served with heirloom tomatoes, artichokes, eggplant, sage, peaches, and a garlic emulsion.
The menu also features a variety of intriguing side dishes. Among these are the Truffle Mac & Cheese ($9.00), Pot-Roasted Root Vegetables ($9.00) that includes turnips, carrots, and onions, Caramelized Onions ($6.00), Sautéed Mushroom Caps ($7.00) with garlic, cream, and a cabernet wine sauce, Sautéed Green Beans ($9.00) with a butter and garlic crumb topping, and Creamed Spinach ($8.00).
If you still have room for dessert there is an assortment to choose from including the Creme Brulee($8.00) topped with fresh berries and rolled chocolate, a Sorbet Trio ($7.00) that includes pineapple-chili, blueberry-cassis, and strawberry-basil sorbets, the Yachtsman Sundae ($8.00) featuring a trio of gelato topped with amarena cherries, and the Chocolate-Peanut ($11.00) which features a flourless chocolate cake topped with peanut butter mousse and served with vanilla gelato.
For an appetizer I chose the Lobster Bisque. I have had lobster bisque at multiple dining locations across Disney World, and while the one at Yachtsman Steakhouse was very good it was not my favorite. I could tell from its dark orange color that this would be a more strongly flavored bisque. I prefer my lobster bisques to be on the more cream-flavored side and the one at Yachtsman had a very distinct lobster taste. I am not saying that the bisque was bad, just not the type that I enjoy most. My favorite lobster bisque in Disney World continues to be that found at the Coral Reef Restaurant in Epcot.
That being said, the bisque at Yachtsman was extremely smooth and creamy in texture and had large chunks of lobster. Accompanying the bisque was a delicious pepper biscuit that was especially good when dipped in the soup. Something that I also thought was a nice touch was that when two members of my party said they would be sharing a bowl of the lobster bisque, instead of bringing out one bowl and two spoons they actually divided the bisque into two smaller cups.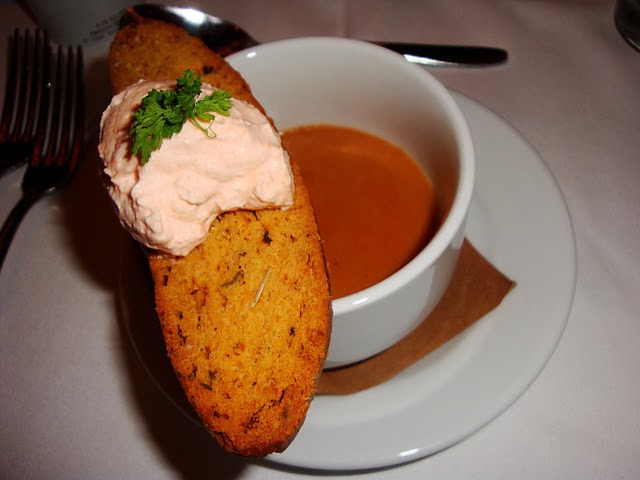 It took me some time to decide upon which steak I wanted to order because many of the sides sounded unique and tasty. I finally chose the 12oz Prime New York Strip and I was certainly not disappointed. I would not hesitate to say that this was the best steak I have had at any restaurant in Disney World or elsewhere. Everything about this dish was top notch. The steak itself was extremely tender and seemed as though it could almost melt in your mouth. In addition, there was hardly any fat to be found and it came cooked perfectly just as I had ordered it, medium-well with just a little bit of pink inside.
The steak came topped with a peppercorn brandy sauce that really added a nice kick. This sauce is certainly not for the faint of heart and the peppercorns give it a strong and distinct flavor. If you are not a big fan of pepper, you may want to opt for a different sauce. That being said, I did not find that the sauce overpowered the steak, but rather enhanced and complimented its flavor. The steak was also accompanied by a generous portion of carmody potato gratin, which was made up of thinly sliced potatoes layered with cheese. This was a very rich and filling side and a nice change of pace from your average mashed or baked potato. The only disappointing aspect of the meal was that it did not come with a vegetable (however there are vegetable side dishes available for an additional charge).
Dessert was the big disappointment of the night. After such a delicious entrée I really was not very hungry, but the Chocolate-Peanut sounded so tempting. This dessert was a classic case of something sounding better than it actually is, described as a flourless chocolate cake topped with peanut butter mousse and accompanied by vanilla gelato.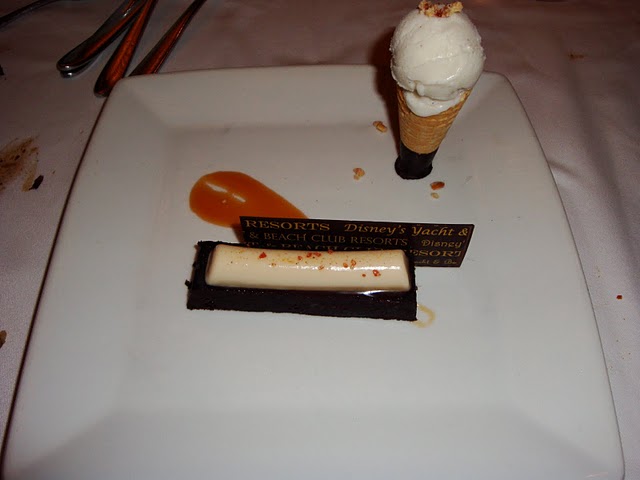 When the dessert was placed in front of me I thought, "This is it?" It was so tiny that I had trouble believing that they would actually serve it to people. That being said, the chocolate cake was very rich, the peanut butter mousse smooth and creamy, and the vanilla gelato provided a nice refreshing contrast. The dessert itself was good, but just not at all what I was expecting. After being blown away by my steak entrée, the dessert just did not live up to my expectations and certainly was not worth the $11 price. The next time I dine here I will probably just skip dessert altogether.
Service:
A Signature restaurant is marked not only by its fine atmosphere or exquisite foods and wines, but also by some of the most attentive service you will receive at any Disney restaurant. I was very impressed by my server because he really took his time to describe the various items on the menu. He went almost item by item on the menu and offered a little description along with his own opinions on which were his favorites and which were the most popular. Throughout the course of the meal he would constantly check-in to make sure everything was to my liking. Even though he was serving other tables, his attentiveness made it seem as though he was my own private server.
Another nice touch during the meal came when one of the members of my party had to send back her steak because it was not cooked well enough for her. Rather than the waiter returning the steak to the table it was actually one of the chefs who brought it to her. He apologized and then stood by the table while she cut into the steak to make sure it was completely to her liking. To me this was something that truly separated the Yachtsman Steakhouse from any other restaurant I have been to in Disney World. The service here was impeccable. You can tell that the entire wait staff truly cares about creating a memorable dining experience for their guests.
Dining on a Budget:
This is something that is a little difficult to do at the Yachtsman Steakhouse. Unfortunately, while a Signature restaurant offers the best of the best in terms of atmosphere, location, food, and service, you are also paying for that high quality. The price of an appetizer here would be the equivalent of an entrée at some other Disney restaurants. If you are looking to splurge a little on a meal during your vacation this would be the restaurant to do it at because you certainly get what you pay for.
That being said, if you choose to eat at Yachtsman Steakhouse there are a couple of ways to keep the bill low. First, don't order any alcohol. Beer and wine can often run up a bill, so you may want to consider a glass of water or soda. Second, share an appetizer rather than getting one just for yourself. Not only does this save money, but it also prevents you from filling up before your entrée arrives. Finally, skip dessert and coffee. The entrees are certainly big and filling enough that you do not really need to have a dessert and this will also help in keeping the cost of your meal down.
If visiting or staying at the Yacht Club Resort and looking for a slightly cheaper option for dinner, you may want to consider the Captain's Grille, which offers a menu featuring several steak and seafood options for a cheaper price in a slightly more casual, but still quiet, setting. On the menu here you can find a Grilled New York Strip served with cheddar-bacon mashed potatoes, seasonal vegetables, and red wine sauce for $28.99 or a Grilled Rib-Eye with horseradish mashed potatoes, seasonal vegetables, and herb butter for $27.99. While still slightly expensive, these dishes are far cheaper than those found on the Yachtsman's menu. In addition, the Captain's Grille offers some dishes that cannot be found at the Yachtsman Steakhouse, such as the Lump Crab Cakes with fennel, arugula, and fingerling potatoes and a mustard sauce for $23.99. While I am not saying that the Captain's Grille is on the same level as the Yachtsman Steakhouse, it does offer a viable alternative if you are looking to save some money but still looking for an intimate and relaxing meal.
The Yachtsman Steakhouse is on the Disney Dining Plan, but its Signature status means that it will cost two dining credits rather than one. Also, the restaurant does offer the 20% Tables in Wonderland discount. No Annual Passholder or Disney Vacation Club discounts are offered, however.
The Overall Experience:
After dining at the Yachtsman Steakhouse for the first time I can say, without hesitation, that it is now one of my favorite restaurants in all of Disney World. I have always said that Le Cellier in Epcot's Canada pavilion is my number one restaurant, but Yachtsman Steakhouse is certainly challenging it for that spot. That, however, is a debate for another day. I went here with extremely high expectations based on all the hype I had heard and the Yachtsman Steakhouse delivered by exceeding my expectations in every way.
While it is not the type of restaurant that is going to blow you away with a brilliantly themed atmosphere and detailed décor, it relies on its fresh, high quality food as well as its passionate and dedicated service to create a dining experience that is unforgettable. Not only was it one of the most refined meals that I have had at any restaurant in Disney World, it is also one of the best tasting. While it may be expensive, if you want a dining experience on your vacation that is truly special the Yachtsman Steakhouse is certainly worth a try. You definitely will not be disappointed. Personally, I cannot wait for the opportunity to dine here again.
See past restaurant reviews by guest blogger Andrew Rossi.
Check out Reader Reviews of the Yachtsman Steakhouse and post your own too!