As I look forward to next year's AllEars.net Group Cruise on the Disney Cruise Lines next ship, the Fantasy, thought I would share with you a few of my favorite photos from my cruise on the Disney Dream.
Your first view of the inside of the Disney Dream is when your group is announced and you walk into the ship's atrium. High above is the art deco chandelier which was custom designed for the Disney Dream and measures twenty-two feet (seven meters) in diameter. Decorated with Swarovski crystals, it's covered with 24-karat gold plating and cascades thirteen feet (four meters) down from the atrium ceiling.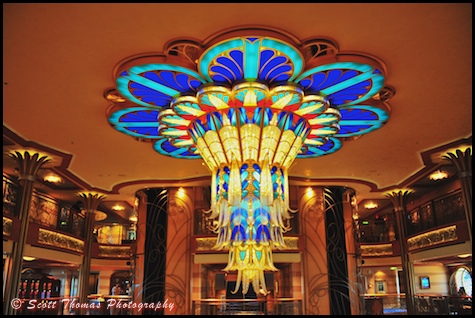 Disney Dream's art deco chandelier in the ship's atrium.
Nikon D700/28-300VR, 1/60s, f/3.5, ISO 720, EV 0, 28mm focal length.
In preparation of the Disney Dream's Sail Away party, bartenders at Currents, an outdoor lounge on Deck 13, start to fill thousands of "one-of-a-kind" champagne glasses with the date of the Christening Cruise. I processed this photo to highlight the glasses in the light against the dark background.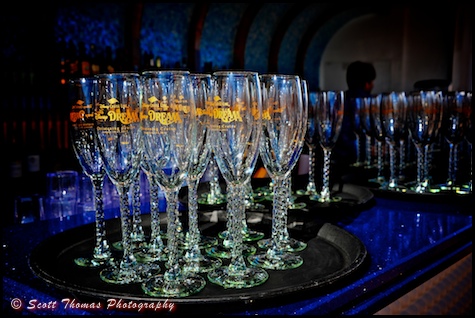 One of a kind Disney Dream Christening Cruise champagne glasses.
Nikon D700/28-300VR, 1/320s, f/9, ISO 200, EV 0, 42mm focal length.
In The District, an adult-only nightclub area of the Disney Dream, guests enjoy a sports bar called 687. 687 features many big screen HDTVs, a warm and cozy decor, comfortable sitting areas and a selection of beers and spirits. It is a nice place for the sports minded to hang out and enjoy the games while cruising between ports of call.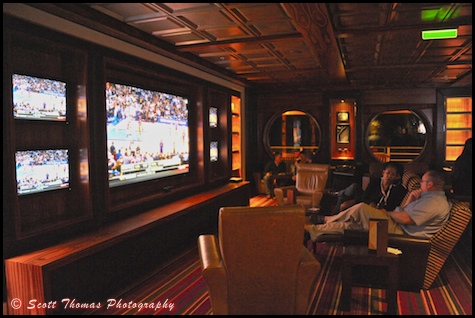 Sports bar 687 is located in The District of the Disney Dream.
Nikon D700/28-300VR, 1/160s, f/6.3, ISO 200, EV 0, 300mm focal length.
From what I hear and read about the Fantasy, Disney Cruise Line is going to have another huge hit on its hands. Book now!