I have to admit, I'm not a big fan of McDonald's. So when their contract expired and they pulled out of the four Disney World theme parks, I was thrilled. Disney offers decent counter service fare and McDonald's fries weren't really needed.
However, I've always felt that McDonald's filled a void at Downtown Disney. Although there are several kid-friendly spots like Rainforest Café and T-Rex, there is a severe lack of eating establishments that offer inexpensive options for the entire family. So when McDonald's closed their doors at Downtown Disney earlier in the year, I was concerned — but I didn't need to be.
Several days ago, Pollo Campero – Fresh A-Peel opened in the vacated McDonald's building in the Marketplace section of Downtown Disney.
The first Pollo Campero restaurant opened in Guatemala in 1971 by the Gutierrez family. Their chicken was hand-prepared every day and marinated with a special blend of Latin herbs and spices – a tradition that continues to this day. The restaurant was an immediate success and additional locations began to spring up. In 2002 they opened their first U.S. location in Los Angeles. Today there are over 320 Pollo Campero restaurants in a number of countries around the world.
I stopped by today with my friend Donald for a look around. For those of you familiar with the old McDonald's, you can see that the basic floor plan is much the same, but the restaurant has received a makeover and has a completely new and fresh feel.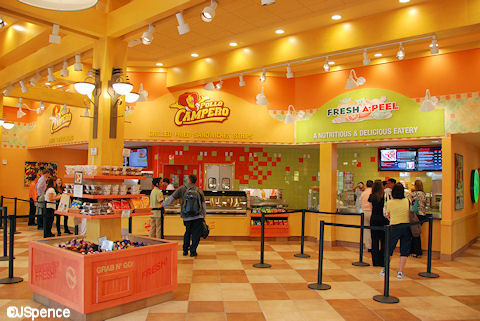 There are two food-ordering stations. Pollo Campero serves the traditional Latin chicken recipes and Fresh A-Peel has healthier choices. Pollo Campero offers four individual meals, traditional fried chicken, citrus grilled chicken, chicken strips, and a fried or grilled sandwich. These come with one side. Or, a family-size serving is available (feeds 3-4) and comes with several side orders. Here is a picture of their food counter.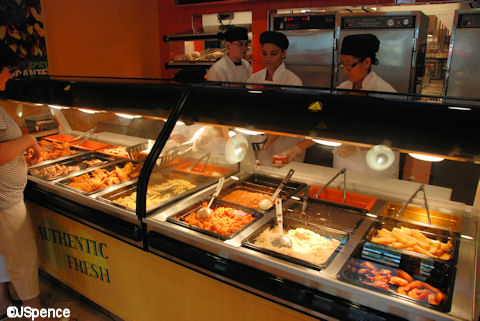 Fresh A-Peel offers healthier selections. Here you can order a hamburger with hormone-free ingredients and a fat-free "secret sauce," an all-beef hot dog on a multigrain bun, and a number of freshly made salads and wraps.
I ordered the mini-burgers (with a side of fries from the Pollo Campero counter) and Donald ordered the traditional fried chicken with a side of black beans served with tortilla chips. We were both pleased with the taste. Donald said the fried chicken had a distinctive flavor that he enjoyed. And I would never know that the "secret sauce" on my burger was fat free. My only complaint was the size of my beef patties. I felt they could have been a little larger.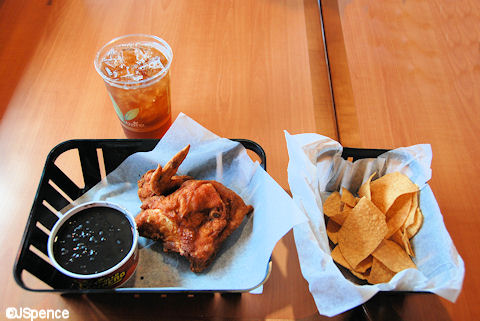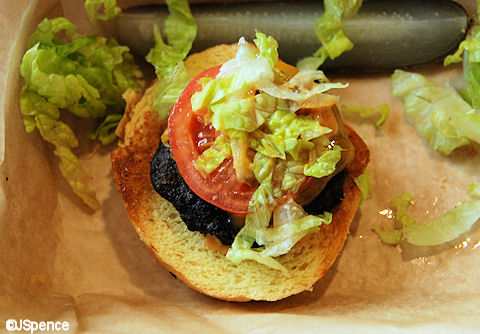 A topping bar is located in the middle of the dining room and offers Onions & Cilantro, Roasted Chipotle Salsa, Pico de Gallo, Jalapeños, and Green Tomatillo Salsa.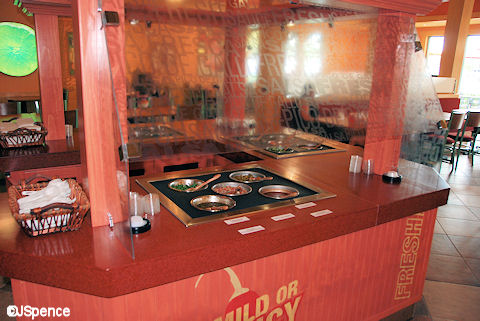 Soft drinks (Coke products) are ordered at the cash register and filled at the beverage station.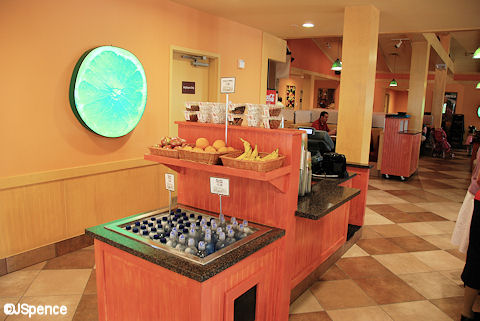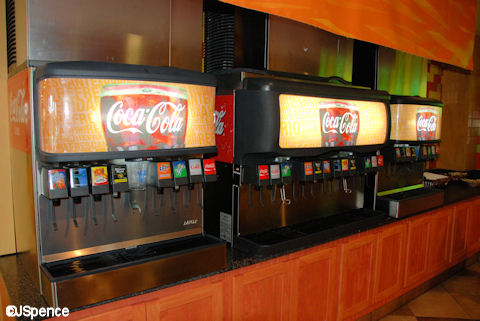 A Latin Drink Bar offers such delights as fruit smoothies, watermelon sangria, and beer. An adjacent outdoor bar offers table service for al fresco imbibing.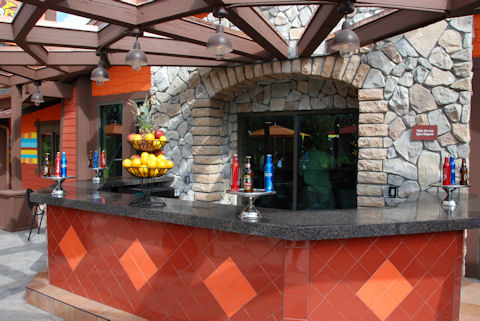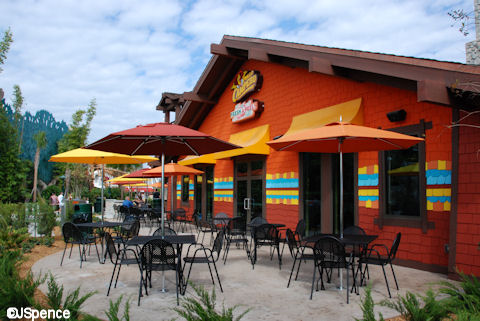 Another truly unique offering in this establishment is the Bakery sponsored by Babycakes NYC. All of their mouth-watering vegan/kosher desserts are:
Refined sugar free
Gluten free
Wheat free
Soy free
Casein free
Egg free
Here it's possible to be bad and good at the same time! No permanent menu is posted as the selections change daily.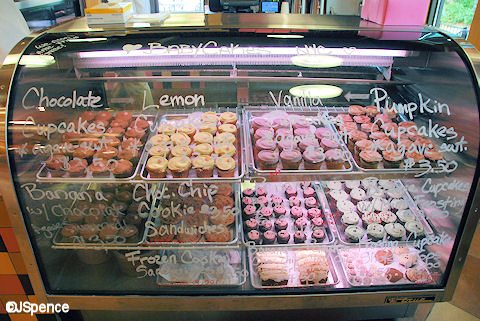 Here are few pictures of the dining room.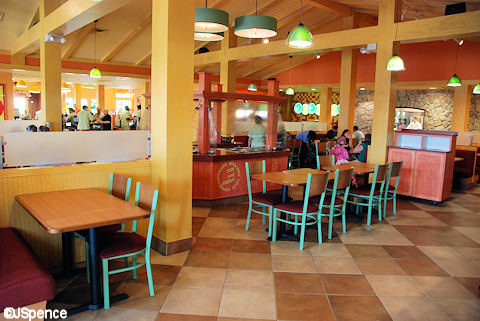 Pollo Campero is open daily from 8am to 11pm. At the moment, I do not have their breakfast menu, but I'm working on it. Currently, this establishment is NOT on the Disney Dining Plan or Tables in Wonderland. This may come about in the future, but I can't give you any timetable.
Donald and I enjoyed our meals and would return in the future. The prices are reasonable and I think picky kids would enjoy the chicken strips and fries. So next time you're at Downtown Disney and would like a quick meal without sacrificing flavor for convenience, give Pollo Campero – Fresh A-Peel at try.