The other afternoon, I was bored and wanted something to do — I needed to get out of the house for a while. I didn't feel like going into a theme park; that would require too much effort. But I was in the mood for something at Disney. I finally decided that a diet coke and a snack at any of the resorts would fill the bill. But where? Many of the hotel restaurants close between lunch and dinner and I wasn't in the mood for any of their counter service eateries. These would be much too frenetic for my leisurely mood. I needed something quiet.
After a lot of thought, I remembered the Crew's Cup Lounge located at the Yacht Club Resort. For those of you who aren't familiar with this spot, it's located next door to the Yachtsman Steakhouse. Its entrance is rather inconspicuous and easily missed.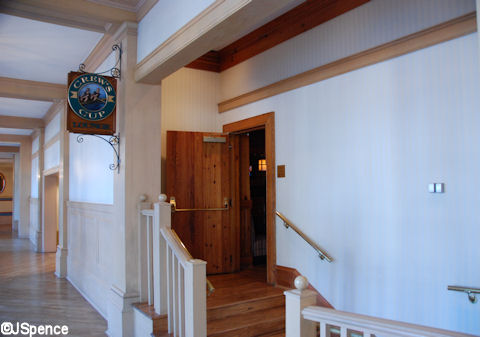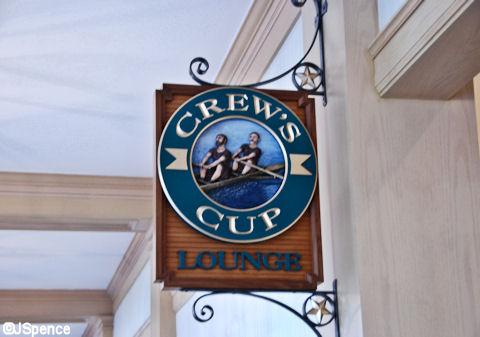 The atmosphere is decidedly dark and intimate. In fact, I had to brighten my pictures so you could see what the place looks like. There is a counter at which you can sit and enjoyed the bartender's company, four cozy booths, and a number of tables and chairs scattered around this comfortable hide-a-way.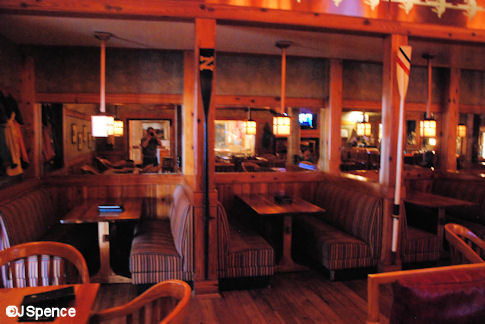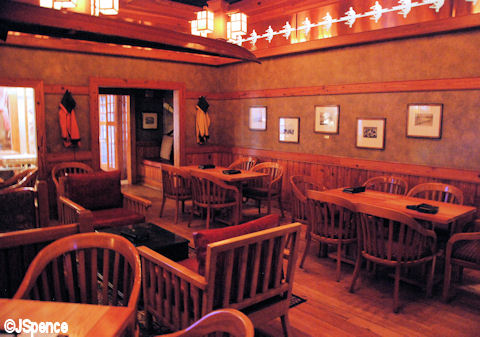 Although this lounge's primary purpose is to provide a spot in which to wait for your table when dining at the Yachtsman Steakhouse, this is wonderful place in its own right. As you might conclude from the name, the theme here is rowing. An abundance of wood furnishings, mirrored and textured walls, and rowing memorabilia create a sporting atmosphere that is inviting to both men and women. A large screen TV is usually tuned to ESPN, however, it doesn't intrude.
The Crew's Cup Lounge opens daily at noon. Last call is at 11:45 and closes at midnight. Appetizers are served all day. They are as follows:
Buffalo Chicken Breast Nuggets – served with Celery Sticks and Blue Cheese Dressing – $7.99
Nachos – with Beef Chili, Cheddar, Cheese, and Salsa – $8.49
Spinach Dip with Chips – $7.49
Honey-Ginger Chicken Wings – $8.49
I had the Nachos and was very pleased. There was an abundance of chili and this dish would provide one person a full meal or could easily be shared with two or three.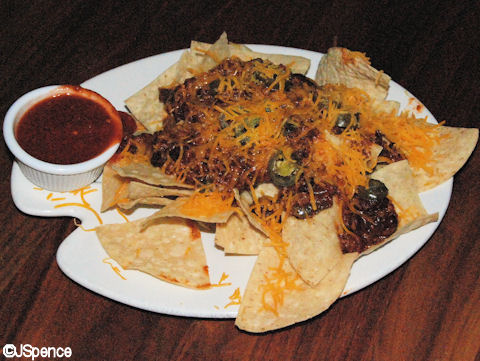 On a subsequent visit, I ordered Spinach Dip with Chips and Buffalo Chicken Breast Nuggets. I believe the Spinach Dip is the same "side dish" that is served at the Yachtsman Steakhouse. Regardless, they're delicious. The Buffalo Nuggets were very spicy, but if you dip them in the accompanying blue cheese dressing, it cuts the fire.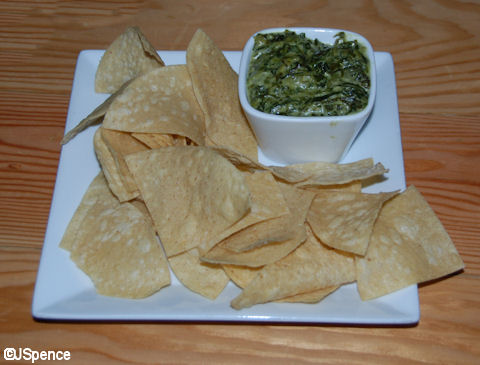 A limited lunch menu is offered and served from 2 pm until 5:30 pm. Featured are two sandwiches, a burger, and clam chowder. These items are prepared in the Captain's Grill kitchen and are identical to what you would receive at that restaurant.
A scaled-down dinner menu is available at the Crew's Cup Lounge from 5:30pm to 10pm. Filet Mignon, Beef Sirloin, and Beef Ravioli are offered along with a number of side dishes. Four different cheese platters and two desserts also tempt during the evening hours. These meals are served out of the Yachtsman Steakhouse kitchen and would be comparable to what you would receive there.
A large window on one wall of the Crew's Cup Lounge looks into the aging/cutting room of the Yachtsman Steakhouse. In the evening, it's fun to watch the chef preparing the various cuts of meat.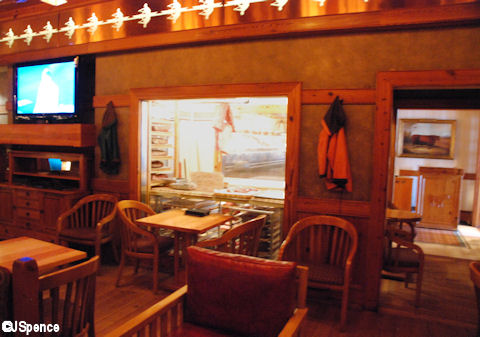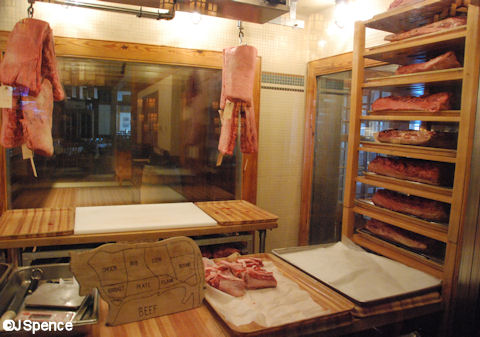 Disney World can be hectic and finding a peaceful spot away from it all can be difficult at times. If you're looking for a quiet spot where you can enjoy a cocktail, light bite, or a full meal, this is the perfect place. Although children are welcome, they are usually not in abundance. Evenings are busier than afternoons as many have a drink here before heading next door for dinner. In the afternoon, you can often enjoy the Crew's Cup Lounge with just your party and the bartender. I highly recommend this hidden Disney treasure.
This restaurant does NOT accept reservations and is NOT on the Disney Dining Plan, but it does accept the Tables in Wonderland card for a 20% discount.
RELATED LINK:
Crew's Cup Menu