Complementary colors are pairs of colors that are of "opposite" hue in some color model. The most popular color model is the artist color wheel where complementary colors are seen opposite of each other. Analogous colors are found next to each other on the same color model. Disney uses this knowledge when designing its themeparks and movies to create pleasing eye-catching color schemes.
Tiana's Showboat Jubilee which, just finished entertaining guests at the Magic Kingdom, is an excellent example of complementary colors. Below are decorations for Tiana's Showboat Jubilee that waere placed on the riverboat Liberty Belle where the jubilee took place.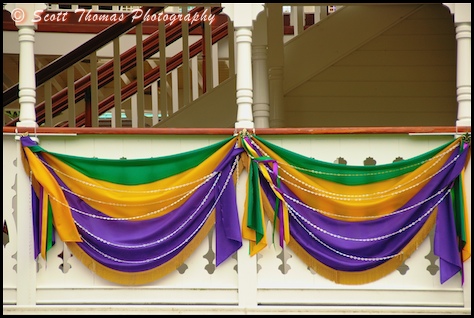 Complementary and analogous colors used to decorate the Liberty Belle for Tiana's Showboat Jubille.
On the color wheel, purple and yellow are found opposite of each other making them complementary. While yellow and green are next to each on the color wheel or analogous. The three together form a color triad. Disney designers and animators study color theory to come up with visually exciting productions based on such tools. They also make for pleasing photographs.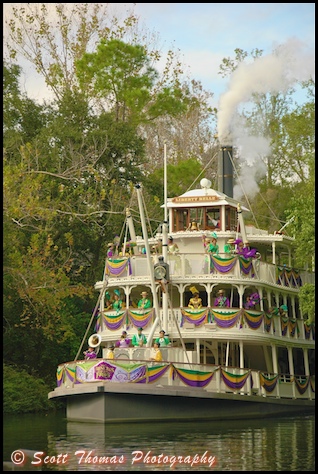 Tiana's Showboat Jubille on the Liberty Belle rounding the corner on the Rivers of America.
Here is the Liberty Belle with the full complement of entertainers in Tiana's Showboat Jubille from the Disney animated movie, The Princess and the Frog. You will notice the colors purple, yellow and green are used in most of the costumes like the lovely Southern Belle seen below.
One of the lovely Southern Belles of Tiana's Showboat Jubille.
Finding complementary colors will make your photos pop and add to your travel photos at Walt Disney World.