Alpha Gollihugh brings us this breaking story from Disney's California Adventure!
A new show on the roll at Disney's California Adventure features the Green Army Men from Toy Story. From under the bed in the upstairs bedroom of the Toy Story Midway Mania ride, come Andy's army men, full-sized and looking for recruits. They march, they drum, and they teach any volunteers to be "real toy soldiers". Even the important fact, "that toy army men have to hold perfectly still if any humans come into the room".
"Hup 2-3-4, hup 2-3-4, army men set up!"
The army runs on beat……set up the drums.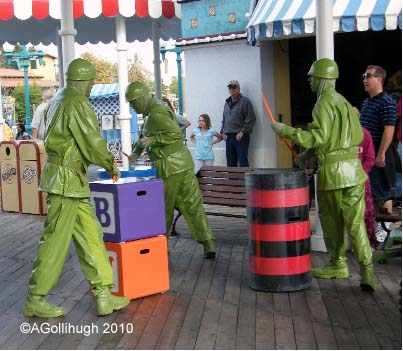 "I see some out there that would make fine soldiers for Andy's army!"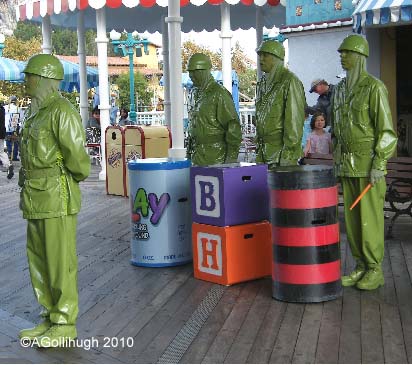 "I can't hear you…….come forward and line up here!"
"Calling Andy, I mean 'commander'…….shall we train the new recruits?"
"Come on recruits, quickly now, in line….."
"Now we need to train you…………….follow me…March!"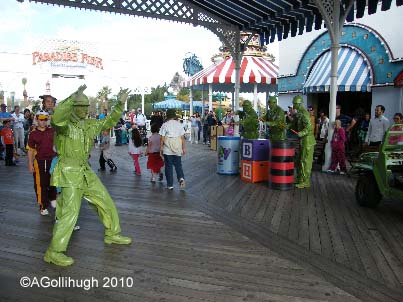 Weapons training: "Ready…fire! Ready…fire!………This will really 'bug' them!"
(They are throwing lady bugs)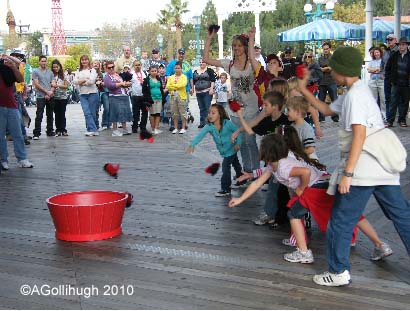 "An army marches to its drummers………………ok recruits……listen and come in on command!"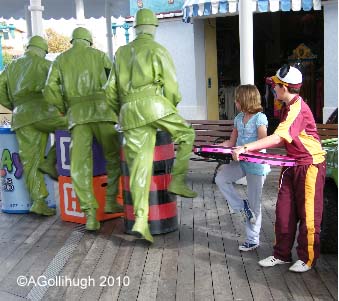 "Toy soldiers must know that when people enter the room you must hold absolutely still……………like this."
"Time to move on. Remember army men, Base is the big green box under Andy's bed."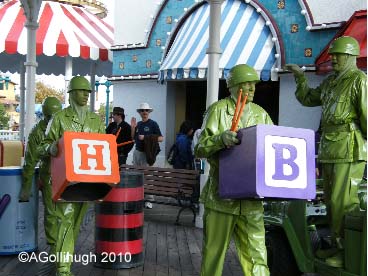 This fun little show is performed several times a day. The Green Army Men come out from backstage near the Maliboomer, and recruit likely candidates as they travel along the boardwalk to Ariel's Grotto. Training sessions take place on the boardwalk in front of Ariel's Grotto.
(A big thank you to Alpha for putting this blog together!)