by Kitty Smith
I just returned from a most wonderful Walt Disney World vacation. As a vegan, there were some challenges with meals, but one meal was so amazingly outstanding that it deserves a whole report by itself. On Thursday December 10th, I had the best meal of my life – a seven course vegan feast at 'Ohana.
Other vegetarians and vegans might wonder why I'd even attempt a meal at an establishment known for its meat-fest, but I had heard that Chef TJ (Tjetjep Sudiswa) was now working there – and anywhere he's cooking, I'll be eating. His name alone would have brought me here, but I had also heard that he was making a special effort here to treat vegans to something truly special. Even knowing that, nothing could have prepared me for the meal I was about to enjoy.
We were seated at a table near the window, with an awesome view of the Grand Floridian, and the Magic Kingdom. Our meal was too early for the fireworks, but I can only imagine how cool it must be to watch them from here. The view was gorgeous! Shortly after we were seated, Chef TJ came to greet me, and after a couple of food-specific questions, he asked me if I was ready for my adventure. And boy was I ever! I had come hungry, and excited, with camera and notebook in hand.
To get me started, Chef TJ brought out a nice large plate of fried Pita chips, with a nice large scoop of red pepper hummus, and Baba Ghanoush. If I didn't know more food was coming, I could have easily eaten this whole plate! It was so good!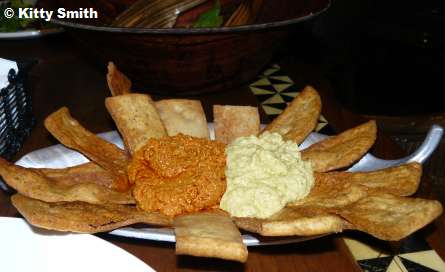 Pita Chips with Red Pepper Hummus and Baba Ghanoush
Next came the salad course. Since Chef TJ doesn't do anything simple, this was not your average salad. This one was wrapped in a sesame rice "paper", and served in a wine glass. It was designed to be eaten with your hands, as Chef TJ insisted I do – very unique, and very tasty. I'm not sure of the dressing he used (some sort of vinaigrette, light and full of flavor), but it was wonderful! The only problem, if you can call it that, is that the dressing tended to fall to the bottom, which only meant that each bite was better than the last.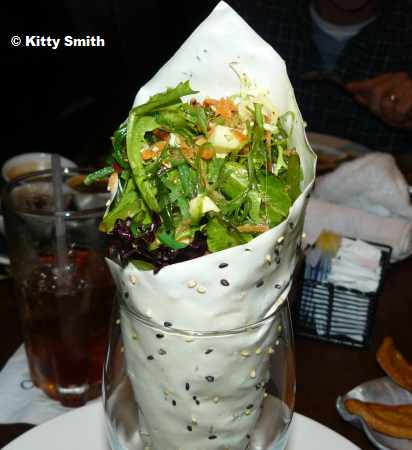 Mixed Greens in Sesame Rice Paper

At this point, Chef TJ (who continually checked to make sure I was happy and that all was well) pointed out that the noodles and broccoli served with the regular meal were also vegan. I tried just enough to tell you that they were also quite delicious. I probably could have made a small meal from that alone, but Chef TJ wasn't about to let me settle! (I'm calling this a seven-course meal, but truly it would have been eight or nine, with the noodles and broccoli.)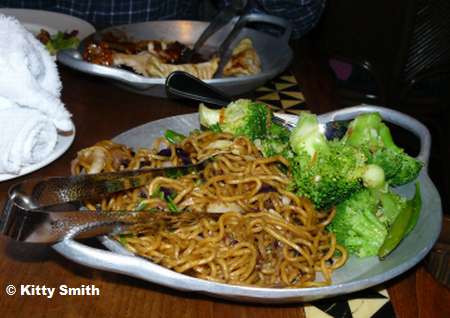 Lo Mein Noodles Tossed in Teriyaki Sauce with Fresh Vegetables, and Seasoned Broccoli
Next course, soup. This was quite unusual – a ginger-based broth, with crushed red pepper, watercress and peanuts. The red pepper definitely gave it some kick, and veggies and peanuts made it quite filling. I must confess that, while very tasty, only ate about half of it. This was already one of the largest meals I'd ever had, and I hadn't even got to the entrée yet.
Ginger Soup with Crushed Red Pepper, Watercress and Peanuts
Ahhh… entrée at last, or so I thought! This next dish was actually my favorite. I believe that Chef TJ called it Tofu chips with Swiss chard. Somehow, he had managed to cut the tofu into small, very thin slices and fried it, giving it the most wonderful chewy texture. Oh what I wouldn't give to be able to do that to tofu! The Swiss chard was the perfect accompaniment. He also included two sauces – one a bit spicy, the other a bit sweet. However, the tofu was so deliciously marinated already that I found the sauces a bit over-kill. I just can't rave enough about this dish! It was heavenly!
Fried Tofu Chips with Swiss Chard
Just as I'm thinking I can now die happy, Chef TJ comes out with yet another appetizer. You mean I haven't gotten to the main course yet?! This one was a wonderfully prepared Bok Choy with mushrooms, some ginger, perhaps some red pepper? It had a little heat. There were also what seemed to be tiny little fried potatoes – like itty-bitty French fries. I like bok choy and was not disappointed with this dish.
Bok Choy Appetizer
Finally, Chef TJ arrives with the entrée – a selection of mixed veggies, tofu, a scoop of white rice, some tempura broccoli and cauliflower, topped with rice straws. He told me that the tempura was coated with just flour, baking soda and Hawaiian beer. Whatever it was, it worked! The whole dish had tons of flavor (most of which I sadly can't identify). It was just the right level of "spicy". Really, it was a wonderful dish and my only disappointment was that I was already too full to fully appreciate it. (For the record, even my non-vegan hubby pronounced it quite tasty. And the woman at the next table was so impressed that she asked if she could take a picture – to share with a vegetarian friend who had declined the invitation.)
Tofu and Mixed Vegetables, with Rice, Tempura Broccoli and Cauliflower
I have no idea how I managed, but since dessert is such a rare treat for a vegan, I did actually manage to tackle the last dish. I'm sure my description won't do it justice, but I believe Chef TJ described it as "Pina colada, with lychees and mint, and a surprise in the middle". The surprise actually turned out to be chocolate Tofutti. There were also bits of banana and some raspberries. It was quite a medley of flavor, but oh so delicious! It was the perfect ending to the most amazing meal I've ever had.
Pina Colada with Lychees and Mint and Chocolate Surprise Center
In short, if you're a vegetarian or vegan who's been afraid to try 'Ohana, I suggest you reconsider – and tell Chef TJ his biggest fan says "hi"!
AllEars Note: Every experience at Walt Disney World with special dining is different. Each chef does what they can given the ingredients and time they have at any given time. Please do not go to Ohana expecting this will be your meal if you are vegan.