Last year I gave you some tips on how to photograph Christmas light decorations at Walt Disney World and at home. This year I want to show you a couple of my results using those tips.
I visited the Osborne Family Spectacle of Dancing Lights at Disney's Hollywood Studios last December. Putting my camera into Rear Sync Flash mode or what I referred to as dragging the shutter in last year's article, I was ready to capture those spectacular light displays. I used Manual mode and set the aperture to f/4. By using flash, I kept the ISO low at 200 but I had to be very aware of the shutter speed. In Rear Sync mode, the camera can use longer shutter speeds to capture as much ambient light as it can before the flash is fired. At a 1/4 of a second, I had to make sure to steady my camera using Da Grip and an image stabilized lens (the Nikon 18-200VR) when taking this photo of these lighted bicycles.
Lighted bicycles are part of the Osborne Family Spectacle of Dancing Lights.
Nikon D70/18-200VR, 1/4s, f/4, ISO 200, EV +0.3, 28mm Focal Length, Rear-sync Flash at -3 Power
Without the flash, you would only be able to see the colored lights. With the flash, you can see the bicycles, the flat tires, the sidewalk and the background. Notice I had the flash set to its lowest power setting at -3 so as not to wash out the lights. I don't randomly set the flash power. I take shots at various power levels until I find the one that works the best.
This technique can also be used for any lighted displays. The entrance to Mission: Space features a rotating Earth with the ride's logo with space ship leaving orbit and Hewlett-Packard's logo, the attraction's sponsor. While I would have rathered taken this photo at dusk with a tripod like I did in China, this was the last night of my trip and the tripod was already packed. Again, using Manual mode, I set the aperture at f/8 and a shutter speed of a half second. The longest shutter speed I would ever attempt a hand held shot. I did the best I could to steady my camera by getting down on one knee, using Da Grip and the flash set to Rear Sync and full power to cover the large area and distance. It took several photos to make sure I got some good images like the one you see below. The long shutter speed gave a nice blur to the moving globe while keeping everything else sharp. The flash filled in the dark areas nicely.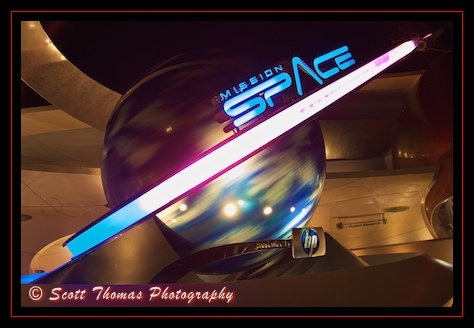 The Mission: Space sign in Epcot's Futureworld.
Nikon D70/18-200VR, 1/2s, f/8, ISO 200, EV +0.3, 18mm Focal Length, Rear-sync Flash at Full Power
Twitter fans, I will be tweeting from Walt Disney World next week on my @Scottwdw twitter account. Request to follow me and you'll be seeing lots of pictures from the Disney parks and Sea World.