We finished! Actually we did better than I thought we would – our official time was 2:28:23. And that included stopping for a lot of photos in the first three miles which slowed us down quite a bit.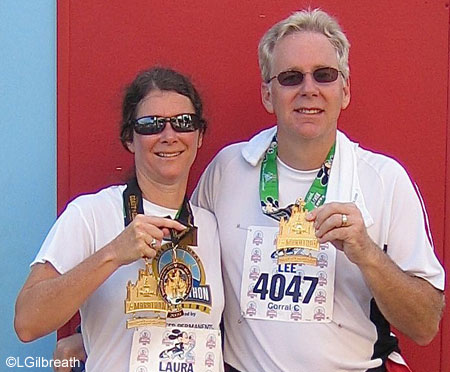 One very nice thing about the Disneyland race over the Walt Disney World races is that you can walk to the start from many nearby hotels – so you don't have to depend on the Disney buses that want to get you there insanely early. We left our room about 5:15 for a 6:00 start. There was a lot of people-traffic getting to our start corral, but we still managed to get there almost 10 minutes before the race started.
Mickey and Minnie, in their running gear, showed up on the stage a few minutes before the race started, and then Goofy pulled up in the monorail. There were some flame pots, and the race started just a little after 6:00.
They started us in waves, unlike three years ago, and that made a big difference in the early going – it wasn't nearly as congested, which was very nice. We were in Corral C, so we were at the tail end of the first wave.
The weather cooperated very nicely – we'd been having really hot weather in southern California for the last several weeks, but it was probably about 67-68 at the start of the race, and the sun stayed behind the clouds until after 8:00 and that really helped. It was only 73 at 9:00 – it had been 77 or 80 when I'd checked the temperature at that time earlier in the week! Still fairly humid, though.
The course brought us into DCA back by the Pacific Wharf about mile 1.5. Our first character sighting was Flik and Atta next to "a bug's land" – and something we weren't used to seeing at a race here: a line to get our photo taken!!! Bummer.
The mile 2 marker was near the gate by Soarin' where we exited the park and headed across to Disneyland. We ran in through the main entrance, where I got my picture taken in front of the floral Mickey, where AllEars® reader Mary Jo recognized me and said hi.
In Town Square they had one of the floats from the Celebrate! parade set up, with a couple of dancers and some of the Pinocchio characters. You can see Pinocchio is being a bit naughty in this photo. 🙂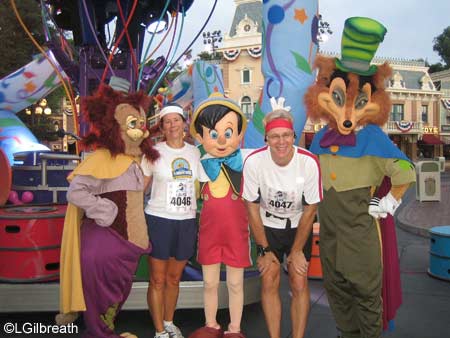 Then it was backstage for a while (where we passed the Disneyland fire engine and many of the firemen) before we came out in Tomorrowland. Stitch was perched up on the Observatron and waved at us.
As we ran towards Fantasyland, the monorail, with its race banner, was gliding by on the rail. Goofy wasn't piloting this time, though. 🙂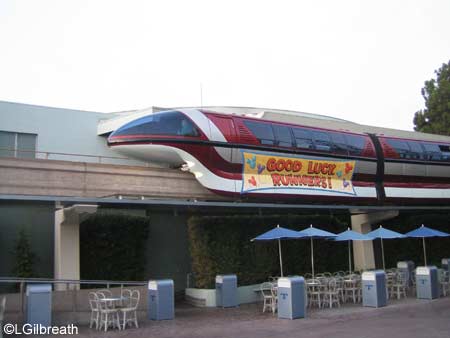 Just outside Fantasyland was another Celebrate! float, this time with the Mad Hatter and Alice. I told the Mad Hatter I liked his running shoes. 🙂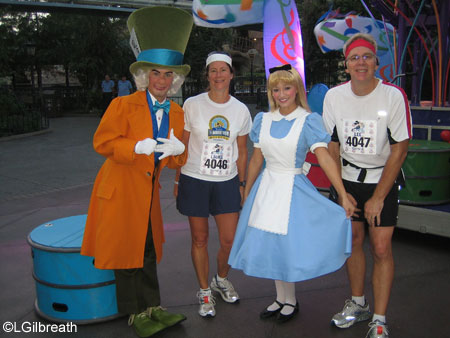 Many of the rides in Fantasyland, like the Tea Cups and Dumbo, were running, but the Carrousel was the only one with riders – we saw Bert and Mary Poppins, Cinderella, and Belle.
Through the castle past Flora, Fauna, Merryweather, and Aurora, and around the hub, where Peter Pan and Wendy were posing at another Celebrate float. Jessie and Bullseye were waving from the balcony of the Golden Horseshoe. We ran past Pirates of the Caribbean and the Haunted Mansion and the Mile 3 mark was at the entrance to the Splash Mountain queue. In Critter Country we saw Meeko and Pocahontas. (Good thing Meeko was out on the race course and not at the finish line – all of those shiny medals would have been way too much temptation for him!!!)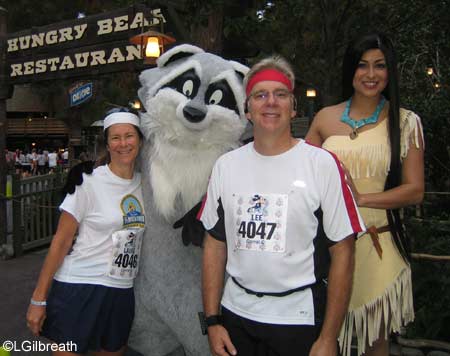 We ran out of the park and backstage next to Splash Mountain. There were actually Cast Members back there telling people NOT to take pictures – that's the first time I've seen that in a Disney race.
At one point we ran past the horticultural section of the backstage area – people were saying it smelled like cows! There was certainly a distinct eau de steer manure in the air… 🙂
And then we were out onto the streets of Anaheim for much of the rest of the race. That's unfortunately the really boring part – from about miles 3.2 through almost mile 8 the course winds back and forth on streets in the industrial park area. No Disney presence at all. Though fortunately there are many local high schools and music groups that come out early to cheer on the runners – we saw lots of bands and very loud and enthusiastic cheer and dance squads. There was even a large youth mariachi band. Thank you so much to all of you who came out so early on a Sunday morning to cheer us on – your enthusiasm rubs off and helps a lot when we are starting to get tired.
Just before mile 8 we arrived at the Honda Center, where we took a tour of the perimeter of the parking lot. For a "flat" course there were an awful lot of little hills (it was slightly uphill to the far end of the lot) and those started to get harder each time. After the parking lot we got to run on the bike trail next to the Santa Ana river – part of that was dirt and felt pretty good after all of that asphalt and concrete. Though at the end of that section we had to run *up* out of there. Just past that was where they were handing out packets of gel.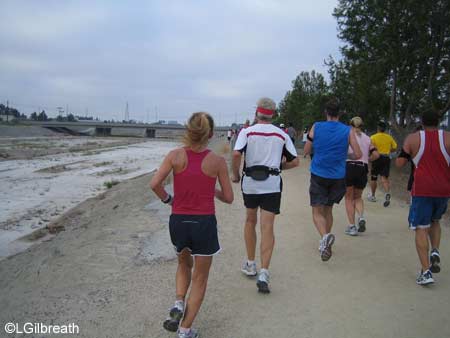 Mile 9 was in the parking lot for Angel Stadium. We got to run through the tunnel on the right field line and onto the field (on the dirt, not the grass) and run around behind home plate and past third base, and then out another tunnel down the left field line. They were showing us on the big Jumbotron screen in left field. And there were lots of cheering fans in the stands! That was really cool.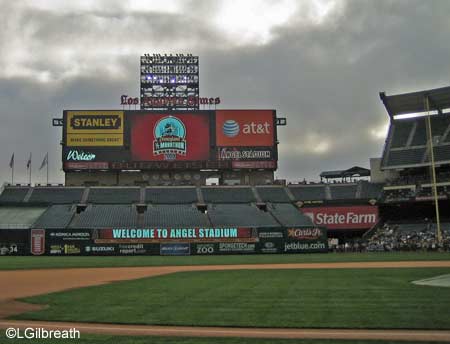 I was starting to get pretty tired by mile 10. Lee was the Energizer Bunny, and he could've run faster, but I was about at my limit. Even though it wasn't as hot as it has been, it was still far from my optimal running temperature and I was hot and sweaty and uncomfortable. We were still maintaining about a 10:20 pace, though. The last 1.5 miles were really hard for me – we ran back into DCA at just after mile 12, where I hoped to get some characters to give me an excuse to stop and take pictures, but nooooo.
We came into the park next to the Tower of Terror, then ran through Flik's Fun Fair and out to the Golden Vine Winery, then along Paradise Pier past the construction walls, and then backstage for a while before coming out in front of the Grand Californian and across Disneyland Drive behind the Paradise Pier and then going between the Dreams tower of the Disneyland Hotel and Downtown Disney. That's where the mile 13 sign was – only .1 miles left! I didn't have much of a sprint left in me, but we managed to get across the finish line – 2:28:23 after we started. Glad *that's* over!!! (My time was actually two seconds faster than my first Disney Half Marathon in Florida over 4.5 years ago – when I was 4 years younger and the weather was cooler, so I guess that's something!)
Volunteers were handing out cool damp towels, and those felt VERY good – we certainly did not need the space blankets that they hand out at other races! 🙂 We got our half marathon medals, and then I went to the Coast-to-Coast station where they cut the wristband off and gave me my very cool Coast-to-Coast medal. It's really very nice.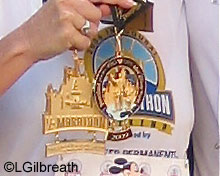 After we'd gotten something to eat and drink (there were bottles of water and PowerAde, bagels, bananas, oranges, and Clif bars) we stretched a little bit and had something to eat and drink, and then headed back to the hotel. We were a little stiff and sore, but not too bad. Though as you can see in the picture, we found some things a challenge…like climbing steps. 🙂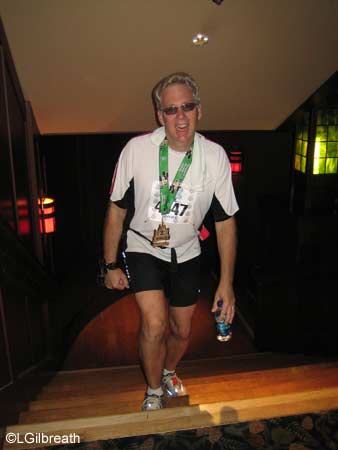 It was a terrific race – Disneyland does just as good a job as Walt Disney World in setting things up and taking care of us. The volunteers were great, and did a super job with registration and staffing all of the aid stations. Thank you so much to all of you who volunteered!
I have to say I feel pretty good – not really sore at all, and I'm really very happy to have accomplished the Coast-to-Coast Challenge! But I'm still glad it's over. 🙂
Congratulations to any of the rest of you who ran the Half Marathon – hope you had as good (or better!) an experience as we did!