a.k.a. What we did when we *weren't* running (or sleeping!).
We were both surprised at how relatively uncrowded the parks were on Saturday. DCA was VERY quiet – even though it was a hot day the standby line for Grizzly River Run was only about 30 minutes, and Toy Story Mania was about the same. We were over at Disneyland about 8:30 that night, and it was also not that busy for a Saturday night. There were still lots of fireworks viewing spots available on Main Street at 9:00. (The fireworks start at 9:25).
We'd had dinner at DCA and it was dark by the time we finished so we went to watch the lights on the Fun Wheel for a while. We wondered whether there were lights on the *back* of the Fun Wheel, too, so we went to check that out, and sure enough, there are animated lights on the rim and spokes on the back side, too. Though you don't get as good a look at it since you're too close and there are trees and other things blocking the view.
DCA actually closed at what I considered a very early time – it was 8:00. But now that the Electrical Parade is no longer running I guess that's their typical off-season weekend closing time – they close at 6:00 p.m. on week nights. I still don't understand why they didn't continue the Electrical Parade through Labor Day weekend!
While Saturday was quiet, Sunday was a VERY busy day in the parks. We wandered around DCA in the afternoon and there were lots of people there – Toy Story Mania had a 40 minute wait, and even California Screamin', which is a fast-loading ride, had a 30-35 minute wait.
After dinner we went to Disneyland because we wanted to try to see the new dragon in Fantasmic!. The park was way busier than it had been the night before. We got a spot to see the show, but 20 minutes before it started they were announcing that the viewing area was full (we saw the 9:00 show).
I have to say that I was underwhelmed by the dragon. It looked good, but it was obviously still not working properly, and was fairly lifeless – until it started its death scene. (Came to life for the death scene…hmmm.)
In this youtube video from Disneylandnews.com you can see what it's supposed to look like:
And this is what we saw:
After Fantasmic! we stayed where we were, and we had a great view of the Magical fireworks show – I like that one more each time I see it, especially the music. We could even catch a glimpse of Tinker Bell and Dumbo flying through the air.
Monday morning we checked out of the Grand Californian and went over to Disneyland. It was about 8:20 so the park was still pretty quiet. We did the Indiana Jones and the Temple of the Forbidden Eye ride – that's one of my favorites and I haven't been on it in a while.
After breakfast at the River Belle Terrace we went into Fantasyland – the crowds were picking up pretty rapidly already, and it looked like it was going to be another busy day. We had short waits for Pinocchio's Daring Journey and Mr. Toad's Wild Ride. Over in Tomorrowland the standby for Space Mountain was already 40 minutes so we did Buzz Lightyear Astro Blasters instead – even it was up to 20 minutes already, and it wasn't quite 10:30 in the morning!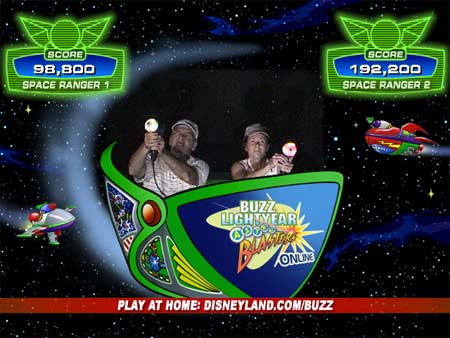 People were really pouring into the park so we headed out – did a little bit of shopping at World of Disney, which was also amazingly busy at 11:00 in the morning – and then headed home.