Today (Saturday) we drove from San Diego to Anaheim, where after checking into the Grand Californian (room not ready yet) we headed over to the Disneyland Hotel to pick up our race registration packets at the Health and Fitness Expo.
We ran the first Disneyland Half Marathon in 2006 when it was a little smaller, and some things have changed since then. For one thing, packet pickup and the expo are in slightly different places.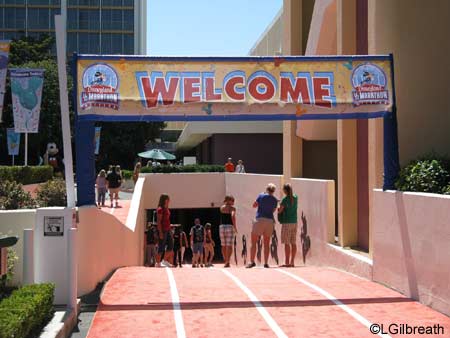 Packet pickup is actually in the lower level of the parking structure – though as you can see they had race-lane striped carpet leading down to it. And fortunately it was air-conditioned down there, since it was over 90 in Anaheim today.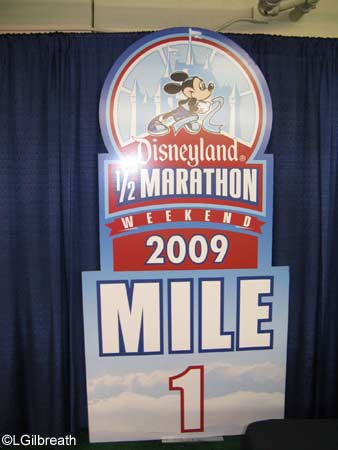 Around the perimeter of the area they had all of the mile marker signs that we will be seeing on the course tomorrow.

I am especially looking forward to seeing these two!!!
To pick up our packets we were required to show our signed waiver and a photo id. The waivers have been available on-line for us to print out for several weeks, but computers and printers were available in one area for those people who hadn't printed them out in advance (or had forgotten them!). Packets were handed out by race number, so you had to have the waiver to know what your race number was! I thought it was very interesting that Lee's and my race numbers were only 10 off what we had three years ago – we were 4046 and 4047 then, and we are 4056 and 4057 this year.
After picking up my packet I also had to check-in at the "Coast-to-coast" desk, since I am eligible for the special coast-to-coast medal for finishing a Disney World marathon/half marathon AND the Disneyland half marathon in the same calendar year. I ran the Princess Half Marathon in March. They checked my name off the list and gave me a blue wristband that I have to wear until I check in with them again after the race tomorrow. I have to say that the wrist band is a little annoying when you have to wear it for that long!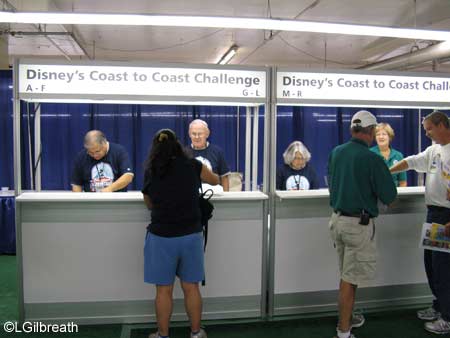 But this medal should be mine tomorrow – maybe even by the time you read this. Pretty cool, huh?
To pick up our shirts and goody bags we had to go back into the Convention Center part of the Disneyland Hotel, which is where the Health and Fitness Expo was located. There really weren't too many people there, and they had plenty of volunteers.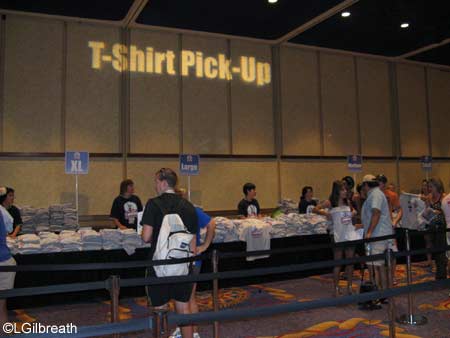 After we left the t-shirt area the next set of volunteers handed us our goody bags. These had the usual literature for other upcoming races (there are more Rock 'n' Roll races every year!), some final instructions, samples of Clif bars and energy beans, and a copy of the premiere issue of the Disney Twenty-Three magazine. Interesting.
They had a couple of nice photo-op areas, too.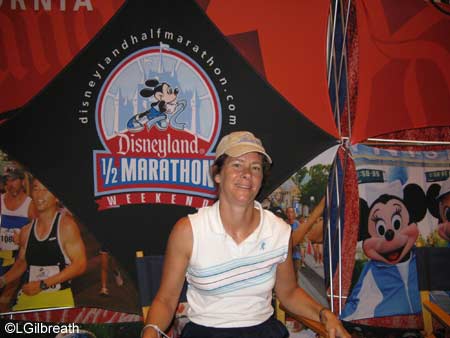 Official merchandise was for sale at one end: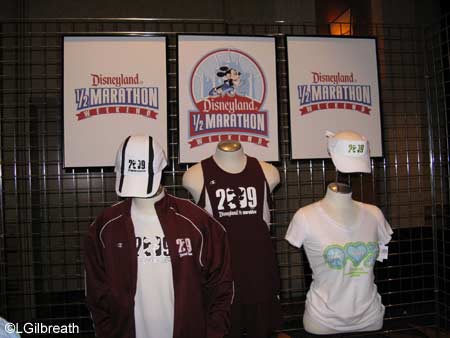 Lee ponders a shirt – he actually ended up buying the one that's in the foreground.
This sign was on the outside of the Asics booth. Guess that means it's 13.1 miles to hell, right?
We had lunch at La Brea Bakery Cafe in Downtown Disney and then went into Disneyland for a while. We caught the Celebration Jazz Band performing on Main Street.
Back in Fantasyland they are building this structure opposite the entrance to the Matterhorn – maybe it's a permanent home for Fantasia Freeze?
They are doing a rehab of the Storybook Land Canal Boats and Casey Junior Circus Train. We had to laugh at this sign on the construction walls: "The miniature realm of Storybook Land is closed for some 'tiny' improvements."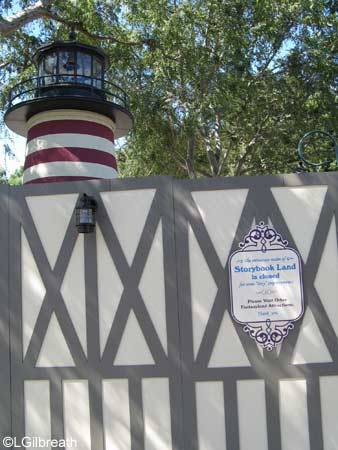 Later we checked in and got our room assignment and moved into our room. After relaxing for a while we went in to DCA to have some dinner, and enjoyed the light show on the Fun Wheel, then went into Disneyland to see another Pixie Hollow Enchantment show.
We want to get to bed early so we didn't stay for the fireworks – but I can hear them going off now.
More tomorrow after the race!