Guest Blogger Cedric Ching is back — this time with a report from Cat Cora's Kouzzina! Cedric happened to be the very first guest on Saturday August 15, 2009, when the restaurant "soft opened" to the general public. Cedric sent some cell phone photos on Saturday and today, he files his full report!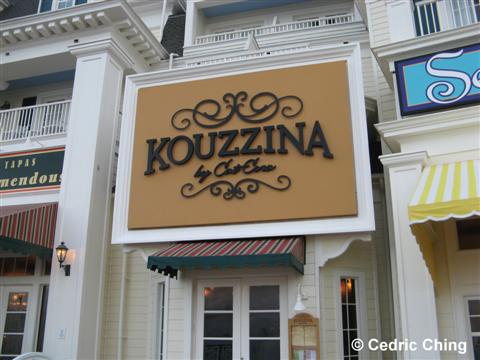 Kalimera! (ka-lee-MEH-ra) is "Good Morning" in Greek, and that was how I was greeted Saturday morning when I walked into Cat Cora's new restaurant Kouzzina at Disney's BoardWalk. This was their first morning open to the public — their grand soft opening — and I was looking forward to trying an Iron-Chef-sanctioned breakfast.
Kouzzina's hours of operations for breakfast is 7:30am-11:00am.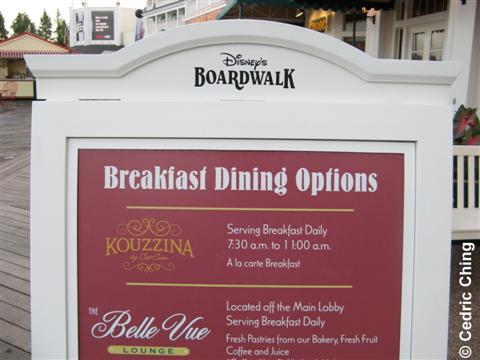 I arrived before they opened just to get settled and was fortunate to have the lobby all to myself for a few minutes. I took the opportunity to take some pictures:
When you walk in, you see the check-in counter with the wall behind it featuring some Greek artwork, bottles of wines, and a couple of Cat Cora's cookbooks.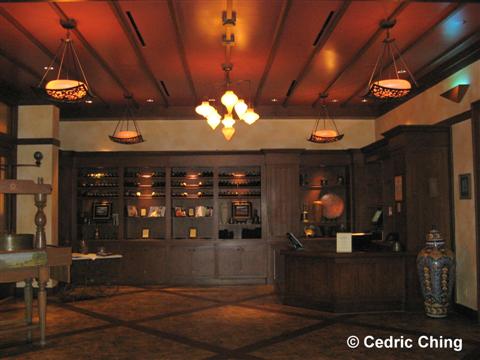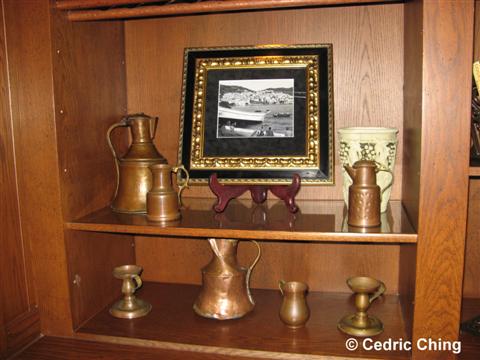 To the right, you'll find on the wall some framed, vintage photos of people. Also, you'll find an entrance to the adjacent Seashore Sweets store.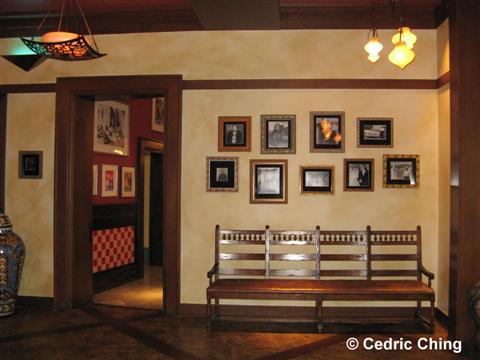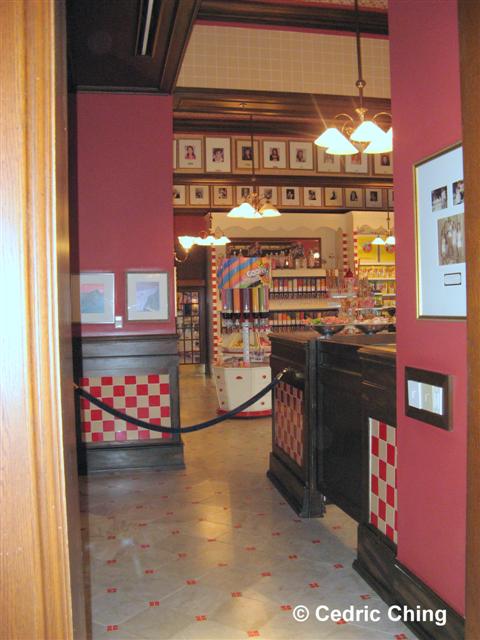 On the wall opposite of the picture frames, there's an Old World map of the Mediterranean Sea region.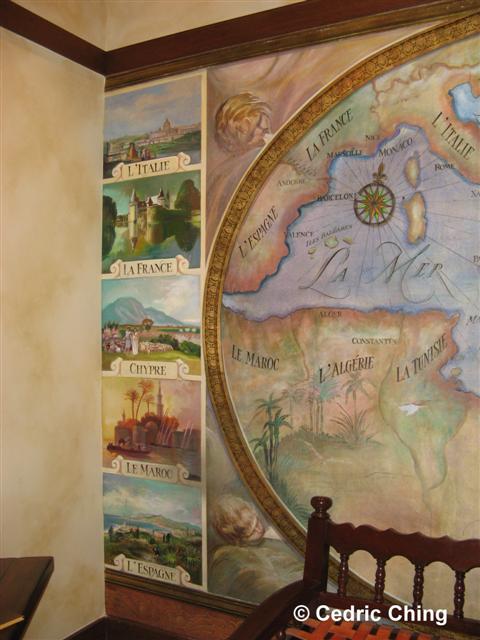 Beside the map is an olive press (written on it were the words "Olio di Oliva", or "Olive Oil" in Italian). Behind it in the picture are the doors to the dining area…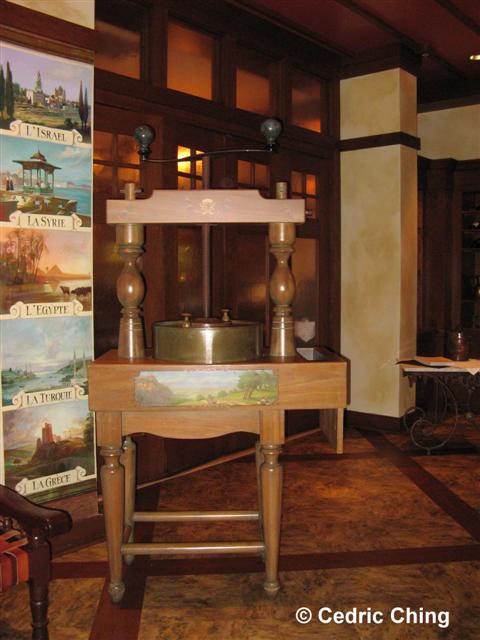 …and a hidden Mickey.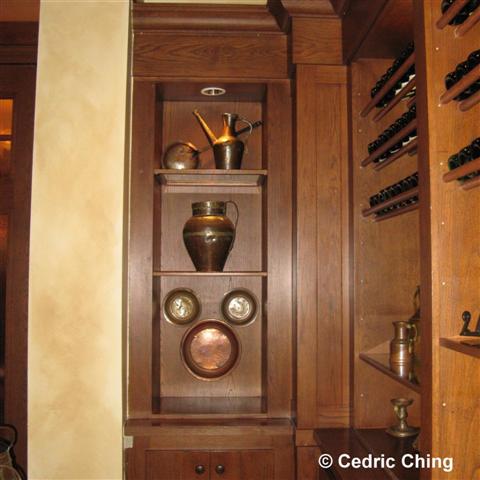 And just for good measure and perspective, here's a picture facing the doors back to the BoardWalk.
On the Disney World website for Kouzzina [http://disneyworld.disney.go.com/resorts/board-walk-inn/dining/kouzzina/], the breakfast is labeled "American" though the menu does has a number of Greek-inspired offerings, including the Spinach, Tomato, and Feta Scrambled Eggs, as well as what I ordered: the Turkey-Sweet Potato Hash.
The dinner menu is more-evidently "Mediterranean" with lamb and seafood selections. Both menus can also be found on AllEars.Net — breakfast (/menu/menu_kouzb.htm), dinner(/menu/menu_kouzd.htm).
Note: as they're in soft opening, prices and menu offerings are subject to change.
With the Turkey-Sweet Potato Hash, I had a choice of toast and how I wanted my eggs to be prepare — I went with wheat and scrambled, respectively.
The lead manager Kouzzina, Tom, stopped by my table to inform me that I was Kouzzina's first customer and that they'd take care of my breakfast! Woo!
It didn't take long at all for the food to arrive, and it wasn't very long after that for me to get my picture taken with it.
Here are 2 pictures of my meal: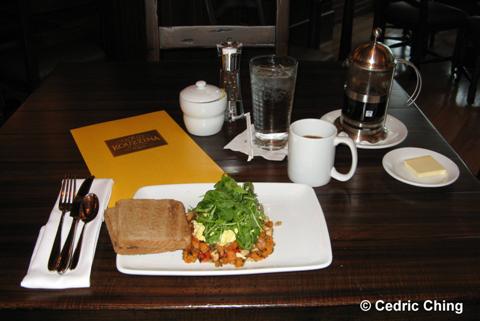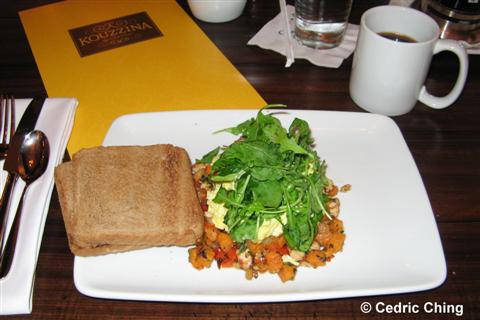 The Turkey-Sweet Potato Hash was very flavorful. Nice was how the eggs were sandwiched between the savory turkey-sweet potato hash and the arugula's gentle peppery taste. I thought that all of the dish's flavors and textures worked.
I talked with my server, Morgan, about the dinner menu and asked her for recommendations. She suggested the Slow-cooked Lamb Shank and the Fisherman's Stew; she also said that their Char-grilled Lamb Burger was very delicious. I will definitely get a group together and come back another time for a dinner service.
The servers and managers were all very attentive to any feedback their guests had. Tom mentioned that they had completed a couple days of soft openings just for Cast Members, and that they're excited to have this time to get all the details worked out before their official grand opening next month (scheduled for September 17, 2009).
Overall, my experience at Kouzzina was pretty great, and I believe that it's a very good option for breakfast before visiting the parks — Epcot's just a short walk away. I know that I'll be back for another round, but by then the restaurant will have had a lot more services under its belt, and we'll see if this Iron Chef's cuisine reigns supreme. 🙂
Morgan and me: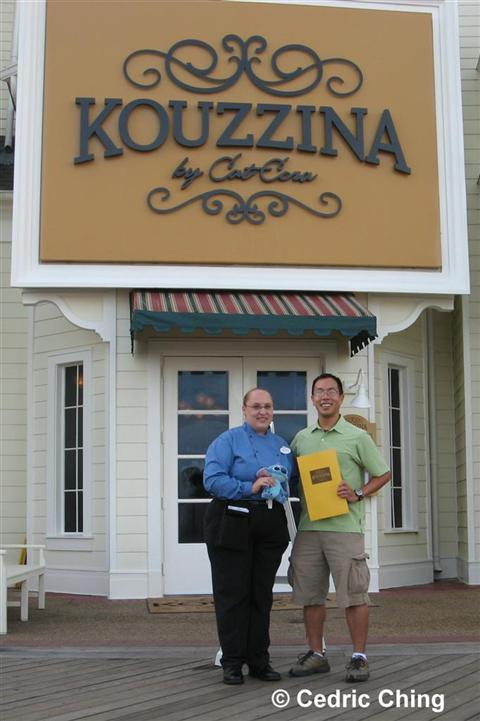 Kouzzina as seen from the Epcot Resorts: