When Disney announced and built Chester and Hester's Dino-Rama, I was annoyed. I realized that the Animal Kingdom desperately needed more rides and attractions, but I felt that the bean-counters tried to remedy this situation by the cheapest means possible. They bought "off-the-shelf" rides and had the Imagineers spruce them up the best they could. I also did not like the "carnival" atmosphere they created with the games on the midway. After all, Walt built Disneyland in an effort to get away from this sort of cheap amusement park. So the first time I visited Chester & Hester's Dino-Rama, I had a chip on my shoulder and didn't like what I saw.
After some time had passed, it finally sunk into my thick head that Chester & Hester's Dino-Rama wasn't going away. It was here to stay. So I decided to climb down from my high-horse and take another look at this section of Dinoland U.S.A., only this time, I'd try to be objective. Once I did this, and embraced the storyline, I found that the Imagineers actually built a pleasant and engaging area. And like everything else they do, it's full of details.
The story of Dinoland U.S.A. goes something like this. In the early 1940's, Diggs County contained little more than ranch and farmland. This is evident by the barn seen on the property.
An elderly married couple, Chester and Hester, owned a rundown gas station and a few acres of land along the highway. This allowed them to eek out a meager living.
They sold Sinclair gasoline. The irony of this would become evident in the years to come.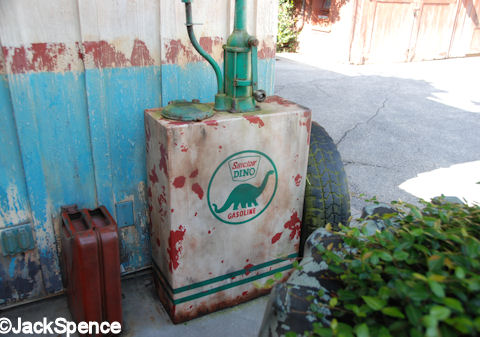 In 1947, amateur fossil-hunters found some dinosaur bones in the area. Once their authenticity could be verified, scientist and grad students swarmed the area, eager to discover their own finds. An old fishing lodge (Restaurantosaurus) became their gathering place and soon after, the Dino Institute was founded. When time travel was invented in the early 70's, the Institute erected a modern building to facilitate research. To help subsidize costs, tours were offered to non-professionals.
Meanwhile, Chester and Hester could see others getting rich while their profits had only risen mildly with the influx of tourists. Determined to cash in on the area's new found wealth, they started selling souvenirs as well as gas. It wasn't long before their tacky merchandise was raking in more money than the gas they sold, so they converted the entire service station into a large shop called "Chester and Hester's Dinosaur Treasures."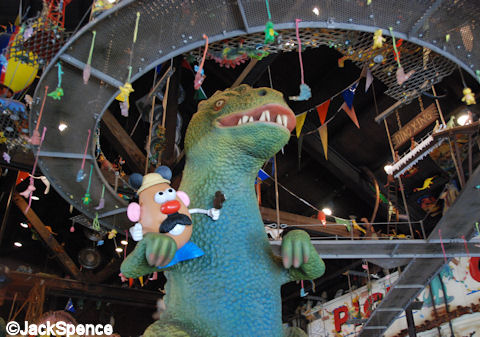 While in the store, see if you can find a picture of Chester and Hester and the framed "first dollar" they made.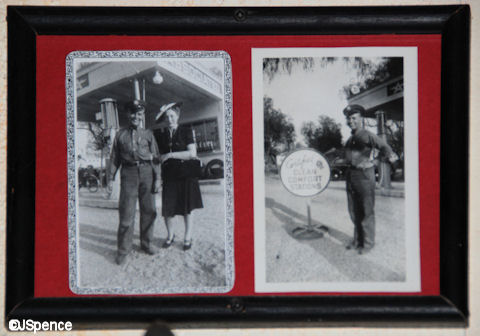 Out back and behind their store they created a photo op where their customers could pose with a whimsical dinosaur.
Take a look at some of the corny signs and slogans they erected to attract passing motorists. If you look carefully at the last sign, you can see how they painted over an old GAS sign with a souvenir ad.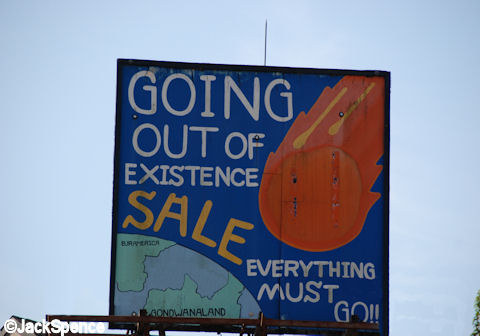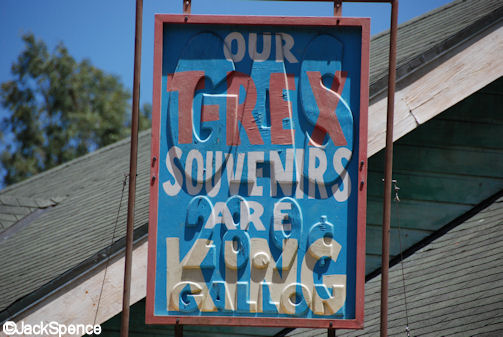 Another "attention getter" was a dinosaur (if you can call it that) that they created out of plaster, rocks, bottles, and broken glass and mirrors. I've read that there is a Steamboat Willie pin embedded somewhere on this dinosaur, but I have not verified this.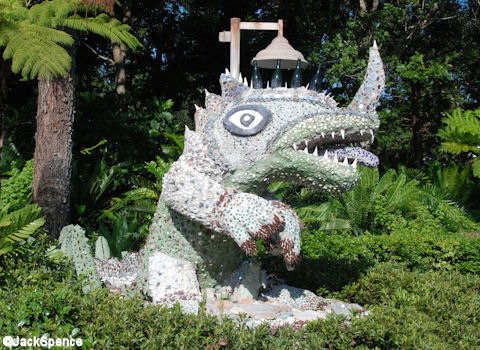 Ever frugal, the team used old tires as planters.
On the roof top you can see a number of homemade dinosaur weathervanes.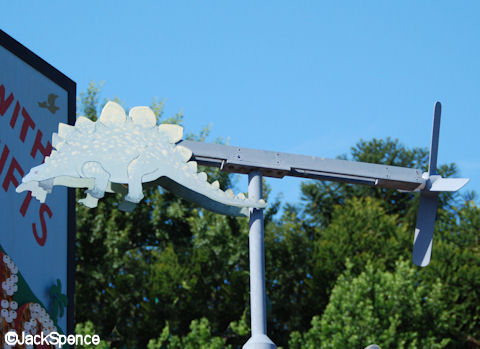 As profits started to grow, Chester and Hester decided to build a small amusement park across the street from their souvenir shop. Since their land bordered the main highway, this would be the perfect spot to attract passing tourist aiming for the Dino Institute.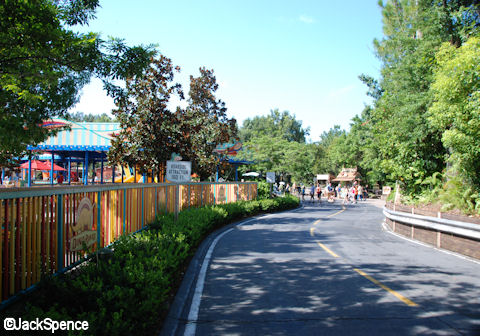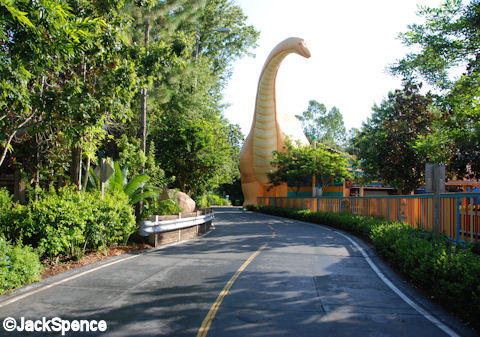 Soon after, Chester & Hester's Dino-Rama was born.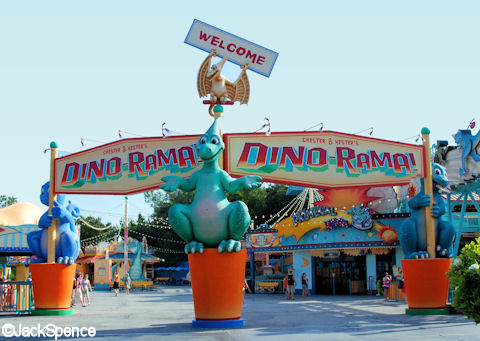 Like all roadside attractions of the day, numerous signs, advertising the approaching venue, were placed along the highway for miles in both directions.
Also found in the vicinity are billboards advertising the Dino Institute and Diggs County.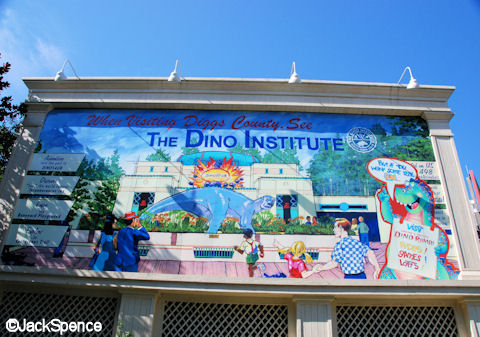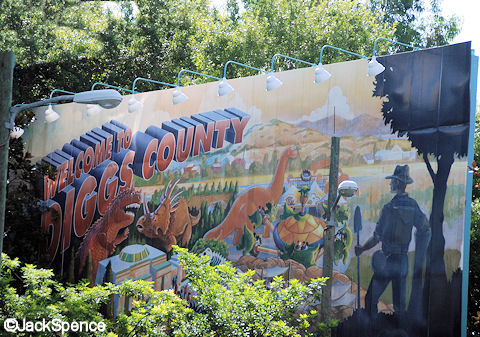 Near the entrance to Chester & Hester's, the word DINO-RAMA is spelled out with plants. Upon closer inspection, you can see that the ever thrifty couple used old license plates to form the outline of the letters.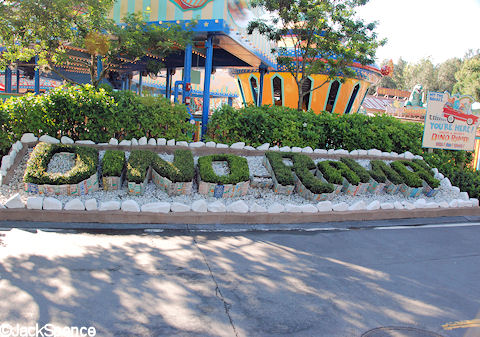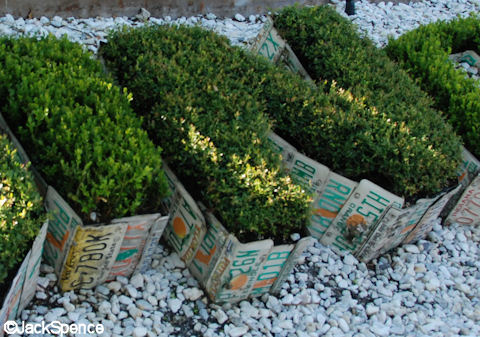 At one time, there was parking for Chester & Hester's Dino-Rama next to the souvenir shop, but this area has been turned into a picnic area.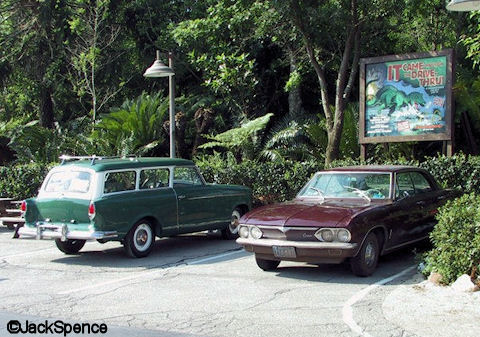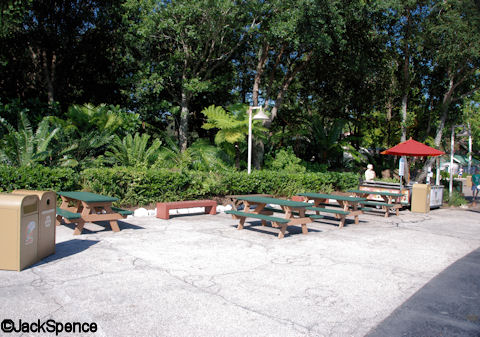 Typical of the era, "novelty architecture" was brought into play with the creation of a large yellow dinosaur (concreteasaurus) to entice motorists to stop.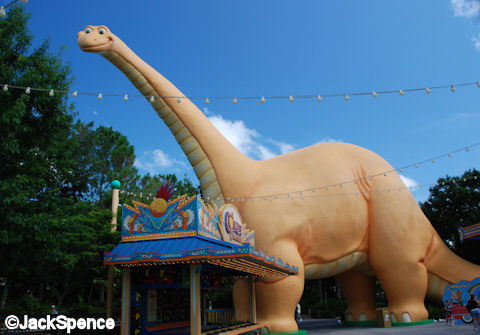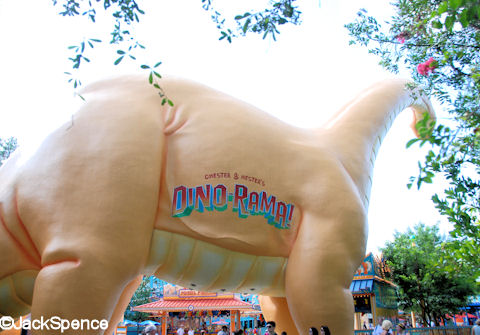 The midway, Fossil Fun Games, contains six different challenges.
Dino Whamma!
In this game you use a mallet and lever to try to ring the bell. Some of the "levels of expertise" you can achieve are: Wimposaur, Biceptoraptor, Brawnosaurus, and Triceps-A-Tops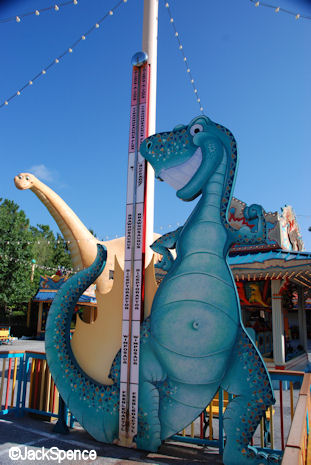 Fossil Fueler
Here you use a water pistol to fill your fuel tank before the other players can achieve the same goal.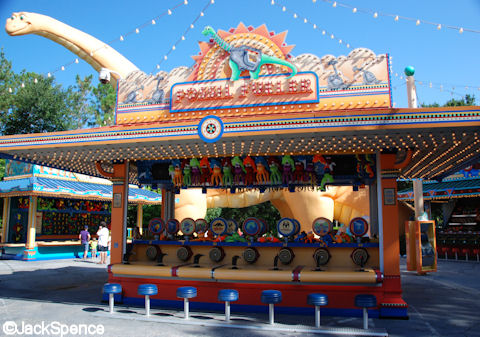 Mammoth Marathon
At this game, you roll baseballs into a number of holes with different point designations. With each point, your mammoth advances toward the finish line.
Comet Crasher
With this contest, you toss comets (balls) into a sea of goblets. The color of the goblet your comet lands in, determines the prize you win.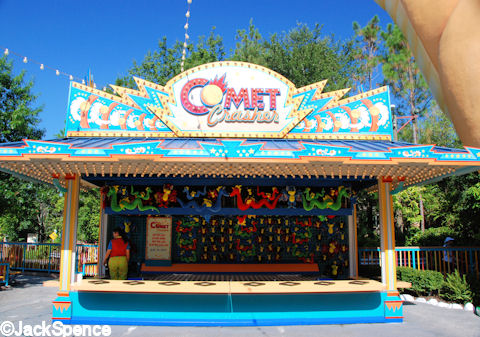 Bronto-Score
This is a basketball toss game.
Whac-A-Packycephalosaur
As dinosaurs pop up, you whack 'em with your mallet.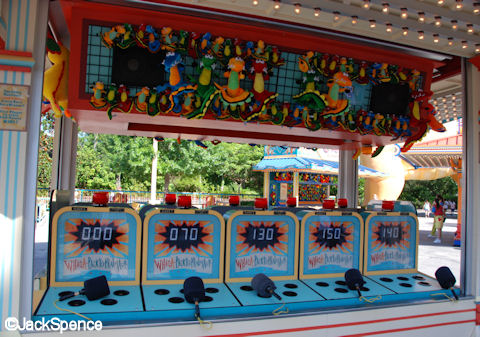 The games each cost $2.50 to play; however, the booths do not accept cash. You must purchase coupons at either the nearby souvenir stand, a strolling vendor, or at Chester and Hester's Dinosaur Treasures. The prizes awarded are brightly colored plushes resembling everything from fanciful dinosaurs to snakes. None are Disney characters.
There are other midway attractions besides the games. You can see a "deformed" image of yourself in a wavy mirror.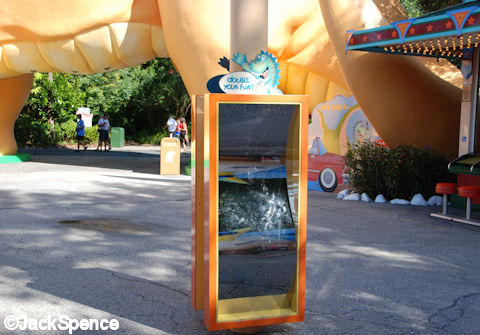 Have four automatic pictures taken of you and your friends as you cram yourselves into this small picture booth. (Cost, $5).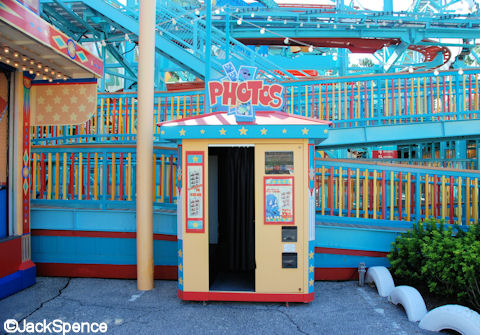 Or you can pose for a picture behind a dinosaur cut-out.
Chester and Hester took their old vacation trailer and converted it into a concessions stand. Hot dogs, popcorn, and frozen and liquid drinks are for sale at Dino Diner.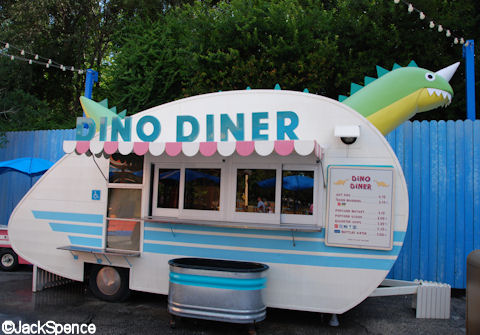 If you look at the pavement, you can tell that Chester and Hester were tight on money when creating their little park. As it expanded, they just built on top of their former parking lot. Also notice the flowerbeds are lined with the old tires that they accumulated over the years running their service station.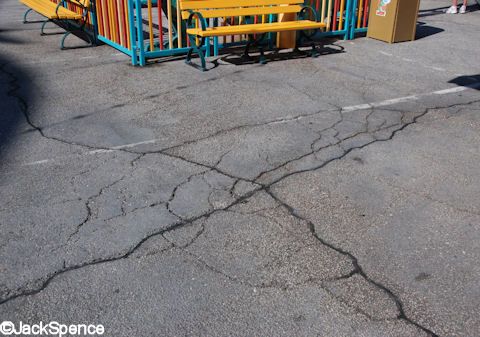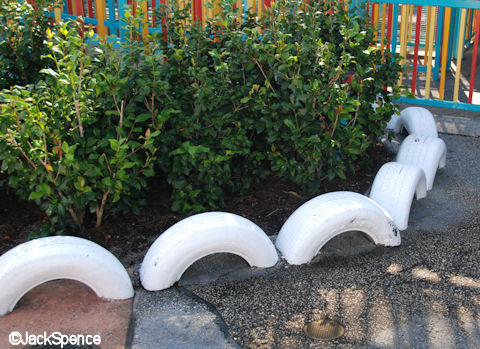 There are two rides at Chester & Hester's Dino-Rama, TriceraTop Spin and Primeval Whirl. Let's start with TriceraTop Spin.
In case you didn't notice, the second "T" in TriceraTop is capitalized. That's because the ride resembles a giant top – the kind you had as a kid and would pump and watch spin.
The vehicles you ride in are, of course, fanciful triceratops. Each has two seats. The front seat has a lever that controls the pitch and the back seat has a lever that controls the height.
While spinning, a comet orbits in the opposite direction around the top of the top.
The views while riding are also a lot of fun.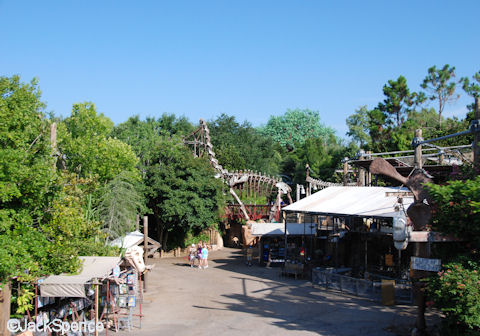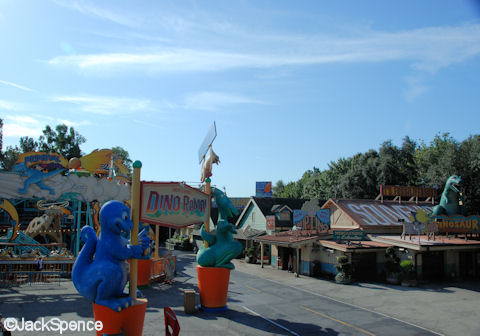 If you owned one of these tops as a kid, you might remember that they were cheaply made and usually constructed out of tin. The triceratopses on this ride look like "tin toys" and even have the flaps that were used to fasten them together.
Another example of the thriftiness of Chester and Hester can be found on a number of signs scattered around the attractions. Once again, they recycled old license plates.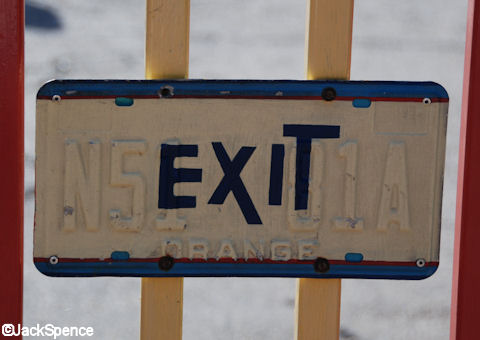 The big draw in Diggs County is the time machine over at the Dino Institute. But Chester and Hester didn't want to be left out of the action so they created their own time machine and named it Primeval Whirl. Of course, you don't really go back in time on Primeval Whirl like you do at the Institute. But it is a lot of fun and a little zany.
There is a height restriction for this ride. Children must be 48″ to ride.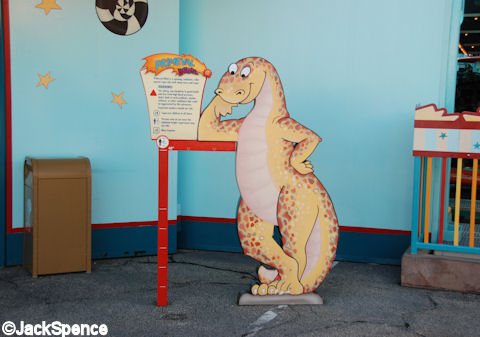 Close observers will notice a striking similarity between these three dinosaurs found near the top of Primeval Whirl and the hitchhiking ghosts of the Haunted Mansion.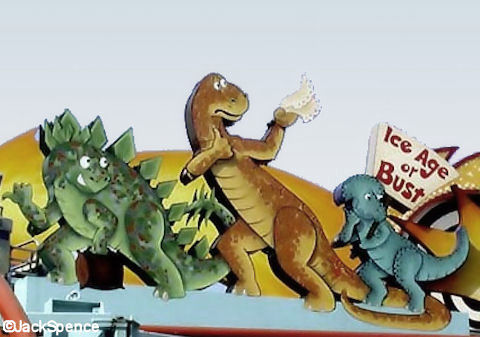 Before boarding your time traveling vehicle, you walk past the machinery that makes your journey possible. Trained scientists will notice the sophisticated components Chester and Hester used when creating their time machine like discarded hubcaps and whisks from a Hobart mixer.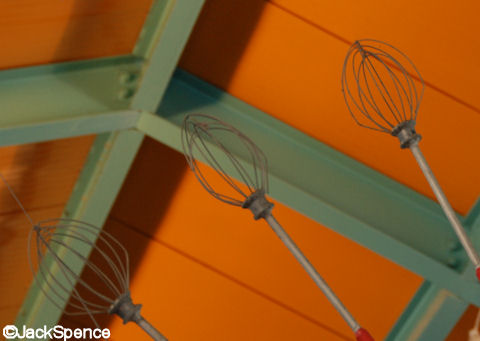 You also pass by the technicians, readying your craft.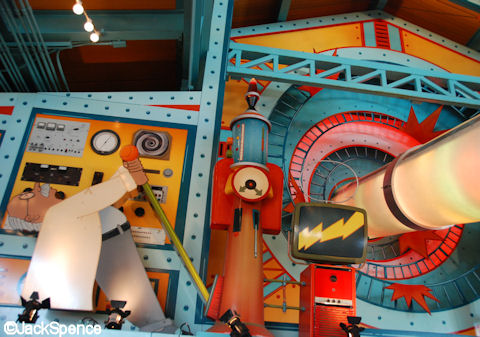 Eventually, it's time to board your time machine for a fanciful blast to the past. For those of you who have never ridden, I've created a short video to give you an idea of what it's like to travel through time with Chester and Hester.
My one complaint about this attraction is the seat size. The time machines are designed to hold four people in two seats. However, these seats are extremely small and even two average sized adults would feel cramped squeezing together under one lap bar. If you're a person of size, request a seat to yourself.
My family took many vacations by car during the 1950's and early 1960's, traveling throughout much of the western United States. During our journeys, we encountered a lot of tourist traps. Although none were quite like Chester & Hester's Dino-Rama, I think this area is a good compilation of the mom and pop enterprises that once populated the highways, long before the Interstates (and Disneyland) put them out of business. If you're old enough to remember Burma Shave signs, then you should be able to glean a certain amount of nostalgia from this area and appreciate it as a part of our history.