This past Friday, May 1st, Disney's Hollywood Studios celebrated its 20th Anniversary. The group from WDWCelebrations organized a two-day event for Disney fans to celebrate the anniversary.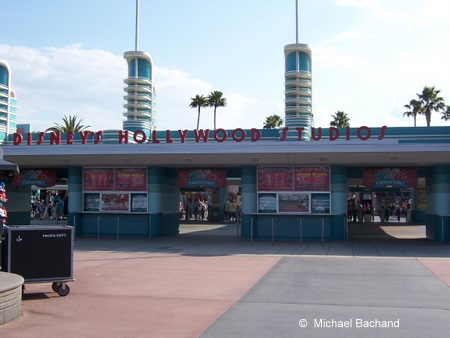 My day on Friday started very early, as I was to meet Adam Roth and Jason Diffendal, the co-founders of WDWCelebrations at the entrance to Hollywood Studios before the 8 AM park opening. At that time they gave me my VIP credentials and a Studio20 Event Guide. The event guide had the schedule for the two days of this event.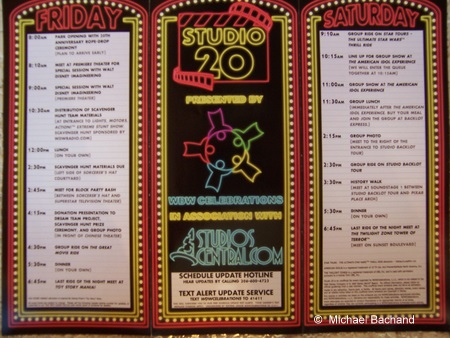 Once I passed through the turnstiles I picked up a Times Guide for the day that commemorated the "20 Years of Magic".
Added to the usual "rope drop" ceremony was a brief speech by Rilous Carter, VP of Hollywood Studios.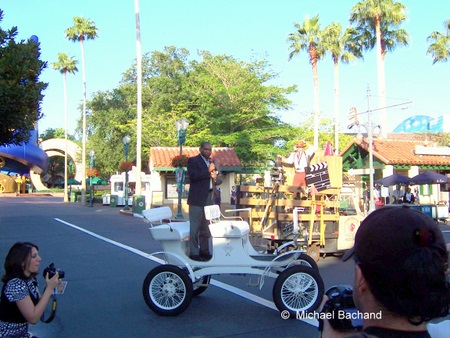 We immediately headed for the Premiere Theater where at 9 AM three Disney Imagineers, who were involved in the design of Hollywood Studios, were going to talk about their experiences. In case you don't know, the Premiere Theater is located on the Streets of America, near Lights, Motor, Action Stunt Showand (before it was closed in) housed the Hunchback stage show. On a side note, I really loved the Hunchback show and hated to see it end. It was great!
Anyway, along the way I only noticed one sign on Hollywood Boulevard announcing this event.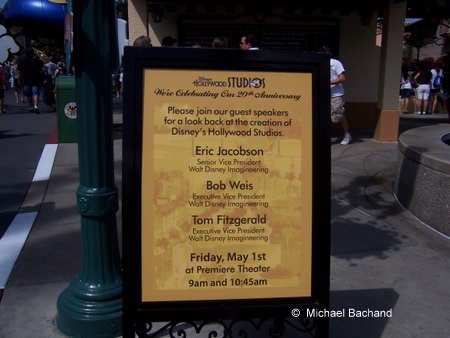 I don't know the exact count but there were well over 100 fans and VIPs that were part of the WDWCelebrations group. As part of their planning, Adam and Jason sat down with senior Disney's Hollywood Studios Cast Members to work out the logistics of moving such a large group through the park these two days. One of the courtesies extended by Walt Disney World to WDWCelebrations was special seating inside the Premiere Theater for all of us. So we were allowed inside the theater first and were able to get center, front row seating. What a treat! We were not allowed to film or take pictures inside, which was a real bummer. I would have at least loved pictures of the three Disney Imagineers and inside of the theater.
The three Imagineers were: Eric Jacobson, Senior Vice President, Walt Disney Imagineering, Bob Weis, Executive Vice President, Walt Disney Imagineering and Tom Fitzgerald, Executive Vice President, Walt Disney Imagineering. Each of them took turns speaking and treated us to a slide show with lots of pictures and videos. I could have listened to them for hours. Their stories about the conception of Hollywood Studios and the creation and development of the various Hollywood Studio attractions were fascinating. They walked us through how Hollywood Studios was connected to Walt by means of the original concept of an "entertainment" pavilion in Epcot and certain design elements taken for the actual Disney Animation Studios in California which Walt played a big part in the design of.
They talked about how almost all the buildings, even the shops, are replicas of famous buildings in Hollywood, California, and showed us pictures of the buildings that were the inspiration. They also explained how many of the attractions that were in place on opening day 20 years ago were conceptualized. It was very interesting to hear how the attractions changed and evolved as they went through the Imagineering process.
I was surprised to learn that a number of the attractions were actually built out in California then disassembled and trucked to Florida. Also, because many of the films and actors were not "Disney" they had to obtain permission from other studios, actors themselves, and in some cases the families or estates of deceased actors in order to be used in the various attractions. That process caused many changes to the original ideas.
One of the real treats for me was when they talked about how the original Backlot Tour was on opening day. Those of you lucky enough to experience that attraction back then will remember walking though the soundstages, seeing the kids on the big bee, the tram ride through what's now the Streets of America and Bette Midler in The Lottery. Well, they showed us the film The Lottery; what a treat!
One final little tidbit of information for you: did you know that they shut down World Drive and landed Walt's plane there so it could be put in the boneyard for all to see? That was its last flight. How cool was that?
Sadly that presentation had to come to an end. I wish you all could have been there with me to enjoy all the stories and experiences. As you can imagine, these three men are exceptionally talented and their presentations exceptional but way too short.
That presentation was the only official Disney-sponsored 20th Hollywood Studios Anniversary event. However, thanks to the folks at WDWCelebrations there were two days worth of events scheduled for us. First up was a Scavenger Hunt. The team had developed a list of 66 questions (plus five tie-breaker questions) and had everyone break up into team to find the answers. We had four hours, which included lunchtime, to get the answers. Here's a couple samples of the questions to give you an idea of what we were looking for: on Hollywood Boulevard "What year was the Pacific Electric Building built?" and on Commissary Place "What is the name of the Security Guard who seems to be abandoning her post at Gate 1?"
While everyone was waiting for the Scavenger Hunt scores to be tabulated we all attended the Block Party Bash. What fun! Those performers really dance, jump and move to the music. I got worn out just watching them!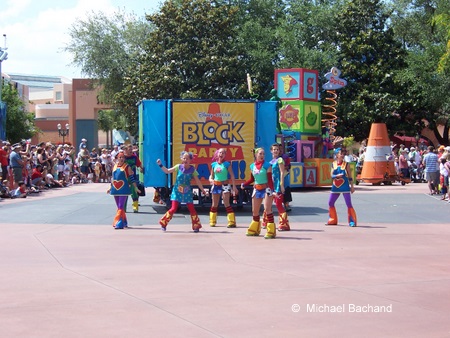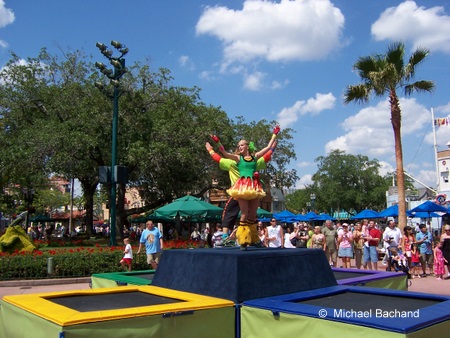 Next we gathered for the Scavenger Hunt awards, a group photo and a presentation of a check to the Dream Team Project. Note: the WDWCelebrations team donated part of everyone's registration fee to this charity. Donating to a charity is something that the WDWCelebrations team feels is an important part of their mission. Hats off to them!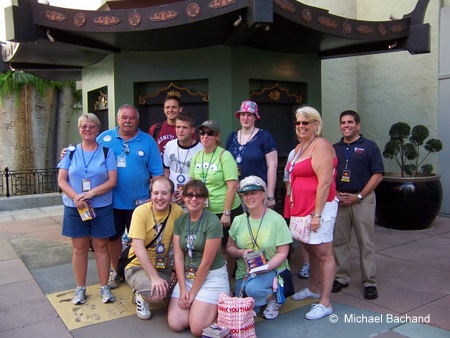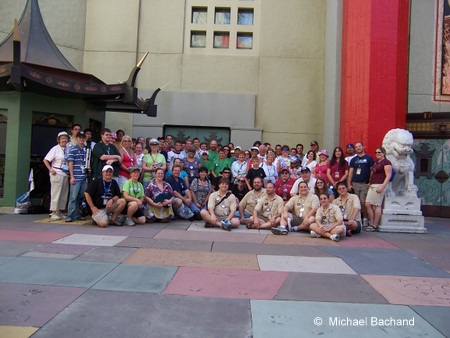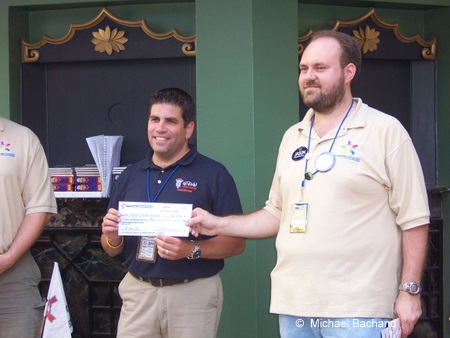 The last event of the day for me on Friday was a group ride on the Great Movie Ride.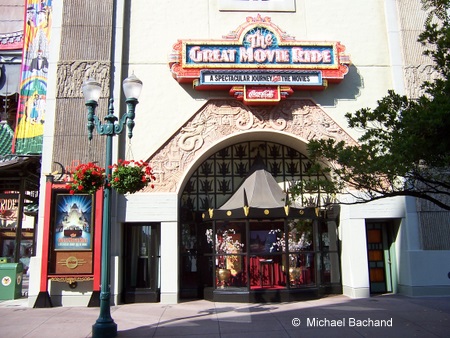 Day Two, Saturday, started with the park opening at 9 AM. Shortly after we all met in front of Star Tours. The first event of the day was a group Star Tours ride.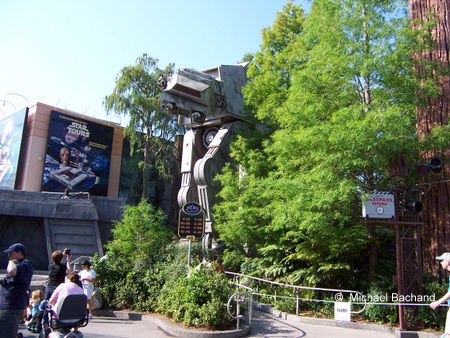 From there we all went to see the 11 AM performance of American Idol Experience. The show was really good. All three performers were exceptional. It's funny, but that's the only place in Disney where I feel like booing someone. That Simon-like judge is mean but also too funny!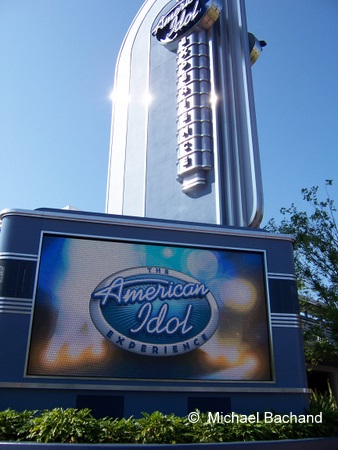 During lunch I had the opportunity to sit down and talk with Adam and Jason to find out more about WDWCelebrations. At the end of this blog I will tell you about our conversation.
After lunch we headed over to the entrance to the Studio Backlot Tour for a group ride. Members of the WDWCelbrations team were selected to be stars in the show.
The final event of the day was a two-hour "history walk" of Hollywood Studios. The WDWCelebrations team did an exceptional job of putting together a history of the studios. They promised that they would put a copy of that history up on their website in the next couple of weeks.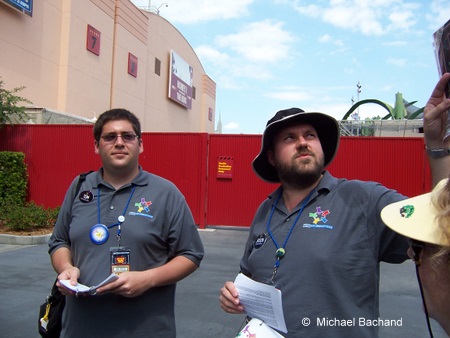 Finally, let me say a few words about WDWCelebrations. For those of you not familiar with them their mission is as follows: "WDWCelebrations is a not-for-profit organization, created by Disney fans, dedicated to celebrating the magic of the past, present, and future, together." Their team consists of Adam Roth and Jason Diffendal who are the co-founders as well as Jackie Steele, Tom Corless, Marcus D'Amelio, Matt Pazzula, and Jose Castillo. Here's a picture of the team:
Adam and Jason told me that their inspiration for starting WDWCelebrations was what they felt was a demand from Disney fans who wanted to celebrate meaningful Walt Disney World events. They started with the 25th anniversary of Epcot and thought it was going to be a one-time deal for them. However, the response was so great that they decided to make the venture something more permanent. They want to keep the group focused on significant events so they can enhance the guest interaction with Disney. Disney has been very supportive of their efforts. However, as I mentioned before, the official Disney role in this is only to offer solutions to logistic issues. It's important that WDWCelebration events do not interfere with WDW Cast Members or other Disney guests. Finally, Adam and Jason feel strongly that all of the events they sponsor have some charitable connection. A very nice touch!
Finally, I just want to say that I had a blast the past two days. Everyone involved from the Disney Imagineers, Disney Cast Members and WDWCelebrations team were outstanding. Thanks for letting me have so much fun!
Well, that's all for now. As my good friend says, "see ya real soon"…DizneyMike