In case you're not aware, McDonalds no longer sponsors Dinoland U.S.A. at the Animal Kingdom. Their 10-year contract expired and as a result, Disney has been busy removing all signs of this corporate giant from the park.
The first place you'll notice a change is Petrifries. This quick-service eatery once sold, you guessed it, McDonalds' fries. Now this spot is called Trilo-Bites and sells smoked turkey legs.
Just past Trilo-Bites is a sign welcoming guests to Dinoland U.S.A. Look closely and you'll see the McDonalds' logo has been removed along with the banner that said "OVER 3 BILLION UNEARTHED."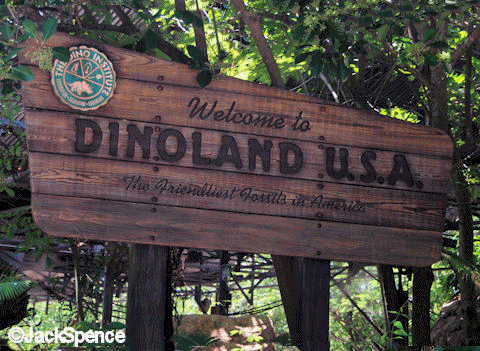 A McDonalds billboard once stood across from the entrance to Chester & Hester's Dino-Rama. It too, is gone.
The Dinosaur attraction has also seen a slight change. After viewing the preshow with Drs. Marsh and Seeker, you enter a corridor. Up until recently, an announcement could be heard saying something to the effect of, "And now, get ready to go back in time… thanks to a generous grant from the McDonalds Corporation." But no more.
When exiting Dinosaur, many guests strolled past a series of Dinosaur/McDonalds posters.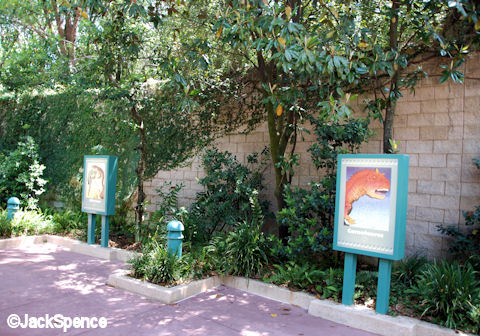 Here too, McDonalds has been edited out.
And finally, Chicken McNuggest and McDonalds' Fries are no longer served at Restaurantosaurus. But don't despair, chicken nuggets and fries are still available, they're just not a name brand anymore.
While I was at Restaurantosaurus, I was checking things out, trying to find something of interest to blog about. And I think I came across another cool detail.
Everyone is aware of the water tower out front of this eatery.
But have you ever looked at the back side of the tower? Painted on it is a large target.
Across the way, on the porch roof, we find two patio chairs, a cooler, and other paraphernalia.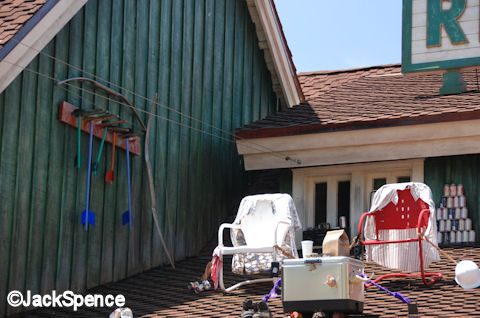 If you look closely, attached to the wall is a rack full of plunger-type arrows and a couple of bows. Also, connected to the eves is a pulley and rope.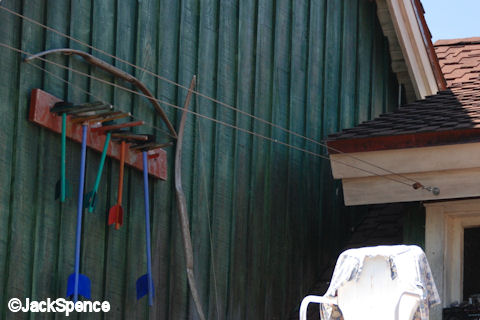 If you follow the rope, it stretches all the way to the water tower and has a bucket full of arrows attached to it.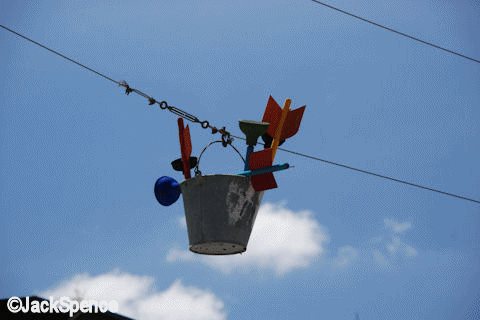 It appears our paleontologist have devised a unique game to play in their off hours and have come up with an interesting way to retrieve their arrows.