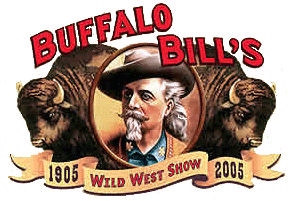 In 1883 William Frederick "Buffalo Bill" Cody founded "Buffalo Bill's Wild West." This was a circus-like spectacle that toured the United States annually. Over the years, the show changed names and was constantly being updated with new and exciting acts. In 1889, Buffalo Bill took his show to Europe and it was a huge success, especially in France.
Today you can see a reincarnation of this spectacular show at a theater located at one end of Disney Village. Aptly named Buffalo Bill's Wild West Show, two performances are presented nightly, one at 6:30pm and the other at 9:30pm. Each show is 1½ hours in length and includes dinner.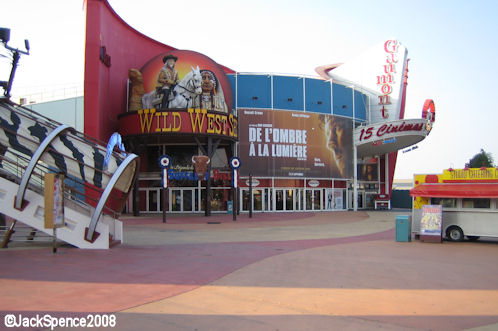 Before I go any further, I want to apologize for many of the following photographs. The point-and-shoot camera I had in 2005 just couldn't deal with the dim lighting and fast motion of the show. I did my best to enhance these pictures with the computer, but some of them are still lacking.
Tickets for Buffalo Bill's Wild West Show can be purchased in advanced or for the same day at the ticket booth located in the theater lobby. When your purchase is complete, you will be instructed to show up 30 minutes before the show. Seating is assigned when you return, but for the most part, it doesn't really matter where you sit.
When you arrive for the performance, you are "herded" into a large saloon and given a cowboy hat with a colored ribbon that indicates your seating area and team. While waiting to be led into the arena, you can enjoy a drink at the bar while listening to country music from a nearby band.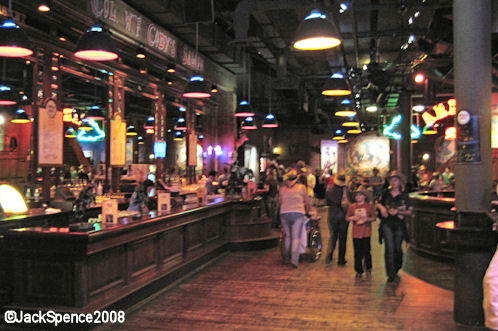 It would be easy to compare this event to the Medieval Times show presented in Kissimmee, Florida. You sit on tiered benches with a narrow table in front of you. There is just enough room for your waiter to squeeze by and serve each guest his dinner. While you are eating, a pageant takes place in the arena below. However, at Medieval Times I feel that there is more emphasis put on the competition between the knights than there is with the cowboys at the Buffalo Bill Wild West Show. The latter is more into pageantry than contests.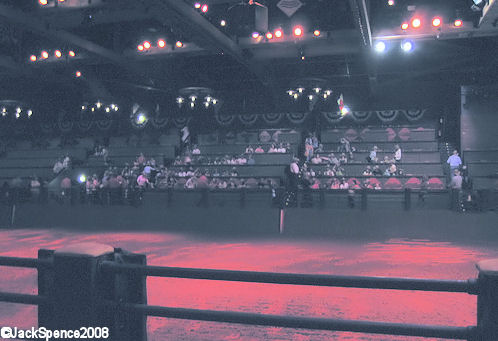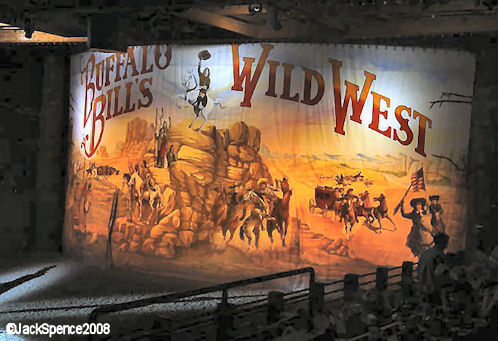 The show begins with the Master of Ceremonies taking center stage. With great showmanship, he welcomes everyone to tonight's performance – in French. When he's done, he introduces Buffalo Bill who can be found on an elevated stage at the far end of the arena. Bill continues the welcoming speech, however he speaks English. For the remainder of the show, these two gentlemen keep everyone apprised of the goings on in their respective language.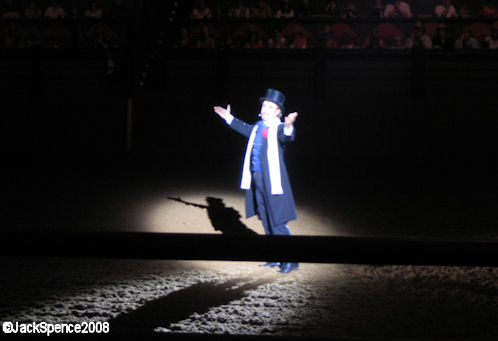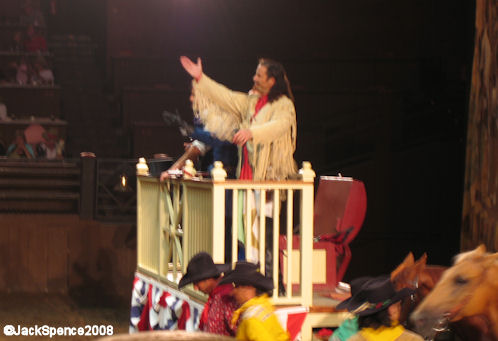 Shortly thereafter, dinner is served by western clad waiters. The menu includes chili, bread, a mixed grill kebab, corn on the cob, and potato wedges. Warm apple cobbler with vanilla ice cream is on tap for dessert.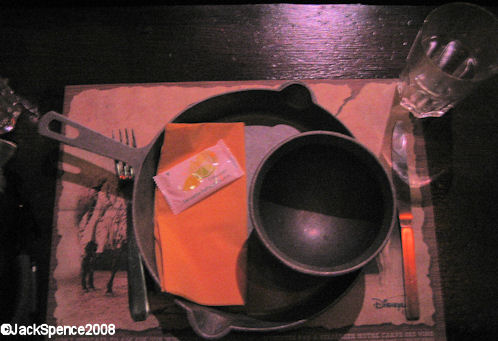 While dinner is being served, a chuck wagon enters the arena and takes center stage. Cowboys gather around and appear to enjoy their own meal.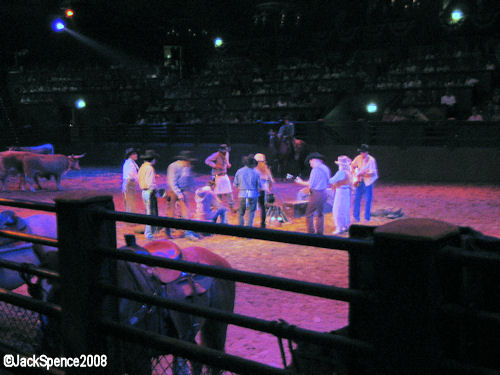 As the evening progresses, a number of events occur. Each section of the arena has its own "color coded" cowboy. These buckaroos compete with each other in events like shootin' and ropin'. All the while, their section cheers them on with great enthusiasm. Here's my "yellow" fellow.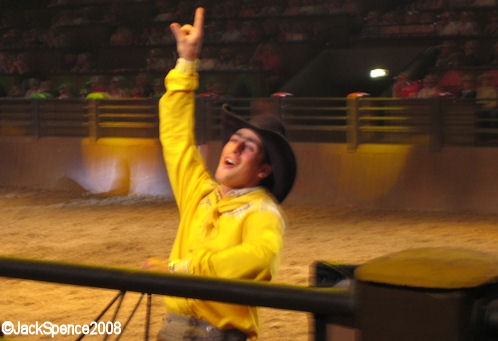 Great pageantry also takes place. Riders carrying flags and banners parade back and forth and cowboys and Native Americans perform amazing tricks.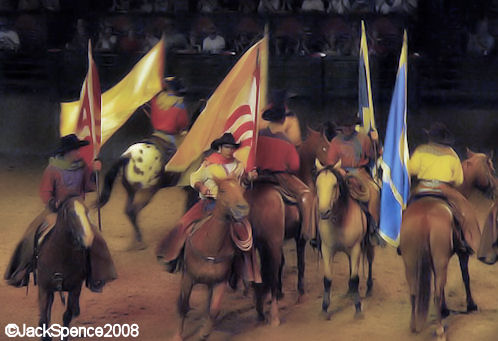 During another section of the show, longhorn steer and buffalo are herded into the stadium in stampede fashion. A stage coach also makes an appearance.
Besides Buffalo Bill, you also get to meet Annie Oakley, Frank Butler, and Sitting Bull. As you might expect, a shootin' contest ensues between Annie and Frank.
The curtain call brings most of the performers back on stage for some impressive precision riding.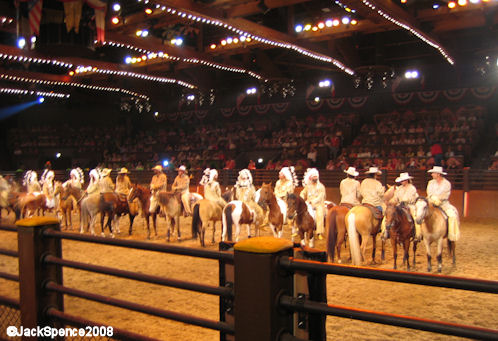 Disney does post the following warning: "IMPORTANT: as live animals are used during this show and the cavalcades raise dust, it is not suitable for people suffering from asthma or other respiratory disorders."
When you enter the arena, the bright lights illuminate the dust floating in the air. I have asthma, but I was not bothered by this, but I had my rescue inhaler just in case.
For those of us who grew up in the U.S. and watched Bonanza and Gunsmoke on TV, this show might sound a little hokey. But it's a lot of fun and I would highly recommend it. I've seen it on both of my trips to the Disneyland Paris Resort and I will see it again when I return.
In my next blog I'll be discussing the Disneyland Hotel and the Disneyland Park entrance.