Just yesterday, I finally finished writing my last Tokyo Disneyland blog. It won't be posted for at least another week or so, but now I'm free to return to Disney World and look for local things to report on.
SIDE NOTE: The Tokyo Disneyland blog will resume in several days. If you need to catch up, here's the start of the Disneyland blog.
Today I decided to check out the new lunch menu at the Trails End Restaurant at the Fort Wilderness Campground. It seems that a decision was recently made to stop serving a full "hot" buffet at lunch in favor of a simpler "cold" buffet which includes soups, salads, and sandwiches. I wanted to see exactly what was going on here and find out why this change was made.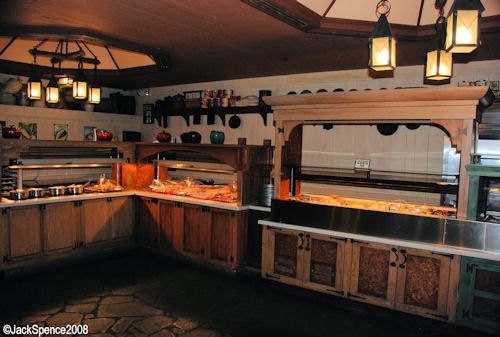 Lunch service now begins at 11:30 and I was there 11:31. Upon being seated, my server Lynda explained that breakfast is served until noon so there is an overlap of 30 minutes where both menus are available. Breakfast and lunch both are priced at $11.99. (Lunch with the hot buffet has been $12.99). I decided to take advantage of this overlap and helped myself to a small serving of scrambled eggs, bacon, and sausage. I also ordered a glass of orange juice that is included in the price, along with refills.
At 11:30, all of the breakfast items are consolidated into one area to make room for the lunch items.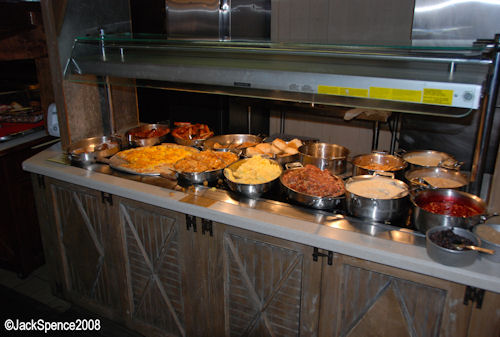 Be aware, this "overlap" is an experiment on Disney's part to see if this might entice additional guests to eat here. At the moment, the jury is out so don't be surprised if this feature is extended or discontinued.
As I was taking pictures of the new lunch buffet, Chef Bob approached me and quizzically asked me if I had any questions. So I was blunt and asked why they had changed from a full "hot" buffet to a simple "cold" buffet. His answer, "To assure better food quality for our guests."
It seems that lunches at the Trails End Restaurant can be patronized by as few as 40 guests to as many as 200 – and they have no way of knowing from day to day what their head-count might be. Because of this, a lot of food was being thrown away at the end of lunch or they might not have enough of a given item because larger than expected crowds materialized out of nowhere. A simpler buffet allows for less waste and easier replenishment when things get busy.
Personally, I have no problem with the scaled down lunch menu. I usually didn't want that much food for my mid-day meal anyway. And rest assured, the breakfast and dinner menus have not changed.
First let's start with the soups. Three different soups are offered daily along with their delicious chili. Today's offerings included Chicken Noodle, Vegetable, and Beef Barley. I tried the vegetable and enjoyed it.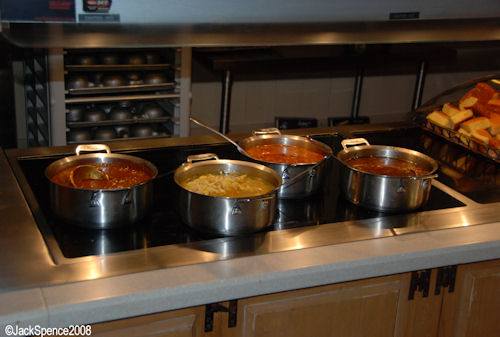 As you would expect, the salad bar is more extensive than on the old lunch menu. First, three premade salads are available, Caesar, Blue Cheese & Strawberry, and Chinese. The Caesar was excellent and the Blue Cheese & Strawberry was also quite good. I did not try the Chinese Salad.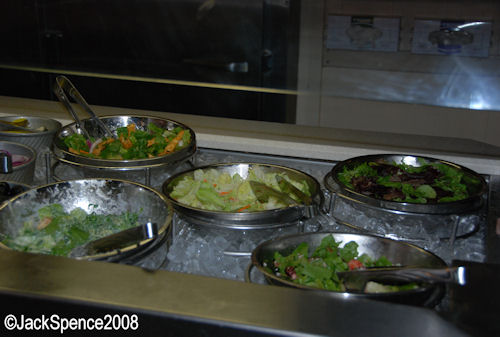 If you want to create your own salad you can choose from iceberg lettuce or mixed greens. Toppings included beats, cheese, mushrooms, cucumbers, tomatoes, carrots, olives, garbanzo beans, radishes, bacon, and croutons. Five different dressings were on hand along with cottage cheese. I've seen more elaborate salad bars, but there were certainly enough choices here to satisfy the vast majority of people.
The sandwich bar offers the following breads, white, wheat, multigrain, hamburger bun, and French roll. Also included in the bread section were several breakfast style sweet rolls.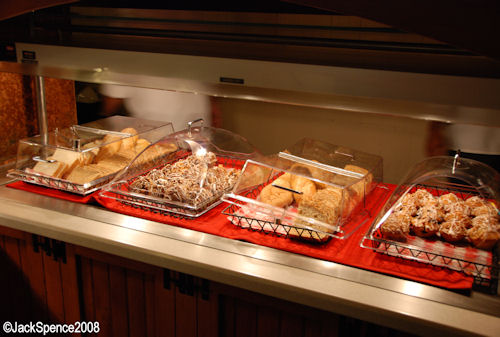 The sandwich toppings included beef, ham, turkey, tuna salad, and three selections of sliced cheese. Mayonnaise and mustard are available along with several side dishes like pasta salad, potato salad, and coleslaw.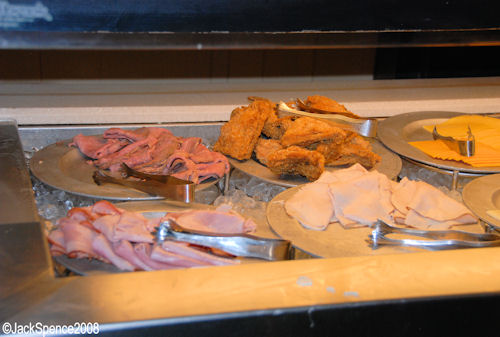 The fried chicken at Trails End has always been a perennial favorite so "picnic" chicken is being served at lunch. Picnic chicken translates to cold fried chicken. This is the same chicken that is served at the Hoop Dee Doo next door.
Chef Bob told me that all of their fried chicken and BBQed ribs are prepared right there. Approximately 1,200 pounds of each meat are served every day. He went on to tell me that one cast member arrives daily and starts breading the chicken and will do nothing else for an entire eight hour shift. Shortly thereafter another cast member arrives to start frying the chicken for his entire eight hour shift. Wow! This preparation is for both the Trails End and the Hoop Dee Doo.
The dessert bar at Trails End has been expanded for both lunch and dinner. Now available is a soft-serve ice cream machine with a decent topping bar featuring Gummi Bears, M&Ms, nuts, cookie crumbs, chocolate chips, and several sauces. Also available for dessert are several varieties of cookies, Rice Crispy Bars, and brownies.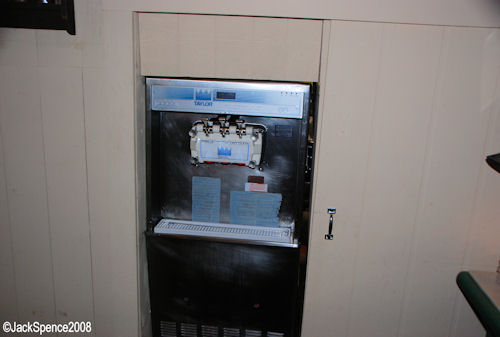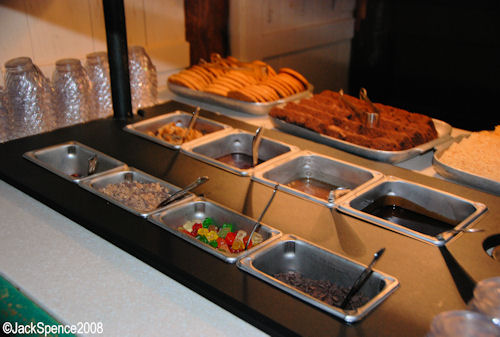 I have heard a few parents are unhappy that the new lunch menu isn't "kid friendly" since pizza and mac & cheese are no longer available. I don't have kids so I can't say, but I would think that there is enough variety available here to please even the pickiest eater.
Personally, I like the new lunch menu. Because of its reduced price and lighter fare, I'll be tempted to eat here more often. However, I can certainly understand that if you weren't aware of this change and showed up expecting a full-scale buffet, you might be disappointed. But I left today completely satisfied!